Every summer, my family enjoys visiting local parks. From the gorgeous White Mountain National Forest to smaller state parks, we have spent many hours hiking, swimming, and just having plain old family fun. Especially now that we're moving past the baby phase with our youngest at 18 months, we're planning more outside park activities than ever before. We can go to our town's local park to let the kids run and climb on the playground or drive 30 minutes north to a beautiful state beach. I love having so many options. It's all about enjoying the weather, staying active, and most of all, family time together.
Did you know that parks can help boost the economy? Studies have shown it's true; parks can actually contribute to real estate values and homes can even sell faster if there's a park nearby. Think about it – would you prefer a home close to a beautiful park or one that's far away? I never thought about it like that, but it's a nice advantage.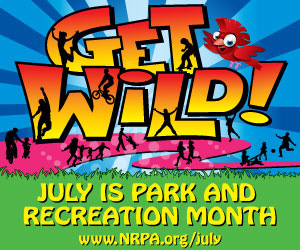 July is National Park and Recreation Month and this year's theme is "Get Wild." The National Recreation and Park Association wants us to have fun this July and enjoy all that parks have offer. From getting wet at the pool to workouts and wellness features to more, they're encouraging families to get outside, stay active, and have fun together. Download cool graphics, a customizable calendar, and a social media poster from the Tool Kit, take the Get Wild Pledge today, and visit the event calendar to see what's happening near you.
Have you ever done Geocache contests? I haven't, but I've heard some fun stories about it. This year, there's a Get Wild Geocache Contest with great prizes for treasure hunters! If you share your geocaching photos on the Facebook page, you will be entered to win one of five Magellan GC eXplorist GPS devices.
Will you take the Get Wild pledge? How much fun will your family have this summer?
Disclosure: I wrote this review while participating in a blog tour by Mom Central Consulting on behalf of National Recreation and Park Association and received a promotional item to thank me for taking the time to participate.