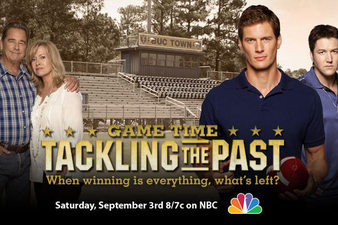 P&G and Walmart have sponsored another fantastic family friendly movie that premieres next Saturday, September 3rd, 2011 on NBC at 8pm EST/7pm CST. This movie is called Game Time: Tackling the Past and is about pro-football player, Jake Walker, and his struggle with priorities.
Jake is a star athlete, looking at record-breaking career plays and top team contracts. When his brother calls to let him know their father was hospitalized with a heart attack, Jake drops what he is doing and heads home. The only thing is he hasn't been home in a long time and the unresolved issues between him, his brother, and dad resurface. Jake is ready to do the obligatory quick visit and head back to the "good life," when his career comes into question due to a knee injury he suffered and his contract is not renewed.
With encouragement from his patient mom (played by Catherine Hicks of Seventh Heaven), Jake does some heart-searching and makes amends with his dad and brother. He is also reunited with former girlfriend, Sarah, and their relationship begins to rekindle. Then Jake is offered a lucrative contract with a great team and Jake has to decide once and for all what his priorities will be.
I watched this movie with my husband and we really enjoyed it. I think Nate was initially a little skeptical and thought it would be boring. At the end, he said he really enjoyed it and would definitely watch it again. The plot line was excellent and very believable; I could see the events in this movie happening in real life. The characters were portrayed in a well, likable way too. I loved the romantic part of the movie; it wasn't overwhelming for the guys watching, but just enough that it was appealing for us women. Of course there's the football game at the end which is awesome for all the sports fans out there, especially as we are just getting into football season now!
I also liked that this is not just a feel-good movie, but one with a good lesson for all of us. Winning isn't everything and it's important to think about others and not get wrapped up in ourselves. As Jake said in the end "It's one thing to look like a good man; it's another to actually be one."
Once again, I am very impressed with Family Movie Night. They have produced another fantastic movie that I would love to show my children and one I can happily and highly recommend to you, my blog readers and your families!
I hope you'll tune in with your family to see this!
What: Family Movie Night presents Game Time: Tackling the Past
Where: In your own home!
When: Saturday, September 3rd on NBC at 8pm ET/7pm CT.

Disclosure: I wrote this review while participating in a campaign by Mom Central Consulting on behalf of P&G and received a promotional item to thank me for taking the time to participate.