A family game night is a wonderful way to enjoy quality time with your kids on a regular basis. Even if it's not something you can commit to every week, even just once a month will help bring your family together. And you don't need to have dozens of games to choose from either; sometimes it's easier to keep it simple with just a few favorite family games.
We do have quite a few games, but we definitely have favorites that we pick most of the time. While every family has their own favorite games, I thought it would be fun to share what my family's top choices are.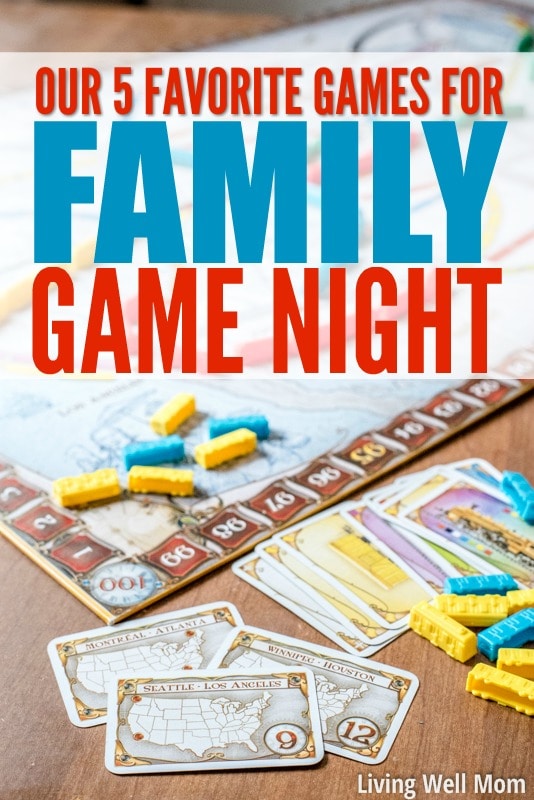 Our Top 5 Favorite Family Games:
Qwirkle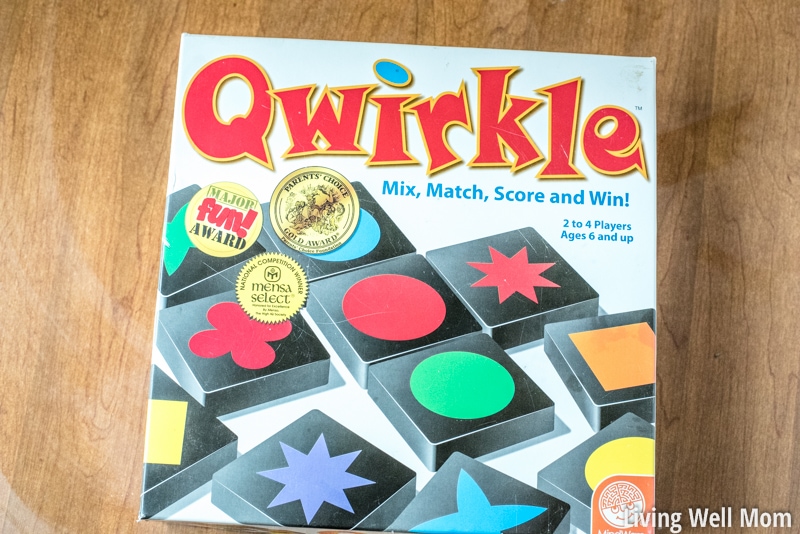 Qwirkle involves color and shape patterns and matching, with just enough strategy to make it fun without overwhelming. It's a perfect combination of simplicity for younger children with a little smart thinking that appeals to kids and adults.
Our whole family loves to play this game and it's frequently requested on family game night. Even Joshua and Luke, who are 6 and 5, love to play. Luke plays on a team with Mom and Dad as he's not quite old enough to do it all by himself yet and always has a blast putting the pieces down.
Buy it here
.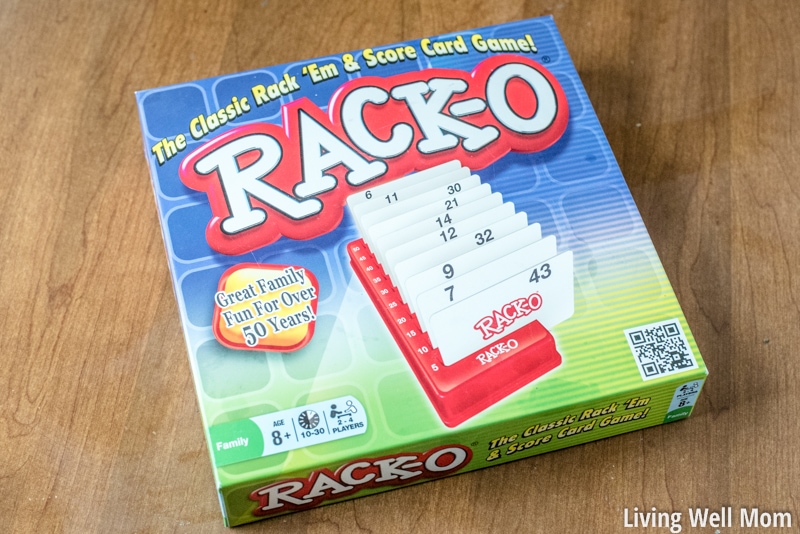 With Racko
, the goal is to get your 'rack' of numbered cards in order from smallest to highest. It sounds simple, but you can't just move the cards around. This is a perfectly paced game where it's not too fast, but there's always the element of "hurry up!"
I grew up playing Rack-O and requested it as a Christmas gift last year. I'm so glad I did because everyone loves this family game! Luke is a bit young to play yet, but he loves to be on a team and pick cards, etc. and Joshua very proudly plays all by himself! The only downside is only 4 people can play at once so the six of us take turns or play on teams. And because each round is pretty quick, it's easy to take turns too. Either way, Racko definitely earns a place on our top favorite family games list!
Buy it here
.
Hedbanz
This fast paced game is guaranteed to get the whole family laughing as you try to guess "who am I?"
I'll be honest; at first I thought Hedbanz was a stupid game, but we've played it so often and laugh so much every time that I had to take that back! It's simply hilarious trying to guess and give careful hints about who is who!
Buy it here
.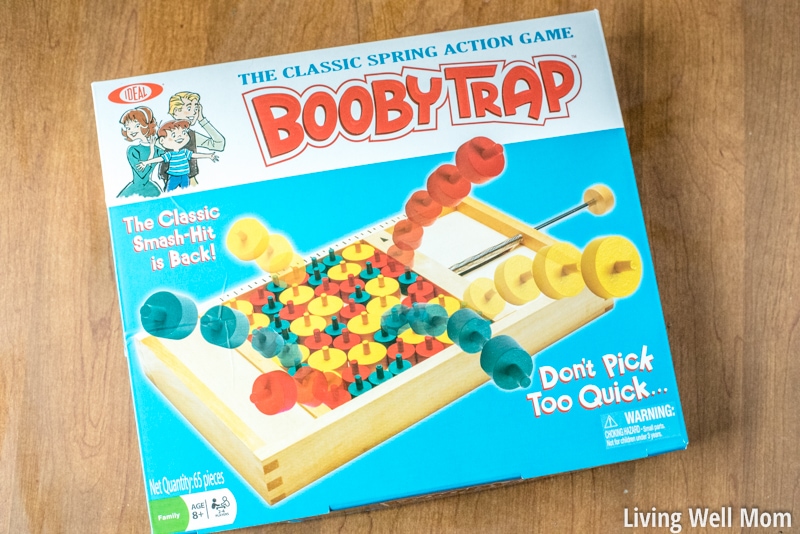 Booby Trap is a newer addition to our game closet and it didn't take long for us all to jump in. The goal with this simple game is to gain points as you pick out pieces without causing the spring to snap! While it says ages 8 and up, Luke can play too; he doesn't quite understand the score concept, but he still has fun!
This was another game I loved playing as a kid and I had completely forgotten about it until I stumbled across it when shopping online at ChristianBook.com. They sell the classic edition and I just had to buy it.
Buy it here at ChristianBook or the newer version at Amazon
.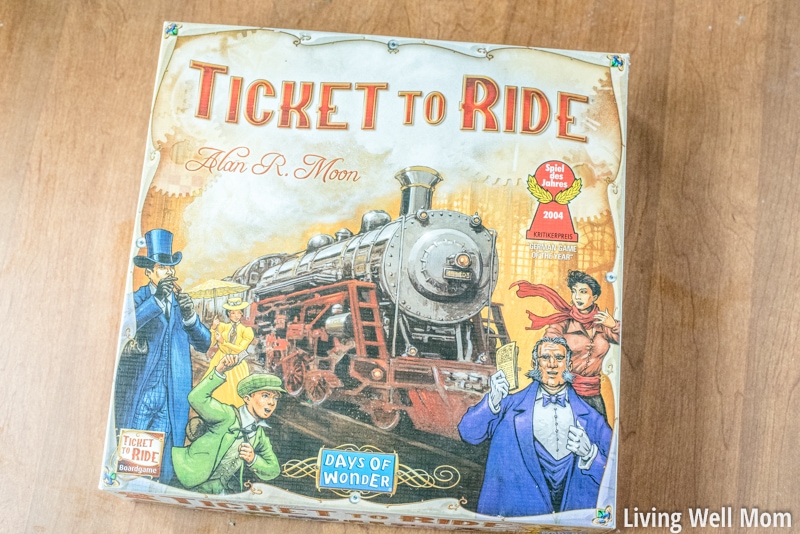 Ticket to Ride is my personal favorite family game and Nate and the kids love it too. It's fun, strategic, and has an educational aspect too that you don't even realize as you're playing. Next to Racko, we probably choose this game to play most often on our family game nights.
The goal with Ticket to Ride is to accumulate the most points. You'll gather cards that allow you to place trains on tracks from one location to another. It's a great way to learn about different states and cities across the United States as you connect trains. There's a strategy aspect too; once a track is filled by another player, you'll have to choose a different route to get to your destination. You'll also earn points for completing destinations, but if you haven't reached your destinations, you'll lose points!
Buy it here
.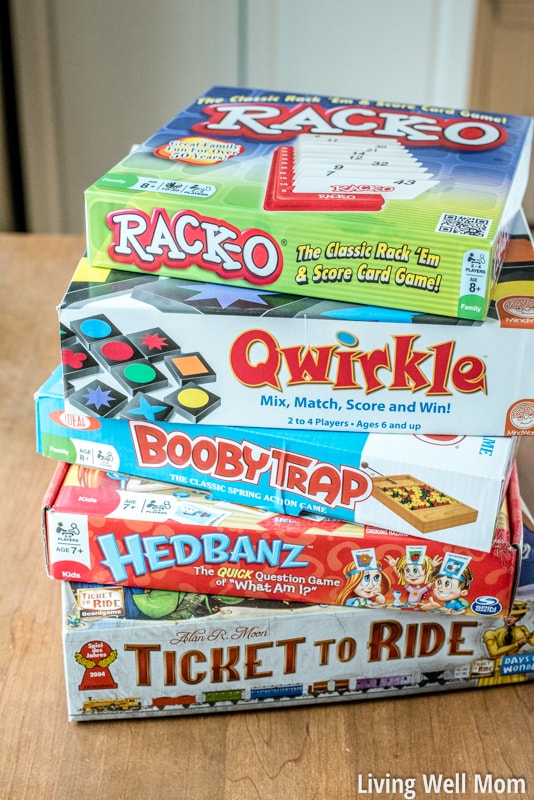 There you have it – our top 5 favorite family games. I hope this helps inspire you to do a family game night more often with your kids too! It really is time well spent where you'll make wonderful family memories!