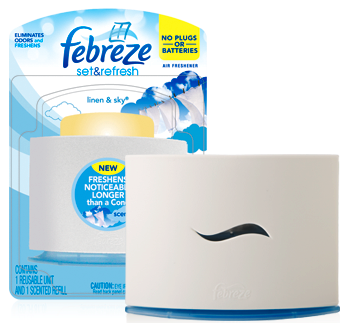 As a mom with 4 children and a household with pets (we have a dog and cat), I am always concerned with how our home appears and smells. Whether it's sweaty shoes, a stinky diaper, the trashcan, or the dog bed (I could go on all day), there are many yucky smells around. Yet smell is one of the first things people notice when they enter someone's home. I don't want my house to smell like all of the above things! Yet stinky diapers or trashcans are a part of life in my house.
Febreze has many amazing products to help our homes look and smell pleasant. Their latest product, Febreze Set & Refresh, was just released last month and is a simple no-battery or plugs-required unit that provides up to 30 days of freshness. The unit is designed to provide long-lasting odor elimination and freshness. Dual Refills are available in four scent varieties: Linen & Sky, Hawaiian Aloha, Spring & Renewal, & Advanced Odor Elimination.
I love air freshener products, but I don't buy many of them for a couple of reasons: 1) There are limitations to where you can place many of them – many require you to plug them into an outlet. We have an older home with many of the outlets down low where we can't put air fresheners. And 2) Some are quite pricey.
That being said, I really love this new Febreze Set & Refresh. It's simple, you can put it anywhere you want and move it at will and, at a suggested retail price of $4.49, it's got a great price tag too. But does it work?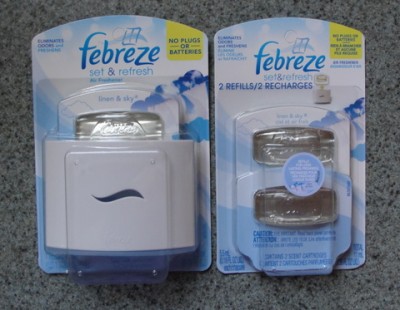 When I first received our set, I almost expected a complicated set-up like many of the air freshener systems available. Instead, it was so simple to just open up, take off the seal for the refill, and pop it in. It was so simple, I read the directions three times because I thought I was missing something! But it really is that easy. You can "open" the unit to allow more "freshness" or close it a little if you want to put it in a smaller space and need less. Then you just put it wherever you want.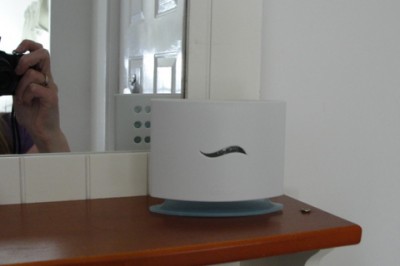 I debated where to put our Febreze Set & Refresh, but I decided to put it on our little wall mirror/stand in the front entryway. This is where people come in when they visit our home and where they are probably met with many potential not-so-pleasant smells. (I surely hope not, but at least now I can rest easy with our new Febreze Set & Refresh!) The unit says it will work best in smaller locations – our entryway is not exactly a closed-hallway – it opens into our living room on one side and stairs going up on the other side. I wasn't sure how well it would work as it is rather open, but it's surprised me and performed extremely well.
The scent – Linen & Sky – is very pleasant and while it clearly works, it's not overpowering or "fake" smelling like some air fresheners are. I can't say if the unit really does last 30 days as I haven't had it that long, but so far I have been impressed.
I also really like how sleek and modern the Febreze Set & Refresh looks. It's very unobtrusive and I can put it in many locations throughout my home without it screaming "AIR FRESHENER!" I will be picking up a couple more of these for other spots in my home.
I highly recommend the Febreze Set & Refresh system. It looks great, works well, and is affordable; everything you want in a product like this. Thanks, Febreze!
You can buy Febreze Set & Refresh on Amazon too. (affiliate link)
"I wrote this review while participating in a blog tour by Mom Central Consulting on behalf of Febreze and received a Set & Refresh unit plus refills to facilitate my review and a promotional item to thank me for taking the time to participate."