Another huge part of being a mom is washing dishes. Just like laundry, it seems that no sooner have you finished emptying the dishwasher than it is filled again. Having a dishwasher can be a huge help but what happens when you find yourself pulling out less-than-clean glasses or plates? It is so frustrating to have to re-wash dishes when they should have been clean the first time.
Our dishwasher is getting old and I've found myself needing to re-wash dishes after they were cleaned many times in the last few months. So do we need a new dishwasher or do we just need some help from a product like Finish Jet-Dry?
Normally food and chemicals can stick around and leave a residue on glasses and dishes, resulting in a less-than-clean appearance. Finish Jet-Dry advanced rinsing agent works with your dishwasher detergent by washing away this residue with its powerful formula. It doesn't stop there; it helps prevent the need to towel-dry dishes by eliminating all moisture during the dry cycle.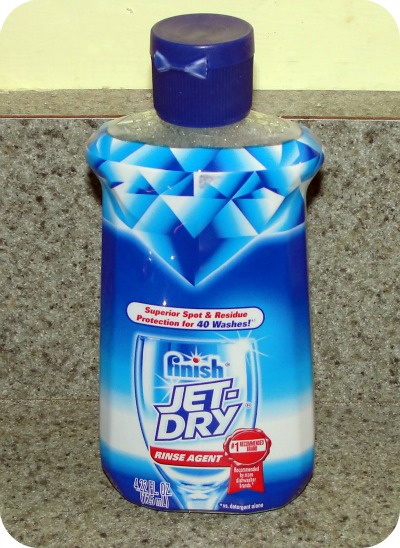 I received a sample of Finish Jet-Dry to try out about a week ago. As I added it to the dishwasher that night, I told Nate that I wasn't sure it would help with our yucky dishwasher but I'd give it a try.
A week later and it suddenly occurred to me that I haven't had to re-wash any dishes all week! Everything has been sparkling clean! From the glasses to the plates to the silverwear, there has been a noticeable difference.
My dishwasher is also notorious for not drying everything completely. With our new Finish Jet-Dry, there was still a little water left on the kids' cups, but the tops of the mugs and plastic items were now completely dry.
I am pretty frugal and until now, a rinse agent was one of those things I wasn't willing to spend the money on. But now that I've been given the chance to try out the Finish Jet-Dry rinse agent, I can tell you it's definitely worth it for the amount of time and frustration it saves me. You only need to add it about once a month and the small cost of around $3.99 a bottle is very reasonable.
If you're like me and haven't thought a rinse agent worth it, I urge you to check out Finish Jet-Dry! The little bottle has some pretty powerful stuff in it!
I wrote this review while participating in a blog tour by Mom Central Consulting on behalf of Finish and received a Finish Jet-Dry product sample to facilitate my review, a sample to giveaway, and a promotional item to thank me for taking the time to participate.