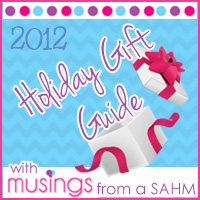 Finding toys that keep Samuel's attention for more than, oh….20 seconds, can sometimes prove to be a challenge. And as is typical of most kiddos, an empty box generally fits the bill! But when you want something in addition to that box, it isn't always easy! I, of course, want to provide Samuel with toys that will help him develop and learn, but sadly, he has many that are consistently neglected because they just aren't interesting enough. As a result, I've become pretty skeptical of many toys and their claims to engage a child.
Happily, this is not the case with the Fisher Price Laugh & Learn Stride-to-Ride Puppy!! I can't emphasize enough how pleasantly surprised I was by this toy! It far surpasses pretty much any other toy we have. Fisher Price definitely got this one right! As soon as I had it out of the shipping box, Samuel rushed over and started playing with it (and not the shipping box!) before I could get it out of its packaging!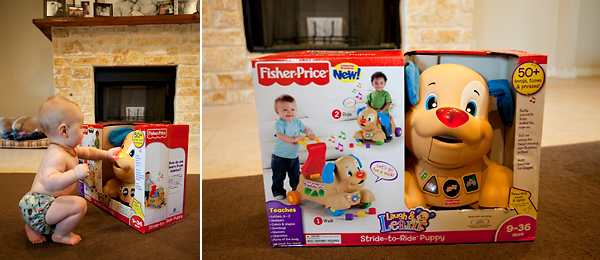 The puppy is super easy to put together. It comes in two main pieces that you screw together (the screws are included), and you have to put two of the wheels on. It took me less than five minutes and it was ready to go!
The Stride-to-Ride Puppy is appropriate for many stages and recommended for babies 9-36 months old. Younger babies can sit on the floor to feed the puppy "treats," explore shapes with the shape sorter, and push his nose or the buttons on his collar to play a wide variety of music. It can also be used as a walker or a ride-on for older babies. The wide wheel base and easy grasp handles are perfect for a new walker or a baby who is learning to balance him/herself on a seat. Samuel isn't quite there yet, but we're practicing!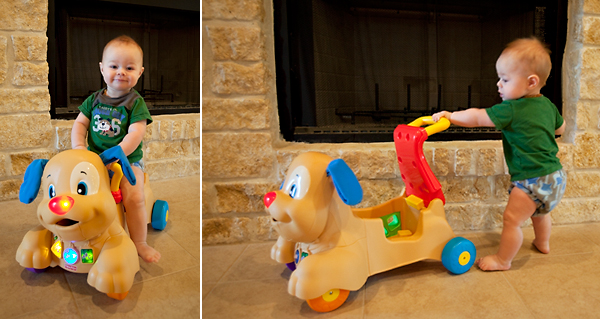 Some fun features that I love are the side-to-side motion of the puppy's head as you push him along, the ADORABLE songs he sings (and there are so many of them!), and the shape sorter that helps teach eye-hand coordination. Samuel loves trying to fit the three different shapes into the shape sorter. He also enjoys feeding the shapes (also known as treats) to the puppy by pulling his mouth open and putting them in. And each time the puppy makes a noise or begins a new song, Samuel is delighted! Admittedly, I've even found myself singing the songs later in the day.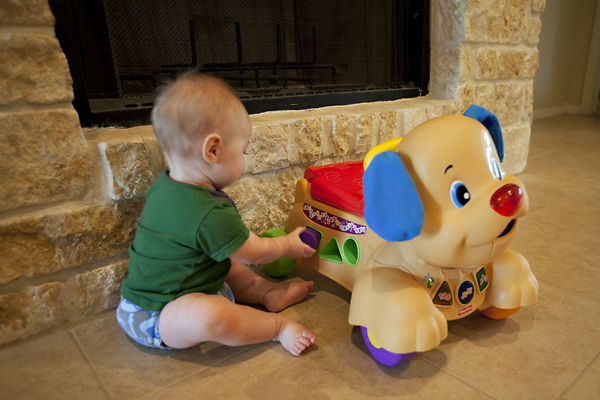 In addition to entertaining your little one with fun songs, this adorable Fisher-Price Laugh and Learn Stride-to-Ride Puppy will help teach letters, numbers, colors, shapes, greetings, manners, opposites, and parts of the body. This great toy is quickly becoming a favorite, and as it has so much variety to offer, I can definitely see Samuel playing with this for quite some time.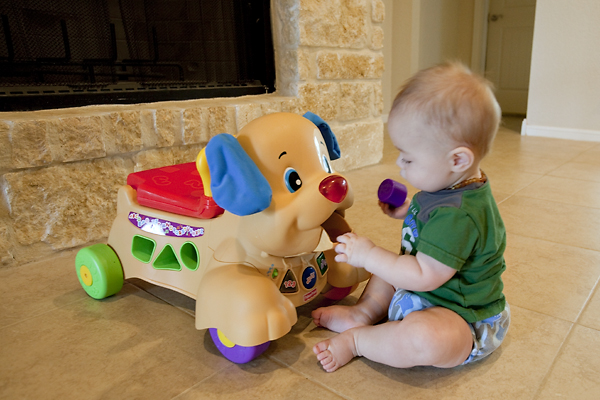 Buy It:
You can find the Fisher Price Laugh & Learn Stride-to-Ride Puppy at stores nationwide and online at Fisherprice and Amazon
ARP: $45
Win It!
1 lucky winner will receive their own Fisher Price Laugh & Learn Stride-to-Ride Puppy!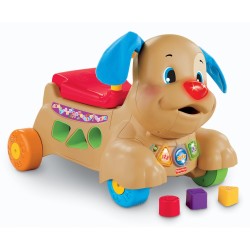 CLOSED