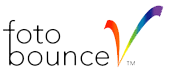 All of our immediate family lives out of state and we rely a lot on the internet to connect with them. Obviously my blog is a way for me to share updates and photos, but we also use online photo albums and Facebook. Up until recently, I've used Picasa to store, edit, and upload photos online. Picasa is okay but it doesn't interface well with other networks, like Facebook; there's simply no quick way to upload the way I need to. I end up having to manually upload pictures through Facebook but this process is so tedious that I rarely do it because I just don't have the time or patience.
I am so excited because I no longer have to worry about that! I can now share as many photos on Facebook as I want with just a simple click of a button, all thanks to a free software, called Fotobounce!
This is just one of the many cool things Fotobounce has to offer. Fotobounce has incredible capabilities, all designed to make it easier and safer to share and organize photos.
Private Networks:
Fotobounce lets you create networks among family and friends where you can invite them to become "bouncers" (users) to check out your photo albums. You can organize them into groups with various settings. So if you don't want anyone but your sister to see that goofy photo of the two of you, it's up to you. Other features let you see if family members and friends are online or not, just like Skype. FotoBounce is the perfect alternative if you have more private photos you don't want everyone to see on Facebook or other online sharing options.
Built-in-Face Recognition and Automated Tagging:
Fotobounce's advanced facial recognition software saves much time in sorting and tagging. It's really easy (and in my opinion kind of fun too!) to tag faces in your photos. As you begin doing this, the software "learns" who people are and gets better at automating it. Basically, the more you use it, the smarter it gets. Fotobounce also begins to automatically detect faces as new photos are added. And all tags and photo descriptions stay intact when transferring photos, including via email and to Facebook!
I found the facial recognition software to work very well for adults as I tagged our faces in pictures. The more I tagged, the more it began to accurately suggest the right names. However, I noticed it wasn't as great about recognizing my kids' faces, especially my two little boys. But they do look a lot alike and children change very quickly, so it would have to be out of this world technology to get everyone of those photos tagged correctly the first time! It was great about tagging Nate & my photos, which was super nice. And even when manually tagging, there are many options to select all photos in a group, etc. to make it easier.
Check out this screen shot I took of a photo of a photo album where Fotobounce tagged Nate's face – pretty impressive!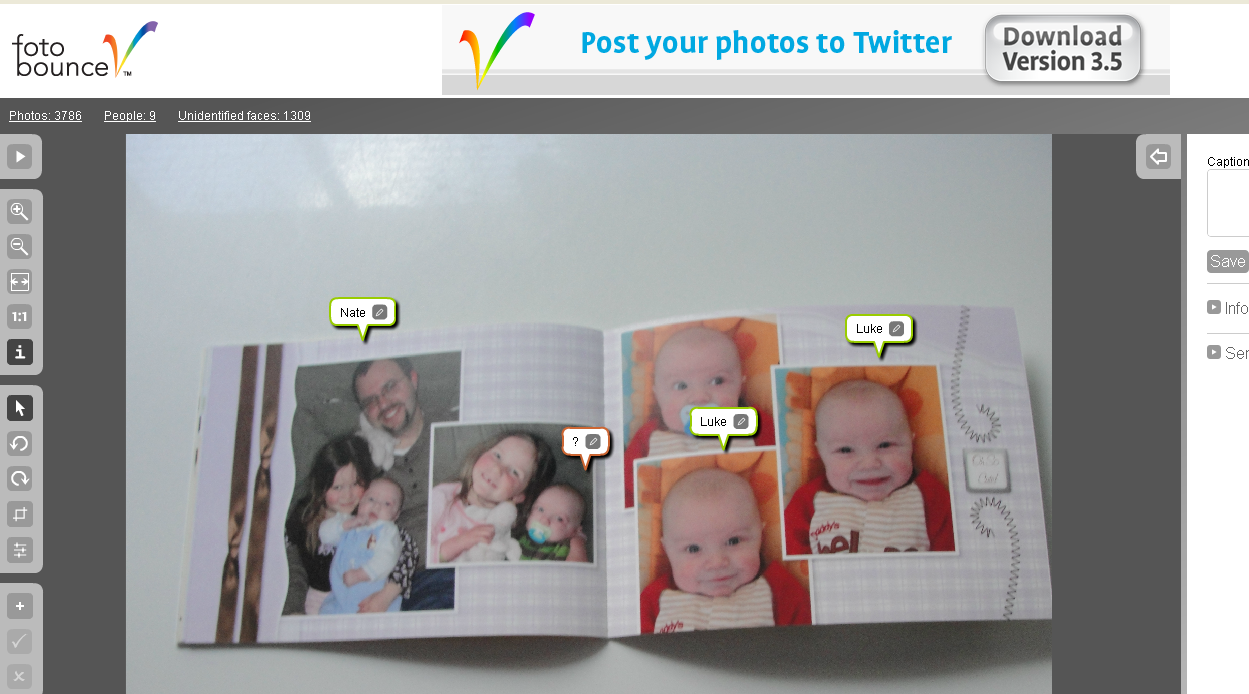 I would definitely say that Fotobounce has the best tagging capabilities I've ever seen!
Multiple Sorting Options:
Along with people and date albums, you can organize photos into various album categories, such as events, places, collections, and keywords. You can also create hierarchies, which I used to do albums such as: Family / Visit with Dad / Trip to Story Land. The organizing possibilities are practically endless and I love how well laid out this is. And the drag-and-drop option, which make it even simpler to move photos around, is fantastic!
Facebook and Flickr Friendly:
Fotobounce allows for quick and easy Facebook and Flickr integration. As I already mentioned, this is one of my favorite features of Fotobounce. It is so simple to directly upload photos to my personal albums. But you can also upload to Pages (like my blog page – yay!) And you can view other people's Facebook photos (assuming their settings allow you to) through Fotobounce and you can even comment too!
Here's a photo of my Fotobounce account where I had sorted favorite July photos for easy Facebook sharing: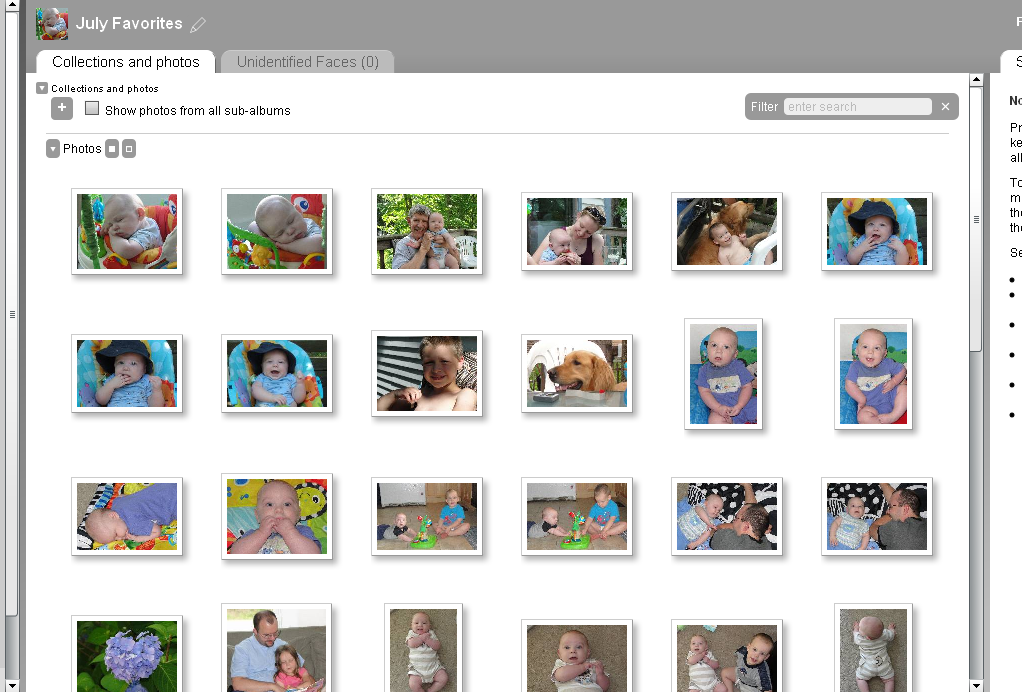 I have to say I wish there were an option to sort photos into albums from within the zoomed-in view. I tend to take many photos of my children in one sitting because as you moms know, they are so wiggly and I hope to get at least one decent picture. So I might have 10 photos in a row of one sitting and I can't tell which is the best smiling picture from the thumbnail view. It'd be much easier to be able to add the photo to an album from the close-up view. This is really my only complaint.
Overall, I was very impressed with the innovative technology of Fotobounce. Between the security settings, the organization, and everything in between, it has saved me a lot of time and hassle. Fotobounce is something all busy moms can use to share photos in a safe, timely manner.
Fotobounce is FREEto download and can be used on both Apple and PC. You can download Fotobounce here and get ready to organize and share your photos in a whole new way!
Disclosure: This was a paid post, although my opinions are my own and were not influenced by the sponsor.