I was so glad to receive a box of Gamewright games in the mail to review this month, since my family has been cooped up inside for much of it.  Between many rainy days, a sodden yard, and two different sickness sweeping through the family we just couldn't win!  I hate resorting to constant television and electronics during rough weeks like this, and Gamewright certainly came to the rescue!
One thing I love about every Gamewright game we've tried is the packaging.  The games are pretty compact in size and the boxes are very sturdy.  Our game shelf often becomes a disaster area and I've found that any game in flimsy packaging soon falls apart and I end up throwing the game away when the pieces get torn up or lost.  The compact size of Gamewright's games lend themselves perfectly to throwing into a suitcase or backpack when packing for vacation.  I never leave for vacation without at least one great game that both children and adults can enjoy.  When stuck in the hotel on a rainy day or the car breaks down, a great game can save the day.  For our family, that game has most often been Gamewright's Rat-a-Tat-Cat.  I'm glad that we now have 4 other great options for vacation games on our shelf from Gamewright- let me tell you about them!
Mermaid Beach, appropriate for ages 6+, was the favorite game of my mermaid loving 8-year-old daughter.  During the game players try to collect as many shell cards as possible with the help of beautifully illustrated mermaid cards.  This game has a lot of rules to learn, but after playing a few times my children could sit down for a game and play without my help.  Mostly a game of luck, rather than strategy, it is a great game to play with multiple ages since the younger players aren't at a disadvantage.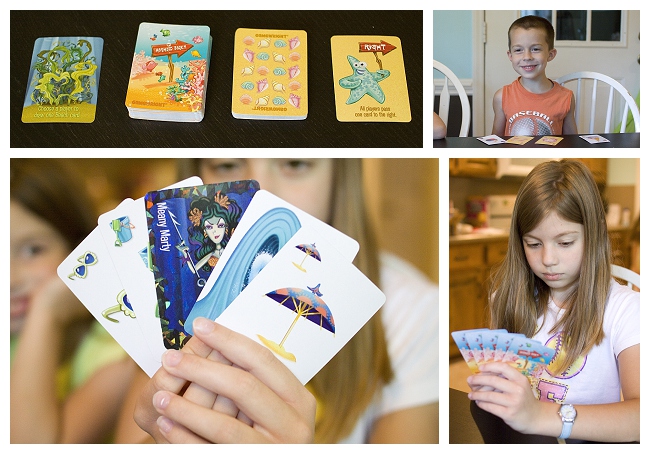 Castle Keep, appropriate for ages 8+, is exactly the kind of game I love to play with my older children.  In fact, I got so caught up playing with my two daughters that supper was an hour late!  The rules are simple and easy to learn, yet the game requires thought and strategy.  Players race to be the first to complete their castle and must choose each turn whether to build their own castle or attack an opponents castle.  I really love this game, in fact I think it can be enjoyed by grownups even after the kids go to bed, so it will probably be the one in my suitcase on our next vacation!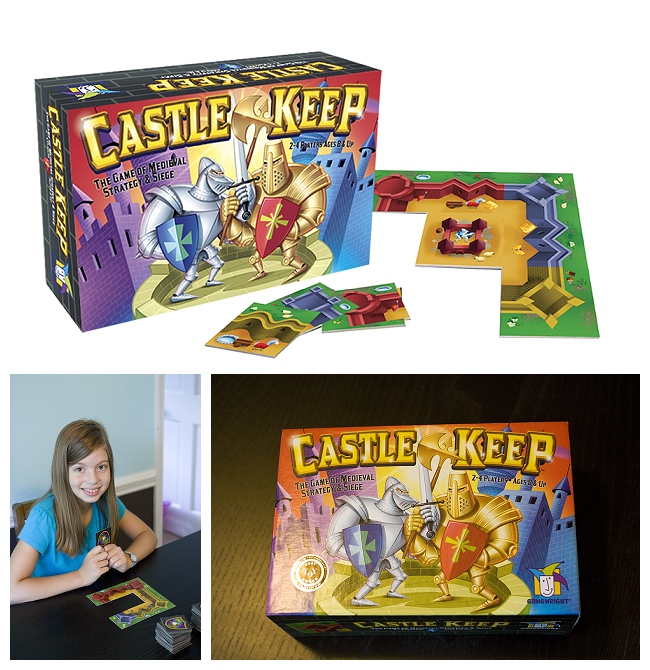 Sleeping Queens is the game my 9-year-old asks to play most often.  While it is marked for ages 8 and up, my 6-year-old caught on very quickly and enjoys playing with us.  In this game players try to be the first to wake five sleeping queens.  My kids love the fairy tale aspects of this adorable game.  Though it has many rules concerning what each card does, we found it to be easy to remember since each card's action makes sense.  Knights try to steal opponents queens, but players can battle back with a dragon card.  Or, you can put an opponents queen back to sleep with a sleeping potion card- unless the opponent has a magic wand to ward off the spell.  Also, I've found it to be a quick game, so it is a great one to choose when the kids beg to play a game right before bedtime.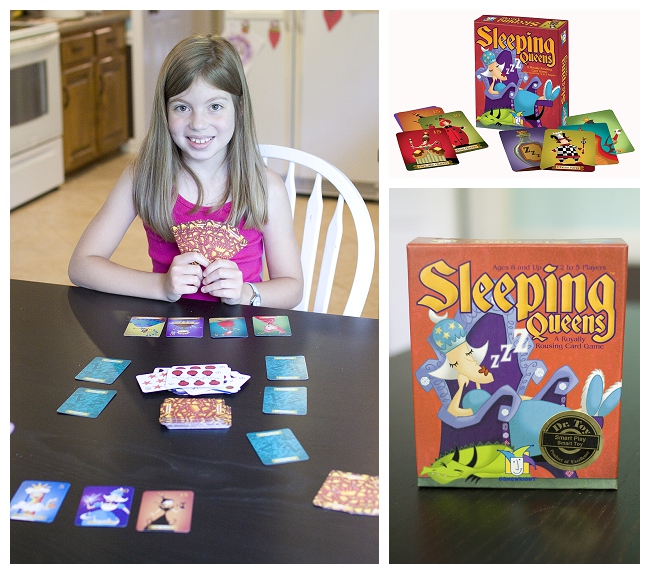 The Scrambled States of America Game- Deluxe Edition, for ages 8 and up, is a sneaky game and I love it!  While kids don't need to know facts about the states to play, they quickly learn those facts during game play.  I'm a homeschooling mom, so anytime I can sneak in some educational value to my kids play I am on board!  Players exercise quick reflexes and observational skills and learn the names, capitals, nicknames, shapes and positions of the states while playing the game.  My children find this game quite funny and love to race to win their states.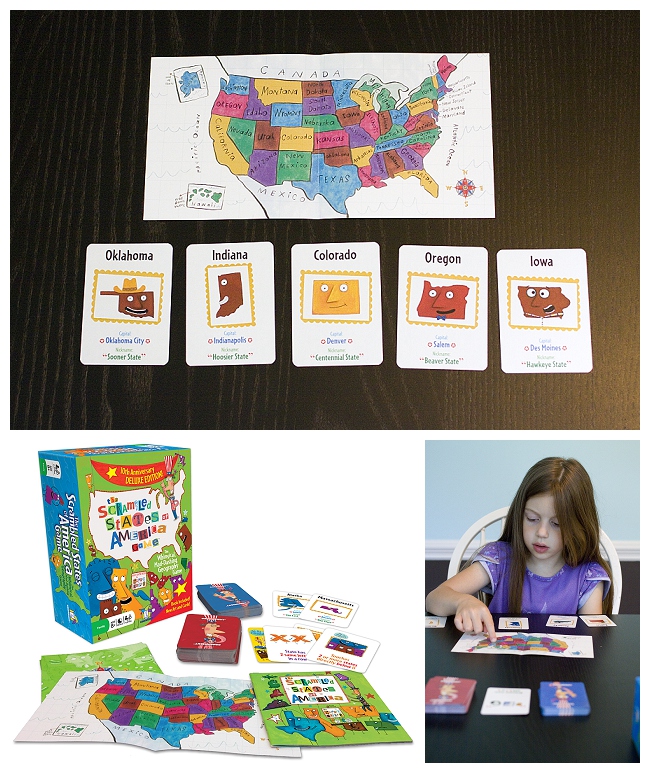 Gamewright games are the perfect choice for family game time this summer.  Whether cooped up indoors to beat the heat, or to avoid a summer storm, Gamewright games will help pass the time.  Don't forget to throw one or two in your suitcase when packing for vacation, you'll be glad you did!