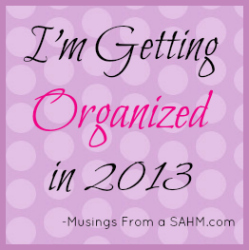 I need to get more organized. It's just gotta happen.
Lately it seems like one small task brings 10 more things to do. And that's because I'm not organized. Don't get me wrong – my house isn't terrible and I'm constantly throwing things out. But I need to improve. A lot.
A Place for Everything…
There's a lot of things in my house that don't have a "place." That = clutter and chaos.
We live in an old house and while it's a decent size, there is a lot of wasted space because the layout is funky. Like a lot of old houses. Yes, it has charm, but it's quirky and challenging.
There's also very little closet space which makes storage that much harder.
Take our dining room, for example. We don't actually use it as a dining room because we have such a large kitchen. Instead, the room doubles as the play room and computer room.
Unfortunately, there's not much room to put things because of the multiple low windows, doors, and strangely shaped walls (including one rounded corner.) It's also a high-traffic room because we have to walk through to get to the kitchen.
It's something I'm always trying to improve yet I feel like I never get "there."
My Challenge
I've put off tackling big organizing projects for awhile because I'm too busy. But I've realized that part of the reason I'm so busy is because my house isn't organized.
It's time to change. Now.
But I still have to be realistic. And attempting a new project everyday or huge entire-room goals is just not gonna happen.
So I've decided to take on one project a week.
Getting organized in 2013 one step at a time? That I can do.
And I'm going to share it with you. I figure if I blog about it every week, it will help keep me accountable.
This Week's Project – Our Homeschool Area:
My organizing challenge for this week is to organize our homeschool area. Since I'm homeschooling Nathan again, I really need to get this straightened out.
Here's my before picture. I'm a little embarrassed because it's pretty bad, but here you go…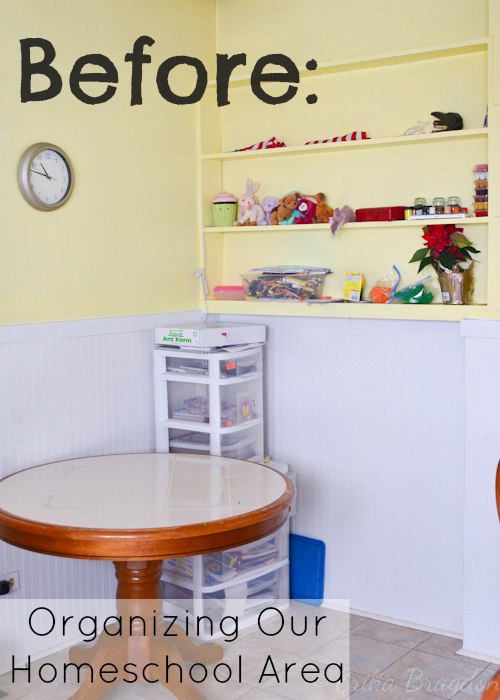 Check back on Monday, where I'll share what I've done and AFTER pictures.
Before and after pictures are always more fun, right?
Join Me in Getting Organized in 2013!
Will you help me?
I'm hoping that those of you who are organized can share some tips with me.
And if you're like me and need a little help, this should encourage you that you're not alone. Maybe you'll join me in doing one-project a week. We can do it together, right?
What do you need to get organized?