Potty training is one of those inevitable things that we have to go through with each child. Some of us get lucky and have a child who learns quickly & easily. Most of us fall on the other end of the spectrum and can use all the potty training help we can get.
Joshua is 2 and a half and I recently started potty training with him. We have an old potty seat from Nathan and a pink potty from Emily, but I really wanted something different for Joshua as neither of them were all that great. And I wanted something that would work but not an expensive, distracting potty with noisy bells and whistles. Or a complicated one with pieces that fell apart and was hard to clean.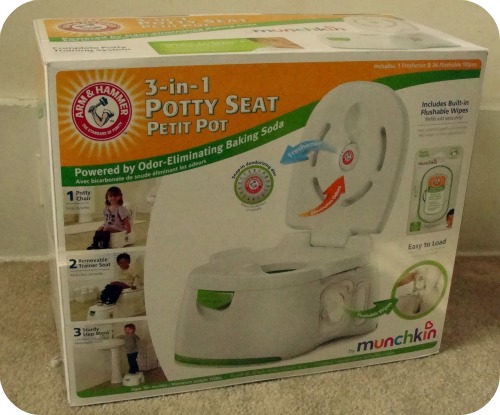 The folks at Munchkin had perfect timing and sent me their new Arm & Hammer 3-in-1 Potty Seat.
In addition to its deodorizing features, it does three things:
It's a regular, comfortable, sit-down potty seat
It has a removable seat for use on regular "big" toilets
It can also be used as a sturdy step stool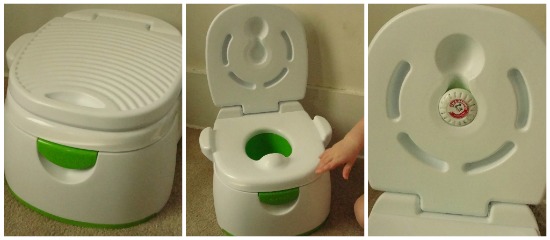 First, it meets my two top requirements: it's sturdy and easy to clean. With it's no-slip bottom and rugged top, it's not going to tip over when the kids stand on it or push it around. The potty bowl can be easily removed, cleaned, and replaced. There's no fancy pieces to put together; it's so simple.
My favorite aspect of the Arm & Hammer 3-in-1 Potty Seat is the removable potty seat that can be used on the big toilet. I've started all my little ones on sit-down potties, but at some point, they need to use the big toilet. So what do I do? Buy two potties? One sit down and one seat for the toilet? Well not anymore with our Arm & Hammer 3-in-1 Potty Seat!
Then there's the Arm & Hammer deodorizing features. The replaceable deodorizing disc fits easily into a little nook under the lid and works to absorb odors. I haven't had much of a chance to try this out as Joshua hasn't been too willing in that department yet, but once he is, I'm sure I'll be glad it's there.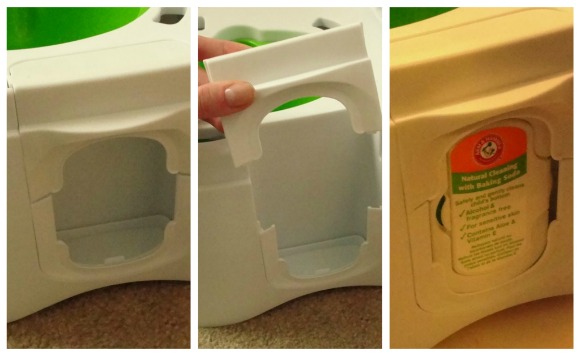 The built-in flushable wipes, that are stored on the outside edge of the potty, make it easy to help teach your little ones about good hygeine. We couldn't get our package of flushable wipes to fit into its side spot very well. I'm not sure if we had a smaller than usual package of wipes or what but it was a little disappointing. Aside from that, it's a neat idea to have the wipes built in; it makes for one less thing sitting around the bathroom.
Overall I think this is great little potty training seat and if I had to buy one, this would definitely be my #1 choice. It has everything I want in a simple and practical way, plus a few extras.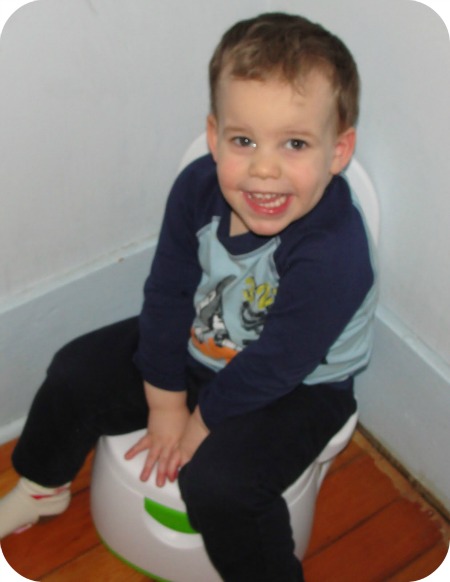 I'm really glad to have our Munchkin 3-in-1 seat to help us along the way as Joshua is potty trained. Joshua loves his potty seat and I do too.
Buy It:
You can find Munchkin's Arm & Hammer 3-in-1 Potty Seat on Amazon

and retailers everywhere.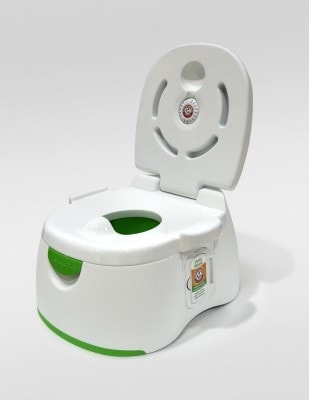 Disclaimer: Thank you to Munchkin for the potty seat I was sent to review. I received no monetary compensation and my opinions are my own and were not influenced by the sponsor.