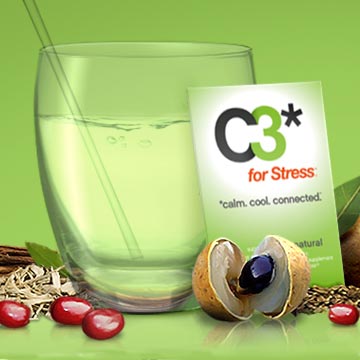 As a mom with 4 kids, I know what stress is all about. Sometimes it seems to be the definition of mom, but it shouldn't be. There are things we can do to stop, relax, and slow down. Yet how often do we? Statistics show that 75-90% of all doctor visits are related to stress and Americans are increasingly more stressed out. With all the technology these days, you would think things would be easier, but instead it can be even more stressful with being constantly "connected" with smartphones and gadgets. There's nothing wrong with that, but it just means we need to pay that much more attention to taking care of ourselves.
C3* for Stress is an all-natural, lemon-lime flavored drink, containing a mix of vitamins, minerals, and botanicals that help relieve stress by keeping you calm, cool, and connect to our natural energy. It works by helping you to focus so you can be more productive.
Some of the benefits include:
Conveniently packaged in single-serve packets so it can be enjoyed anytime, anywhere
Works quickly within 15-20 minutes but is gentle
Contains no stimulants or sedatives so your mind stays clear, focused, and alert
All-natural, preservative free
Sugar-free; no artificial sweeteners
100% of the RDA of vitamins B6, B12, Zinc, and Niacin
Only 15 calories per packet
C3* for Stress is simple to take. Just mix a packet with 4-6 oz of water and stir. It reminds me of Airborne or Emergen-C, only this is for stress. It's perfect when you know you have a busy day ahead or when you have a long, seemingly never-ending day with the kids.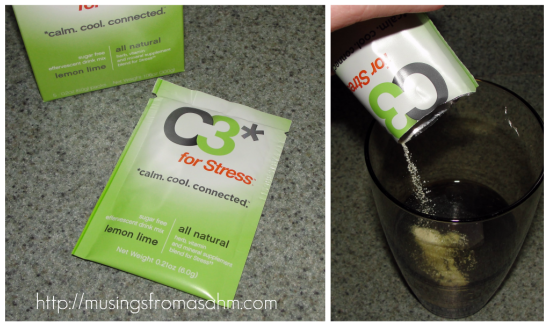 To be honest, it's a little hard to say exactly how well this drink works because, just like other herbal remedies and drinks, it's not an instantaneous miracle pill. I think the benefits are more subtle. I have noticed that I do feel a little more calm and relaxed shortly after drinking C3 for Stress.
The drink itself is light with a slight fizziness. I wasn't sure I would like it when I first tried it because it has a unique flavor, but the taste has grown on me and now I enjoy my C3 for Stress everyday. I think it's the all-natural kava root, which has been used for centuries to sooth irritability, nervousness, and tension. Some of the other beneficial ingredients include: kava root, polygala root, longan berries, wild jubue seed, bai-zhu (white) attractylodes, poria, white peony root and bark, licorice root, and milk thistle seed.
I also look to my C3* for Stress as a reminder to slow down and take care of myself. If we don't remember ourselves, how will we take care of our families?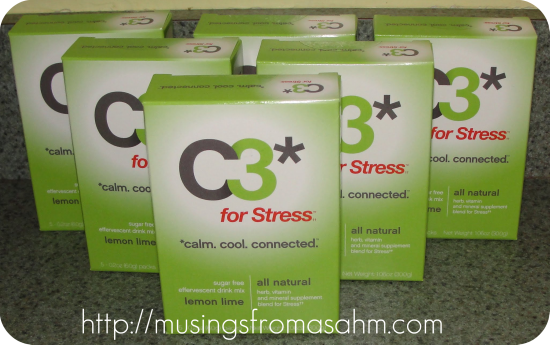 Buy It:
You can buy C3* for Stress online.
Get a sample 5-pack of C3* for Stress for free and pay $4.95 for shipping.
Disclaimer: Thank you to the folks at C3* for Stress for the free product I was sent to review. I received no monetary compensation and my opinions are my own and were not influenced by the sponsor.