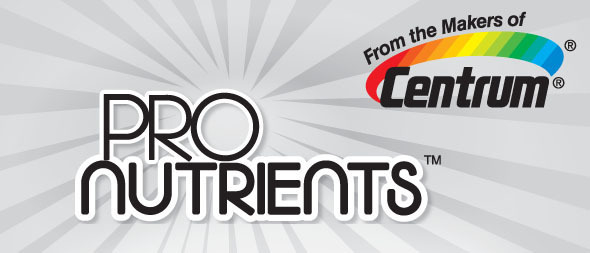 I am a big fan of taking vitamin supplements. While it's best to eat a healthy diet, life happens and it's not always realistic to rely on diet alone, plus even then, sometimes you need something extra. That's where supplements come in.
Centrum is proud to introduce a new line of great supplements called ProNutrients™. ProNutrients are designed to work along with your normal multivitamin and help support additional health benefits. There are three products: Omega-3, Probiotic and Fruit & Veggie supplements.
ProNutrients™ Omega-3 supports heart, brain, and eye health with its ultra-concentrated easy-to-swallow minigel.
ProNutrients™ Probiotic helps support healthy immune system besides digestion. The powder form dissolves easily into cool foods or drinks.
ProNutrients™ Fruit & Veggie MiniTabs equals a full serving of fruits and vegetables and is 100 percent naturally sourced from grapes, blueberries, raspberries, plums, carrots and tomatoes.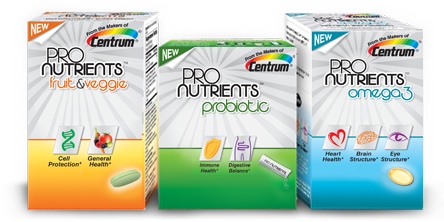 I was sent one each of Centrum ProNutrients, along with an additional Centrum Specialist Energy multivitamin, to try out.
The ProNutrients Probiotic is my favorite of the trio because I know how beneficial probiotics are and I love how easy it is to use the powder. I just sprinkle the ready-to-use envelope of powder onto my cottage cheese at lunchtime and then I forget it's there. The added immune support is my favorite part of this supplement. I can't afford to get sick with 4 children depending on me and anything that will help keep me healthy is worth it.
We've been hearing a lot about omega-3s for our kids' health the past few years and it only makes sense that adults need them too. I've taken omega-3 supplements from other brands before, but I like Centrum ProNutrients Omega-3 the best because the capsules are so tiny and easy to swallow.
I thought the ProNutritents Fruit & Veggie MiniTabs is great, especially for this time of year when there are not as many produce options available. If you think you might not be getting enough in your diet, this supplement is perfect.
As moms, we often overlook our own health in our focus of taking care of others. But we have to remember ourselves because ultimately it will benefit not only us, but the whole family. These new Centrum ProNutrients make it very convenient to target health areas with a simple supplement.
Centrum is part of a new website called NutritionPossible.com that offers trusted information from health sources, nutrition experts AND guided information through a unique self-assessment tool – for free!
I highly recommend Centrum ProNutrients to help keep you healthy. Visit the Centrum Facebook page for a $5 off coupon today!
Disclaimer: I am participating in a ProNutrients campaign hosted by One2One Network. I received nutritional product and compensation. While all opinions stated are my own, I make no claims about ProNutrients as a product or its effectiveness. One2One giveaway rules are here