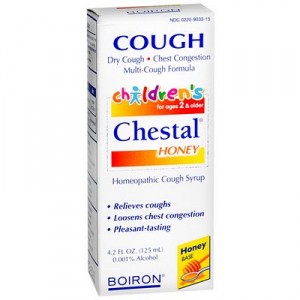 January brings a new year and it also unfortunately brings cold and flu season. There's a lot of medications out there for kids and they all claim to be the best. But you can't use most of them for little ones and how many are actually effective? We've all taken those nasty red cough syrups and in my opinion, they only work minimally at best.
With four children, I've wiped a lot of noses and soothed many coughs. Simply put, I don't have time to waste on medications that don't work. Thankfully I have a favorite remedy in our medicine cabinet ready to help. I can't say "new" because I've been a fan of Boiron's Children's Chestal Cough homeopathic medicine for some time now. And when I was asked to share with my readers, I didn't hesitate to say yes!
Here's why I love Children's Chestal:
Children's Chestal is safe for children ages 2 and up. Unlike most other cough medications that you can't give until they are 4 or even older, this one is okay when they're younger. My two year old, Joshua, who is somewhat prone to asthma-like symptoms, will settle down with Chestal. I love that I can safely give it to him at this age.
It works fast and is very effective. Within 20 minutes, there is a significant decrease in coughing.
It tastes delicious and my children all love it. There is no whining and crying about not wanting to take Chestal; in fact, my kids ask for it! They even pester me about it.
It contains no artificial flavors or colors.
Children's Chestal is meant to temporarily relieve cough due to minor throat and bronchial irritation. It can help to loosen mucus and thin bronchial secretions to make coughs more productive. The honey in Children's Chestal coats the throat to soothe any irritation and is rich in antioxidants. Chestal is a homeopathic remedy, meaning the medications are safe, natural, and have no side effects. You can learn more about Boiron homeopathics on their website.
Children's Chestal has seen us through many colds and coughs and has proven to be a very effective remedy. I always stock up because I never like to run out!
Bottom line: in my opinion, Children's Chestal is one of the safest, most effective cough medications available and it tastes great. That's a winning combination for any parent.
And psst – there's a Chestal for adults too, that works equally well!
Buy It:

You can find Chestal at stores like Walmart, CVS, Walgreens, Whole Foods, and Amazon.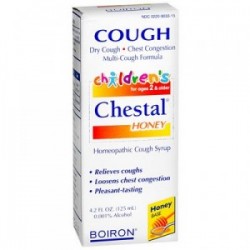 Disclaimer: Thank you to Boiron for the free product I was sent to review. I received no monetary compensation and my opinions are my own and were not influenced by the sponsor.