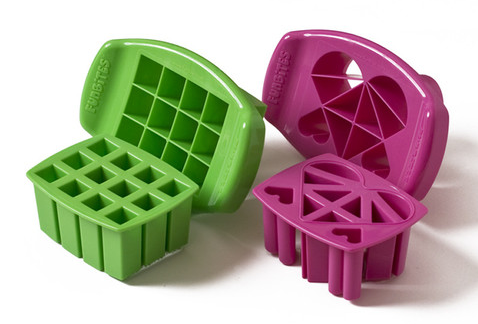 FunBites is the first and only kitchen tool that cuts kids' food into fun-shaped, bite-sized pieces. What makes FunBites stand out from any old sandwich cutter? They're made of strong, durable material and curved blades that cuts through food quickly and easily as you push down in a rocking motion. Each FunBites includes a matching "popper" that instantly pops the bite sized pieces of food out of the cutter.
FunBites are BPA-free and 100% made in the USA. They're also top dishwasher-safe which makes for easy cleaning. There are two designs to choose from – "Cube It" which cuts 12 bite-sized squares and "Luv It" which cuts a big heart from 10 shapes.
I'll be honest: when I first heard of FunBites, I thought it would be just another cheap sandwich cutter that doesn't work well. I'm also not a mom who takes the time to entice her kids to eat food with fun designs. There's nothing wrong with that, but I just don't have the time. I barely have time to eat my own meals somedays, muchless cater to my children with food fun. But I was curious about what the buzz was all about, so I agreed to review FunBites.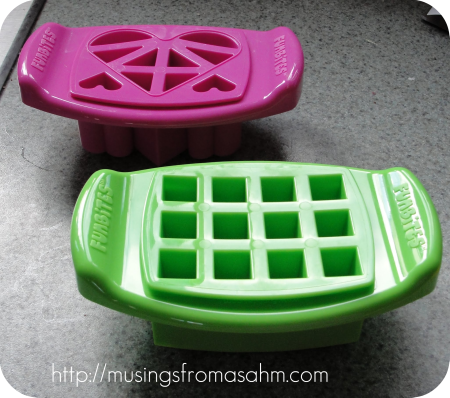 After using FunBites for over a week now, I can't believe how wrong I was. Instead of taking extra time to make fun designs for my kids, FunBites actually saves me time. That's right – instead of having to painstakingly cut up Luke's sandwich into bite sized pieces, I just cut it with our FunBites. First, I put it on the food, then rock it firmly back and forth, and lastly pop out the small pieces with the popper. Done! It is so much quicker!
FunBites are much sturdier than I anticipated. They are in a completely different league from your everyday sandwich cutter. The secret is the strong materials and rounded blades that you use to rock back and forth over the food you are cutting. That brings me to the "blades." They don't feel that sharp (I let my 5 and 8 year old use FunBites and even my 2 year old tries it) but they cut so well.
The popper works much better than I anticipated for popping all the food pieces out easily. And any crumbs or food residue left inside comes out easily in the dishwasher. The folks who invented FunBites really thought of everything. I also love that they are made in the USA!
I mainly use FunBites for the kids' sandwiches, but we've tried it on pizza and it works equally well on that. Other suggestions for FunBites use are: pancakes, cantaloupe, deli sandwiches, cheese, burgers, tofu, and more.
Whether you have a picky eater and want to add some fun and variety or whether you simply want to save yourself some time in cutting up food for little ones, FunBites are a great product that I recommend.
Buy It:
You can buy FunBites online.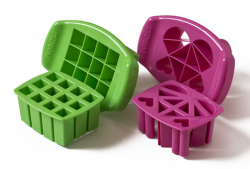 Disclaimer: Thank you to the sponsor for the free product I was sent to review. I received no monetary compensation and my opinions are my own and were not influenced by the sponsor.