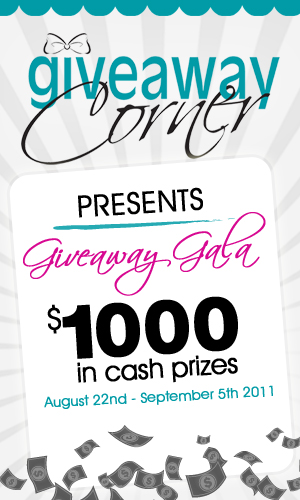 Prizes:
1 $500 grand prize winner
2 $100 winners
3 $50 winners
4 $25 winners
5 $10 winners
The Giveaway Gala will run from August 22nd, 2011 at 12:01 AM EST to September 5th, 2011 at 12:01 AM EST.
Winners:
1.      Prizes will be given in order of names drawn. (The first name drawn will receive the grand prize, the second and third names will receive the $100 prize, etc)
2.      Prizes will be awarded through Paypal. You must have a Paypal account to participate.
3.      Each entry counts as 1 point. You may complete as many as you wish- the more entries you complete, the better chance you have of winning!
4.      A total of 15 prizes will be awarded.
5.      Winners will be notified by email and will have 48 hours to respond before another winner is chosen.
6.      This giveaway is open Worldwide!
7.      All amounts are in US dollars.
Entry:
Entry will be with the Rafflecopter widget below. Commenting will not enter you.
Rafflecopter troubleshooting: If you have issues with daily entries, put "DO NOT COUNT" in the mandatory entry box and this should unlock the entries. If you do not see the form, try refreshing your page or using a different browser. You must have Javascript enabled. If you are still having problems, please email me and I'll do my best to help!