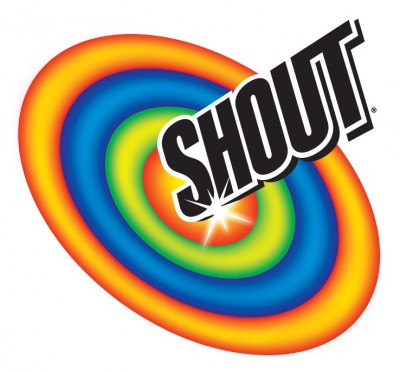 I recently shared Shout Free Stain Remover with you and now I'm excited to tell you about another great product from Shout.
Shout Color Catcher With Oxi combines the benefits of Shout Color Catcher with oxi booster powder. Shout Color Catcher by itself is pretty great. You simply throw a sheet into the washing machine with the laundry and it prevents dyes from running or bleaching into other pieces of laundry by absorbing them. Then you don't have to sort laundry! Instead of separating all the whites and colors and darks, you can dump it all into one load. Think of how much time you can save!
And now Shout has gone a step farther and created an ingenious product (in my opinion) by added oxi booster powder. The oxi booster has stain removers that actively brighten whites and work hard to remove tough stains, including dirt, grass, blood, coffee, and more.
With six people in our family, I do a lot of laundry. I spent most of today doing laundry. There's still a load left. So if I can save time or hassle in even a small way, I'm all for it. With Shout Color Catcher with Oxi, I don't have to sort the laundry, I don't have to remember to put in the oxi booster powder, and I don't have to run mini loads to avoid mixing colors. It saves me time and money.
My two year old, Joshua, loves to help me with laundry. I usually have to watch him carefully so he doesn't mix the clothes up. Now I just give him the basket and let him throw clothes into the washer. He loves it and so do I.
The only thing is that with the amount of laundry I do, I go through almost a whole box of Shout Color Catcher with Oxi in a week and that ends up costing extra. But as frugal as I am, it's worth the cost because of the time it saves me. Plus I don't have to buy extra oxi booster powder since it's already included.
And yes the Color Catcher really does work. I haven't tried a pure white shirt with a load of darks yet (I'm not sure I'm quite that brave!) but it works wonders on regular laundry. Especially for those mixed shirts you often find – you know the ones with white sleeves and a navy colored body. My boys have several shirts like that and Shout Color Catcher is already improving the color.
This mom is a new fan of Shout Color Catcher with Oxi and if you try it out, I'm sure you will join the club too!
I've already bought another box of Shout Color Catcher with Oxi using the coupon I printed off from the Shout Facebook page. I encourage you to print out your own coupon so you can try this out!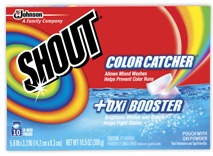 You can find Shout Color Catcher with Oxi Booster at stores and online.
I wrote this review while participating in a campaign by Mom Central Consulting on behalf of Shout and received a product sample to facilitate my review and a promotional item to thank me for taking the time to participate.