What mom doesn't need a little caffeine to help get going in the morning? Maybe you're one who goes to bed early and is bright and wide awake come morning time, but I'm certainly not. I need my coffee in the morning. If I don't get that cup of coffee, I find myself dragging. And a cup of really good quality coffee can make a big difference.
Winchell Mountain Coffee is a small, family-owned coffee roaster based in New York. Their coffee is perfectly roasted to superb perfection. Here's a few reasons why Winchell Mountain coffee is so great:
Coffee beans are used from around the world and a shipment is not accepted until that harvest has been sampled repeatedly, both in its raw green and roasted form.
Exclusive blends are crafted from rare single origin coffees like yrgacheffe, which is a region of Ethiopia and rumored to be where the first coffee came from
Coffee is roasted using old old-world traditions – with only hands and heat
Entire roasts will be thrown away if the beans are not sampled perfectly due to high quality standards
One-way goglio valve bags pack the coffee so as to assure absolute freshness. Coffee will have a shelf life of up to 6 months.
The owners, Will Rivkin and Allen Ricca, take the art of coffee very seriously but that doesn't mean their coffee itself has to be serious. They've teamed up with renowned cartoonist and children's book author, Sandra Boynton, to add some fun.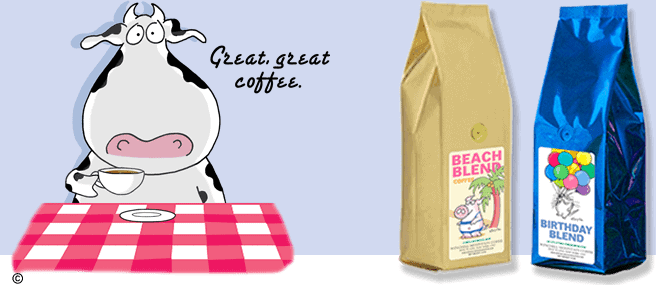 Winchell Mountain Coffee has 15 varieties of hand roasted coffees that feature Sandra Boynton's legendary characters and fun names like Not a Morning Person, Bob's Diner, and Espresso Overdrive, just to name a few.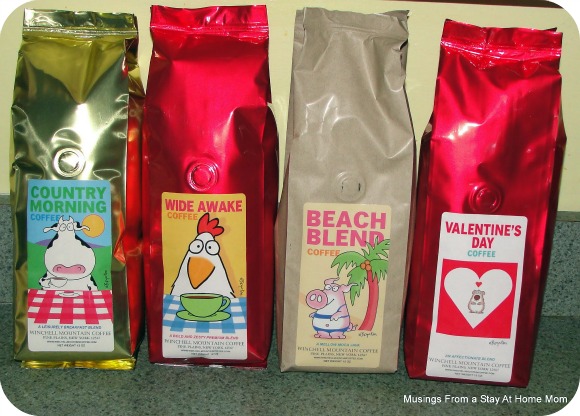 I received four varieties to try out: Beach Blend, Wide Awake, Country Morning, and their limited edition Valentine's Day: An Affectionate Blend. You can choose ground or whole beans and I picked ground. This coffee is ground finer than any other coffee I've ever tried and its flavor really comes through. It's amazing and such a treat to enjoy.
We try a lot of different coffee blends in our house and not just the boring grocery store blend. I have to say that Winchell Mountain Coffee is the best and our favorite.
I'm not sure which is more enjoyable: the delicious coffee or laughing at the whimsical Sandra Boynton characters. My husband, Nate, loves cows and he thinks the Sandra Boyton cow is pretty awesome. I'd have to agree; they are so cute and sure to put a smile on your face each morning. Winchell Mountain Coffee paired up with Sandra Boynton artistry is a winning combination.
I've come to look at my morning cup of Winchell Mountain Coffee as a guilt-free morning treat. I'm sure you will too once you try out this delicious coffee!
Buy It:
You can buy Winchell Mountain Coffee online
Disclaimer: Thank you to Winchell Mountain Coffee for the free product I was sent to review. I received no monetary compensation and my opinions are my own and were not influenced by the sponsor.