I don't think I'm alone when I say that I love Pinterest. My mom was clipping pictures out of magazines the other day for inspiration and I told her that she doesn't need to do that anymore because we have Pinterest! I love how it gives you the total freedom to put everything you want and desire and need for inspiration, right on one page. All of your favorite categories on your main page. It's brilliant. Sometimes I wish that all of those beautiful things I pinned would end up in a shop, just for me, kind of like my very own Pinterest store. Wouldn't that be wonderful?
Obviously, that is not possible, but when I found the Vive Pretty shop, I felt like I had gotten really close to my very own Pinterest shop. This shop has so many beautiful things and it's all on one website. Apparel, jewelry, handbags, and home decor? Yes please! Everything is so beautiful, too. From chevron pillows to gorgeous blouses, you're going to want to buy it all now, or pin it for later. I fell in love with multiple items and would have gladly purchased them all if I could. I just love this charmed bracelet and this watch is absolutely stunning. But these statement necklaces? Swoon!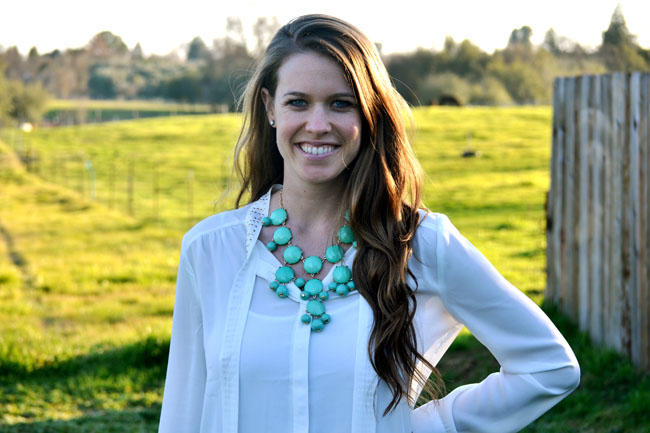 Isn't this fun? I am so happy I added it to my collection. It's bold, yet simple and beautiful. I love how it turns a plain white blouse into a fun and colorful outfit. I love how much space it takes and how it can make a simple outfit look so much nicer. It's kind of magic like that and I felt really confident and beautiful in it.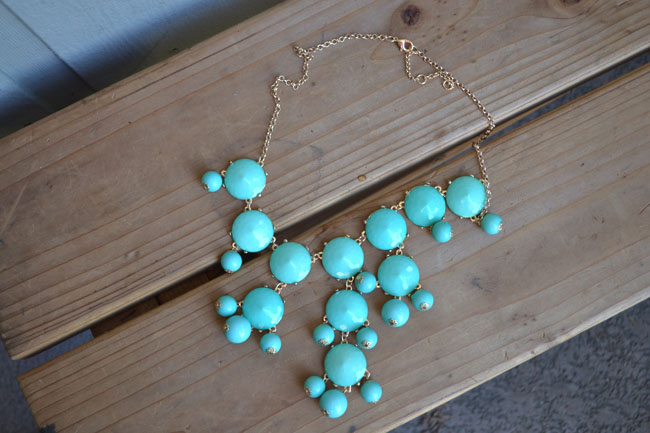 It's also very well made. Each jewelry piece is hand curated; therefore, it is not a cheap piece that you'd find at a big store that ends up breaking after only a few wears. It will last and you will love it. Another great feature is it has an adjustable clasp so you can choose which length you'd like to wear it. I like to wear my necklaces higher, so it was nice to be able to adjust it to what I prefer.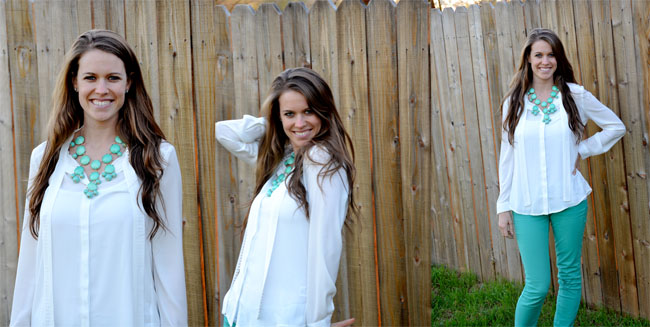 As you can see, I had a little fun with modeling this necklace. It's just so fun! I love how it pairs perfectly my turquoise skinnies. The necklace also has gold in it, so it went really well with my brown wedges (not pictured, unfortunately). This is an outfit I wore to my sister's baby shower. I got so many compliments on the necklace!
I just love this necklace, I love this new shop, and the owner is so sweet and accommodating. Definitely check out Vive Pretty as soon as possible, just get ready to fall in love with it all!
Note: The owner of VIVA Pretty refused to honor the giveaway. Unfortunately, we no longer recommend this brand based on this poor customer service. 🙁
CLOSED