Halloween will be here before we know it. Do you have your kids' costumes? There are so many costume choices out there and almost as many stores selling them. If you're anything like me, you've wanted to get your kids a cute costume (or maybe a not-so-cute costume) but have been shocked at some of the prices. I have four kids so there is no way I am going to spend a ton of money on a costume for each child. Yikes!
That's why I was excited to find CostumeDiscounters.com. This low-cost online costume store guarantees they will have the lowest price or they will match it, plus give you an extra 20% off! They have a great selection of costumes for all ages, from kids costumes to teens to adults and even pets. I found an Angry Birds costume for adults which I promptly sent the link to my husband, telling him "I know you would wear this if I got it for you!" (He had to agree.)
There are really a ton of costumes at CostumeDiscounters. I could have spent a really long time looking over everything. However I turned to the girls costumes because I needed to find something for Emily. There are many search options to narrow down what you want. Emily really likes popular characters like the Disney princesses, Tinkerbell, Hello Kitty, etc. I searched through those and Emily found several she liked. Then we looked under the Disney category and Emily saw the Minnie Mouse Cheerleader costume that she absolutely loved. We ordered that one and it arrived promptly.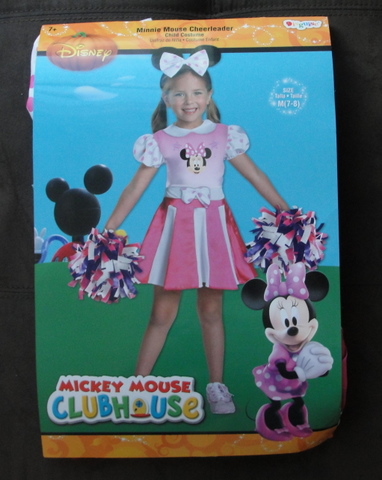 I ordered size medium (7-8) because Emily is wearing a size 6 now for most things but I know costumes often run a bit small, plus with living in chilly New Hampshire, I will bundle her up with layers underneath for trick or treating. The size fit her great – it was a little big but will be perfect with layers.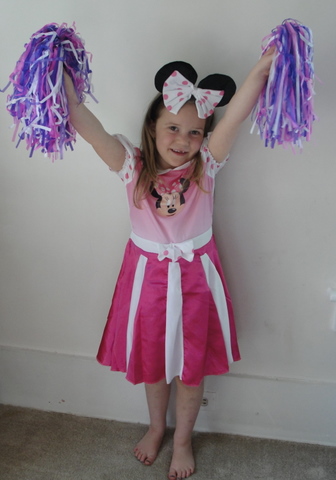 I love that the costume included the Minnie Mouse ears and the pom-poms. Usually you have to order accessories separately for an additional cost so this was a wonderful bonus. At just $26.97 (a discount from $36.99) this is a real bargain. And pretty darn cute too!
I was very pleased with the selection, prices, and service of Costume Discounters and will use this place again. I hope you will keep this site in mind for your costume shopping. Even if you are all set for Halloween this year, it's a great place to check out costumes for dress up fun. And if you do still have Halloween costume shopping to do, what are you waiting for? Head over today and see what you can find!
Disclaimer: Thank you to the sponsor for the free product I was sent to review. I received no monetary compensation and my opinions are my own and were not influenced by the sponsor