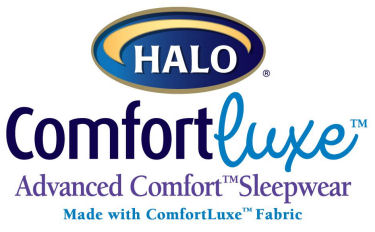 Halo Innovations, the company that brought us the popular SleepSack "wearing blanket," now has a new line of unique sleepwear – Halo ComfortLuxe Advanced Comfort Sleepwear. With exclusive ComfortLuxe fabric, it allows baby's skin to "breath" better by wicking moisture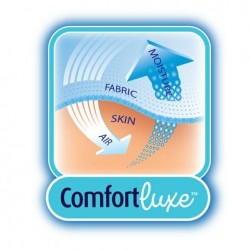 away from the skin twice as as fast as cotton and helps regulate baby's body temperature. This helps baby to stay cooler in the warm season and warmer in the winter so it helps baby sleep more comfortably. Overheating can be a SIDS (Sudden Infant Death Syndrome) risk so ComfortLuxe can even help keep baby safer.
ComfortLuxe material is very soft and silky too so it's not just beneficial for skin.
ComfortLuxe comes in four different varieties: a two-Piece Set in Silky Smooth, a two-piece set in Flannel, a coverall (for up to 6-9 months) and a Sleep Sack Base Layer for under Sleep Sacks.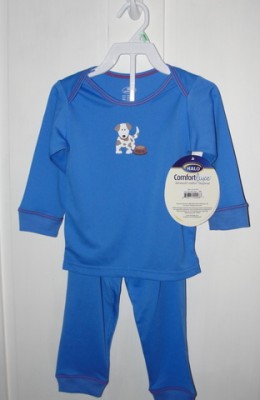 I received the ComfortLuxe Two-Piece Set in Silky Smooth to try out for Luke. Luke is about 22 pounds and based on that and the size recommendations, I chose the 18 month size, which is for 21-23 pounds. Our ComfortLuxe set was a little too big for him so I think the sizes are a little off and run big. I think the 12 months (recommended 19-20 lb) would fit him much better. Still, it wasn't so big that he couldn't wear it.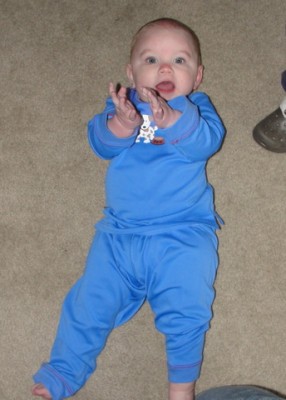 The material is just as it claims: breathable and silky smooth. I haven't noticed that Luke gets overly hot at night, but I can see how the material would wick moisture from the skin. And it is so soft! Normally if you get "breathable" material, it has a harsher feel to it but Halo managed to figure out the unique combination of breathable and soft. I wouldn't say that the Silky Smooth version I received is the warmest material; it would probably be better for warmer months, but I can imagine the Flannel set would be perfect.
ComfortLuxe has been found to reduce the "itch/scratch" cycle of eczema suffers and has earned the Seal of Acceptance from the National Eczema Association. My 2 year old Joshua has suffered from eczema and I am happy to have found a new product that can help him. His eczema is much better now than when he was a baby, but he still has some flare-up's on occasion, moreso in the summer than winter. I know the heat and sweat at nighttime contributes so I know the ComfortLuxe Advanced Comfort Sleepwear would help.
Little details such as the flat interior seams and rollover cuffs to prevent abrasions and scratching also help with sensitive skin. I also appreciate that ComfortLuxe is chemical free.
I am really pleased with the quality and benefits Halo ComfortLuxe Advanced Comfort Sleepwear has to offer. In fact, I like it so much I plan on purchasing a two piece flannel set for Joshua!
Buy It:
You can buy Halo ComfortLuxe sleepwear at stores, such as amazon.com, Babies R Us, and Buy Buy Baby
Disclaimer: Thank you to Halo for the free product I was sent to review. I received no monetary compensation and my opinions are my own and were not influenced by the sponsor.