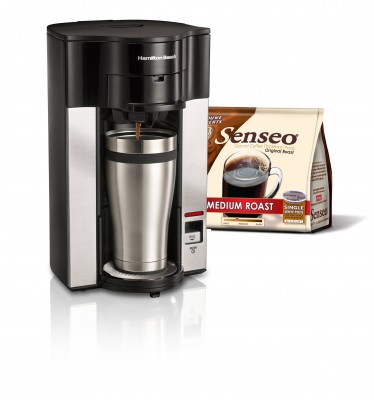 Before kids, I wasn't a coffee drinker, but now, with four of them running around, I need that boost to keep me going. I am definitely a coffee lover now. I have even learned to drink it black, which I never thought I'd say! Now there are many ways to brew coffee now days. From personal pod machines to regular ol' coffee makers. How do you choose? Well cost is a big factor for me. Convenience is even better.
The Hamilton Beach® Stay or Go® Personal Cup™ Pod Coffeemaker is fantastic. I received this little machine to review a couple months ago, so I've had a lot of time to put it to the test.
First off, the Hamilton Beach coffeemaker is simple, which is exactly what you want when you are getting up in the morning. Whether you are stumbling around in your pajamas trying to get yourself some breakfast and start functioning before the kids come downstairs or whether you're running out the door to work like my husband, who wants a complicated process? Not us!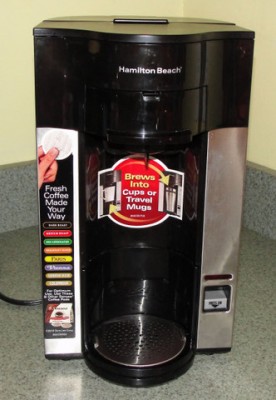 To brew coffee with this Hamilton Beach Stay or Go coffeemaker, you just pour the exact amount of water you want into the back of the machine. I fill up my large mug with water and then pour it directly into the machine.
Next I get out a Senseo coffee pod. It's all sealed up and you don't need to measure or worry about spilling. I open the little drawer and drop the coffee pod into the "brew basket." There's no need to line it up properly, just drop it in and shut the drawer.
Then I put my mug underneath and push the button.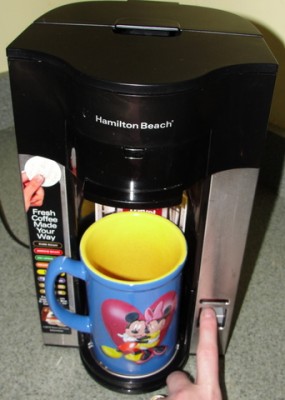 It brews just like a regular coffee maker except you are only using an exact amount of water so it won't run for as long. It only takes a couple of minutes. You can also use travel mugs which is where the "Go" part of "Stay or Go" comes in. It can brew up to 14 oz of coffee.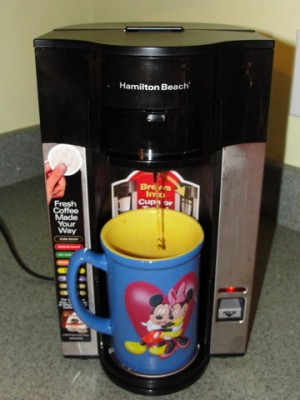 Once the coffee is brewed, the machine shuts off. This is one of my favorite features. There's no worrying about whether we shut the coffee machine off before we left the house. It does it automatically for you!
Clean up is super easy. The little brewbasket is dishwasher safe and because the Senseo coffee pods are sealed, there's no coffee grounds or mess to clean up. Just toss the used bag away. Done.
Ok, so the machine is awesome – how about the coffee? Senseo coffee comes in 11 different varieties, all made with delicious, high quality coffee. The pods are reasonably priced at around $4.50-$5.50 for 16-18 pods. While it's still a little more than buying regular ground coffee, it's much cheaper than other coffee pod brands. As frugal as I am, the slightly higher cost of these pods is worth it when factoring in the time and hassle it saves me. Being able to get out of bed and dump a coffee pod into the machine vs measuring out coffee into a filter and spilling it all over (I've even spooned coffee onto the counter in the past because I've been so tired; I am not a morning person!) is quite nice!
For coffee strength, it's pretty easy. For a regular size cup of coffee, just use one Senseo coffee pod. For a larger travel mug or if you like strong coffee, throw two pods in. Easy, peasy. I usually make about 10 oz of coffee in the morning and one pod is perfect for me.
I seriously love this little machine. I have had many different coffee machines and some much fancier and much more expensive. This Hamilton Beach Stay or Go coffeemaker is my favorite. To sum it up for you:
Great price tag – suggested retail price $29.00!
Convenient and quick
Can be easily customized to use your travel mug or regular mug
Automatic shut off
Pods are a decent price too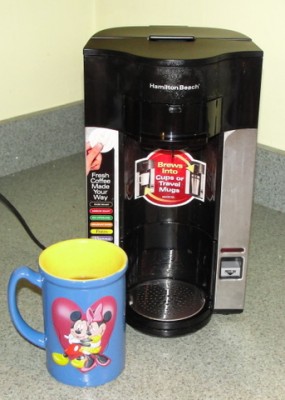 Buy It:
You can find the Hamilton Beach Senseo Stay or Go Coffeemaker at SenseoStore.com, HamiltonBeach.com and Amazon.
Disclaimer: Thank you to Senseo for the free product I was sent to review. I received no monetary compensation and my opinions are my own and were not influenced by the sponsor.