One year ago today, I was holding my tiny 7 lb 13 oz baby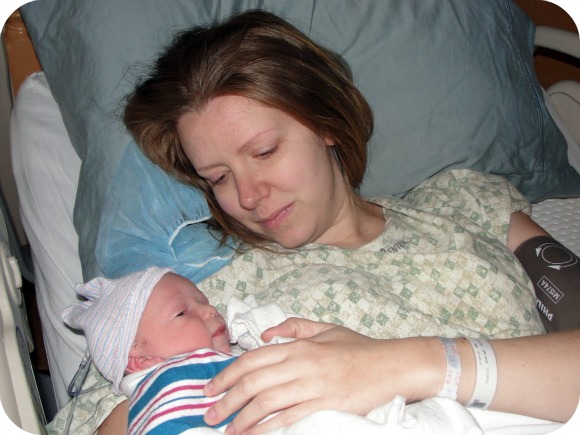 and today, I am hugging my big 22 lb 13 oz almost-toddler! I can't believe it either, but it's true!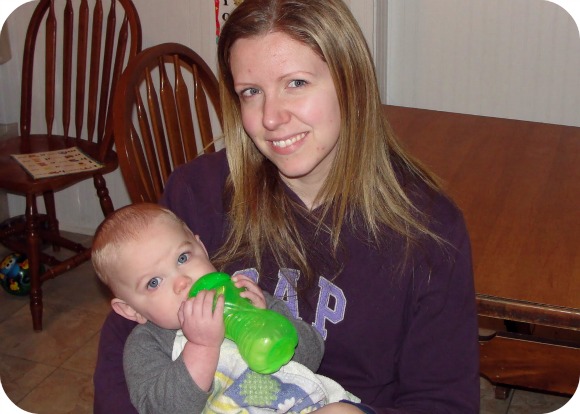 One year ago, you were so tiny and helpless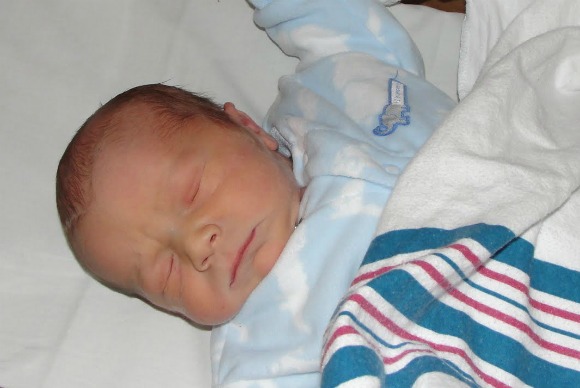 Today,  you are walking! You took your first steps about 5 weeks ago and this past week have really started walking more and farther. It's so cute to see you stand up in the middle of the room and start walking off to play with your brothers and sister.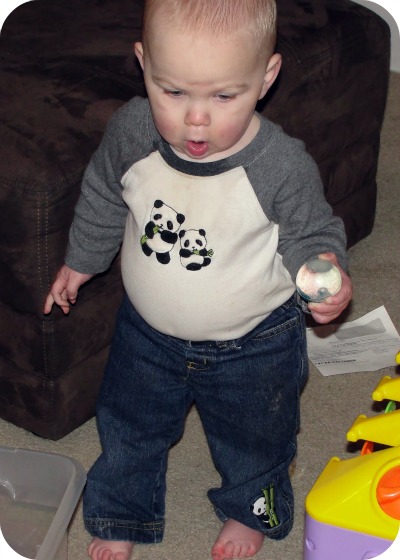 One of your favorite things to do is to dance. You're Mommy's musical baby. You love it when music is playing, you will start bobbing your head and wiggling back and forth and it's hilarious to see you go at it.
We're saying "Bye-bye" to bottles.  You still like one bottle in the morning but once this can of formula is empty, that one will end too and we'll do just milk in your sippy cups. Mommy is so glad you can eat regular foods and she doesn't have to worry about your tummy getting upset like with your big brother Joshua!
You wave to people now. You don't say a lot of words yet but you do say "Mama" and "Dada" and "Nana" which somehow means you want food.
This is pretty much a typical picture of you now – you sitting and studying something. In this case, it was a small piece of cardboard you carried around for half the day yesterday: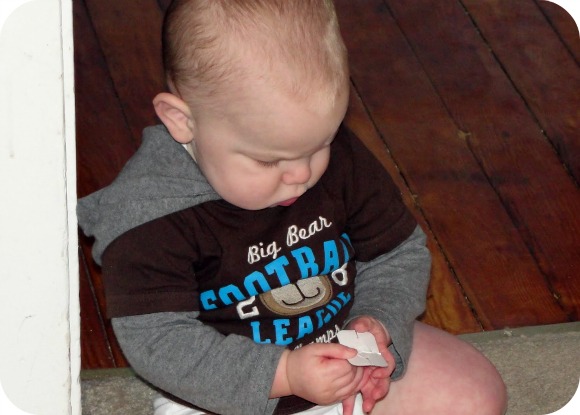 Here's some pictures from Luke's first birthday party, which we  celebrated on Saturday. Grandpa drove from Ohio just for Luke's birthday! My dad has been there for each of the kids' first birthdays and he wasn't going to miss Luke's! I'm so glad he was able to come!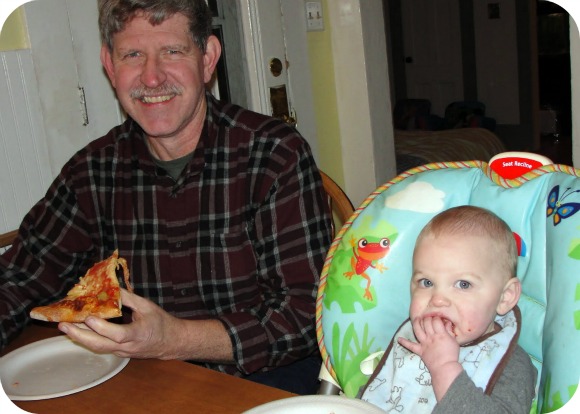 I made Luke's birthday cake, completely from scratch.
I love cake decorating but I haven't had time for a long time. But I thought I'd pick it up again with Luke's birthday and I think the cake turned out pretty well. It looked adorable and everyone loved it. It took a lot of time to make but I had so much fun. Of course it helped that Nate and my dad were around to keep the kids occupied. I made the giraffe using the Wilton "Animal Crackers" cake pan and put it on top of an 11×15 inch sheet cake.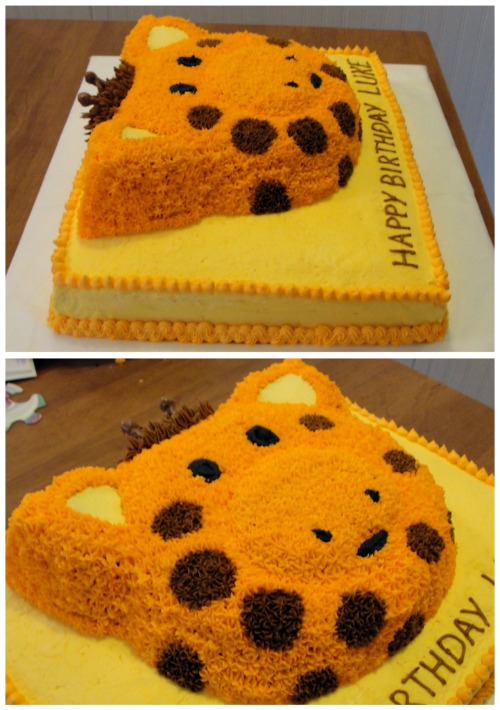 Happy Birthday to Luke!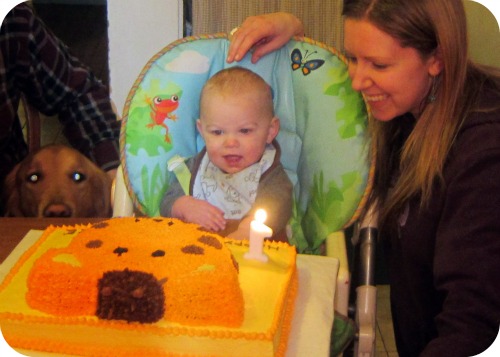 He didn't hesitate and dug right in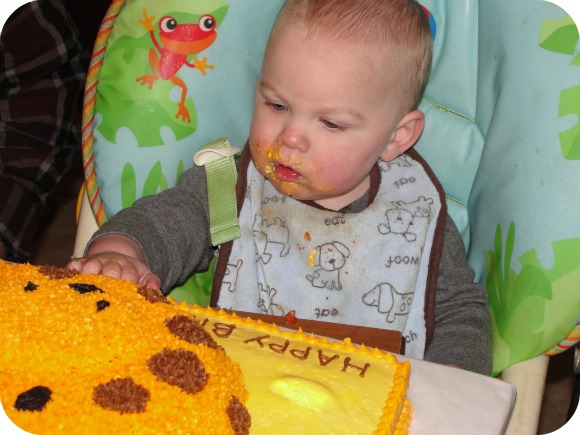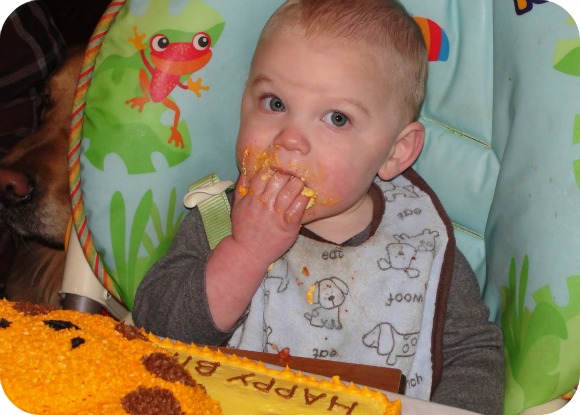 He loved the cake and ice cream (I love the dog watching from behind)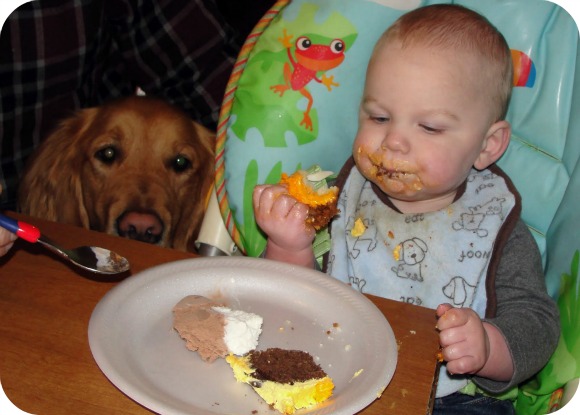 Luke loved the dog too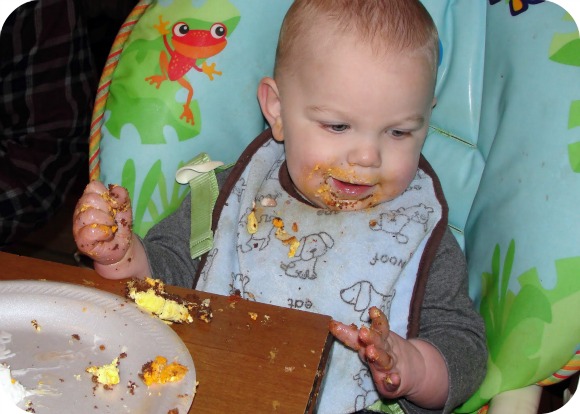 Time for presents! Luke loved banging on the package like a drum best of all, haha!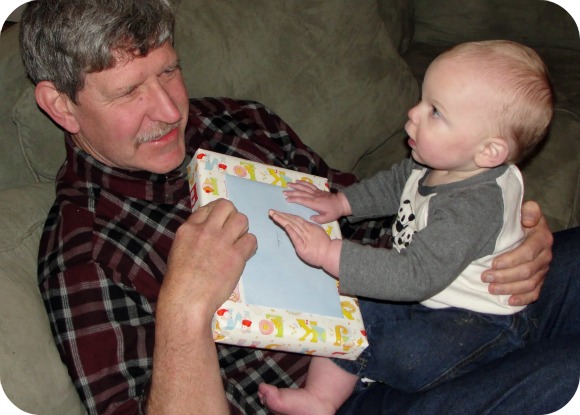 I am not above re-gifting presents. Multiple times. (Those Fisher Price Peek-a-blocks belonged to Nathan. They've been "re-gifted 3 three times!) But hey, they don't care and it's saving money. Plus the kids love it and who needs more and more and MORE toys lying around? It works for us!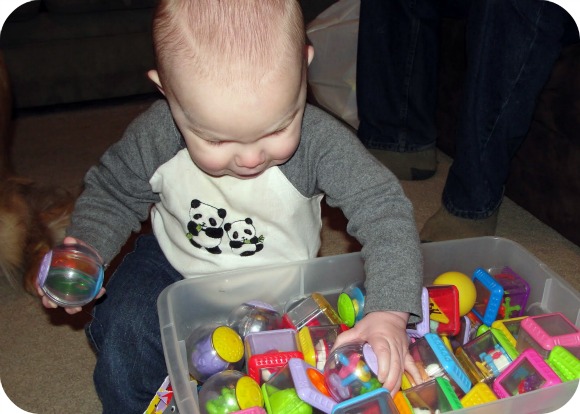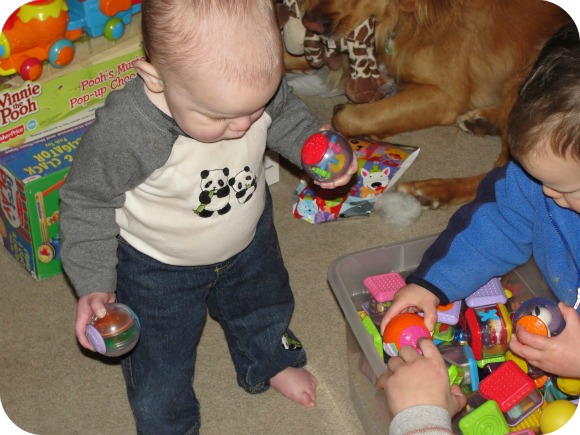 We did get him a couple new toys and this Melissa & Doug walking toy is quite a hit. It's perfect because he can walk alone now, but he's still learning his balance and this toy helps him practice. Not that I need him learning to run anytime soon, but you know!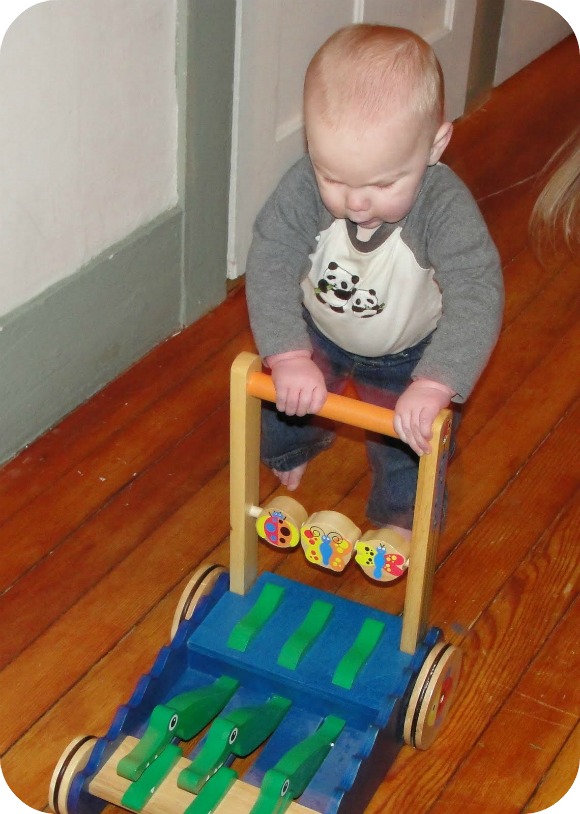 Luke and Daddy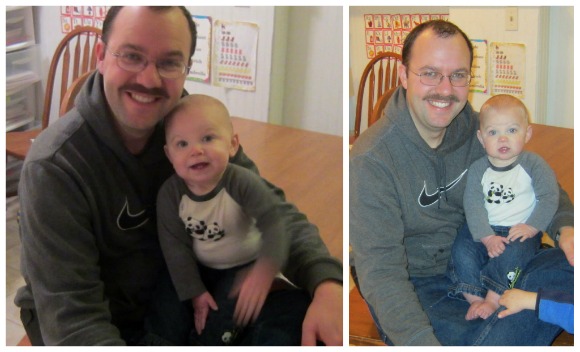 Happy Birthday, Luke! We love you so much!
Check out Luke's last year:
1 month
2 months
3 months
4 months
5 months
6 months
7 months
8 months
9 months
10 months
11 months