I am a huge Harry Potter fan and since I wasn't able to see the movie in the theaters, I am so excited about its release on DVD yesterday, just in time for the holidays! Join Harry, Ron and Hermione as they battle against Voldemort in the epic conclusion to the film series everyone is talking about!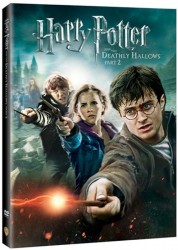 Try out the neat widget below, where you can test your Harry Potter triva knowledge with their quiz and determine whether you are an expert or novice! I took the quiz and scored 3/5 so not so great, but I haven't seen the movie yet so that's my defense. And my results did unlock an exclusive film clip! You can also see the Harry Potter Buzz Portal where you'll find all trending Harry Potter topics on Facebook and Twitter and find tips for having the ultimate Harry Potter party!
Buy It:
You can find Harry Potter & The Deathly Hallows Part 2 in store everywhere now.
Disclaimer: I will receive a free product for posting this. I received no monetary compensation and my opinions are my own and were not influenced by the sponsor.