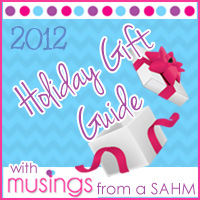 I've only recently heard of iTikes – have you? It's a new branch of Little Tikes with an exciting line of preschool toys enhanced by technology with Apple mobile devices. Their motto is: Discover. Learn. Interact. One of their popular toys this holiday season is the iTikes Canvas. It's a 2-in-1 toy, where children can enjoy a regular magna doodle or get creative with an exciting drawing pad using an iPad.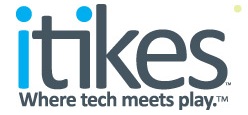 I wasn't quite sure what to expect, because I'm pretty protective of my iPad. It is pretty expensive to be used as a child's toy after all. But iTikes claims to keep it safe, so I figured we'd give it a try and see how it worked. And my children all love drawing/coloring, etc. so I knew they'd be interested in the iTikes Canvas.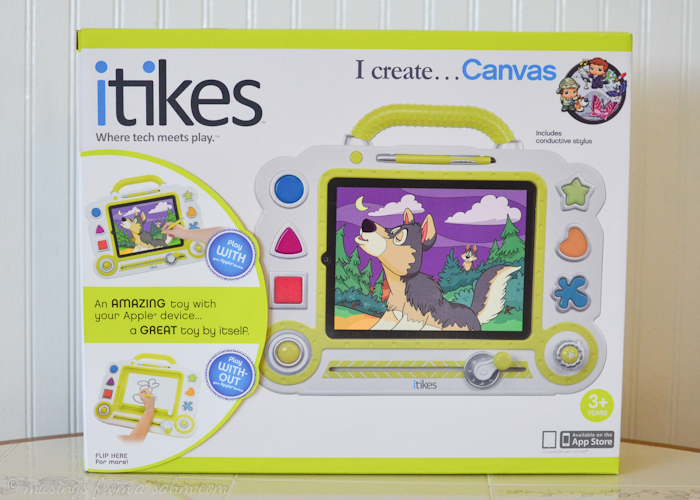 I let Emily be my little tester with our iTikes Canvas, because she's 6 and I knew she would appreciate it more than Joshua, who is 3 and on the younger side.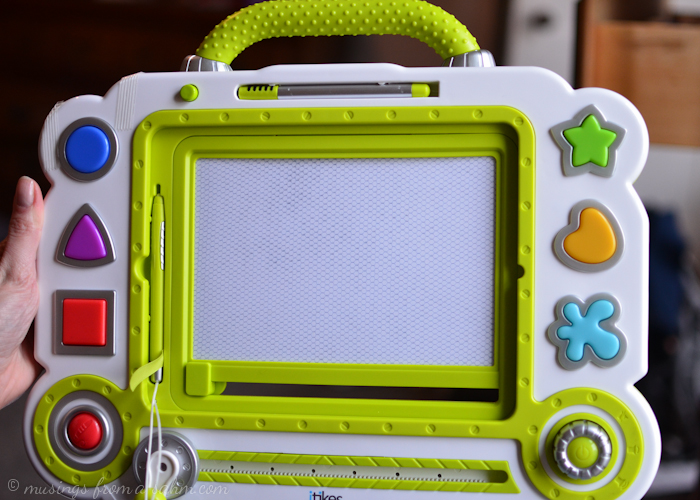 First we tried out the magna doodle part. Honestly, I wasn't impressed with this aspect of the toy. It was pretty faint and the "pen" didn't doodle smoothly either – it reminded me of dragging an eraser across the surface.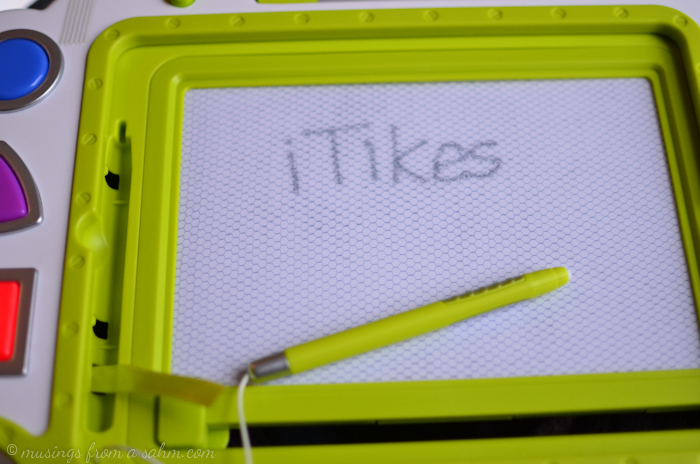 But the best part came when we securely fastened my iPad into the back as directed…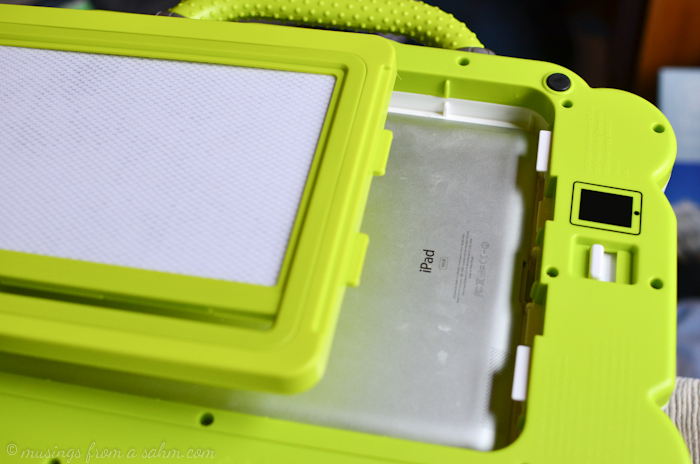 …and downloaded the free app. Then the fun really began.
Emily started by simply doodling with the attached pen, designed just for use with the iPad. She quickly learned how to change the colors and which tool she wanted to draw with – from paintbrush to marker to chalk and more. She also added/changed frames to her artwork.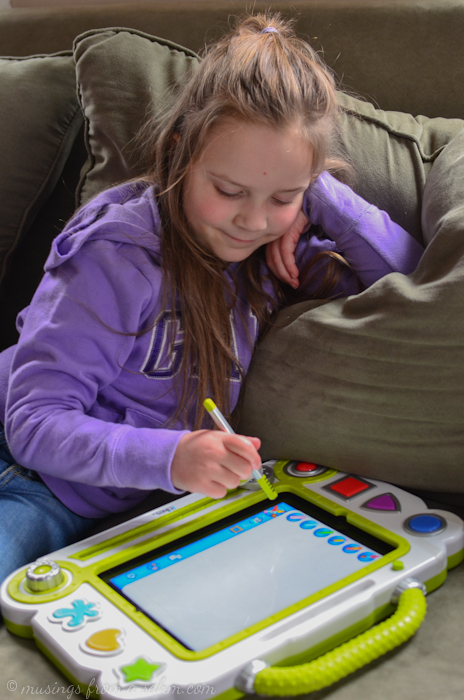 All the artwork can be saved to the iPad and then erased with the fun, "wheel" eraser. The eraser even makes a squeaky sound as it moves.
One of Emily's favorite things is adding the virtual stickers. She loves adding stickers to everything (and then some!) in real life, so to add stickers on the iPad was pretty cool for her.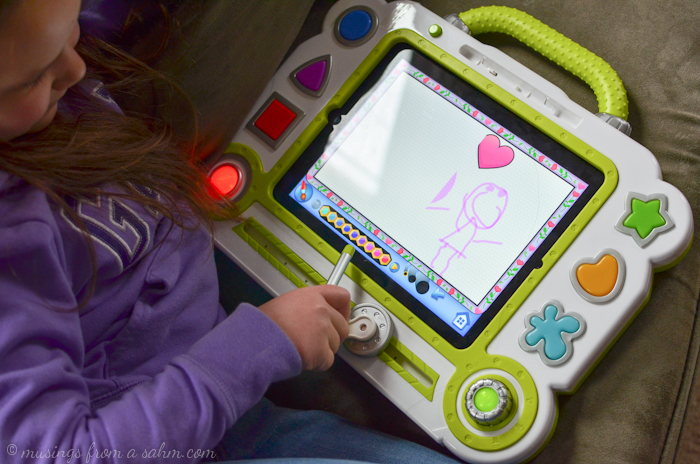 The iTikes Canvas takes advantage of the iPad's technology and allows kids to move things around with their finger or drawing pen too. It was pretty neat for Emily to be able to position her stickers exactly where she wanted them.
There's also the stampers on the side of the Canvas toy itself. Kids click on those and the app stamps that design onto their drawing. And they can be moved around too.
The coloring pages are another favorite for Emily. There's 'free' coloring where she could color wherever she wanted, but her favorite is the "magic paintbrush" that colors within the lines.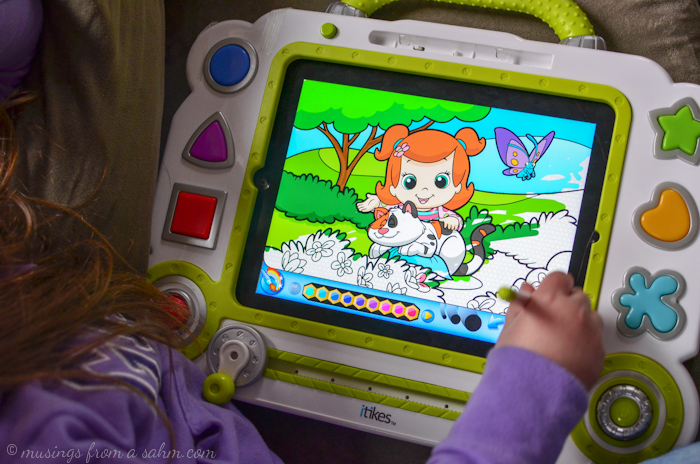 I liked that kids can draw with their fingers or the pens. Younger children would probably have an easier time simply using their finger while older children would benefit from the pen and finer dexterity.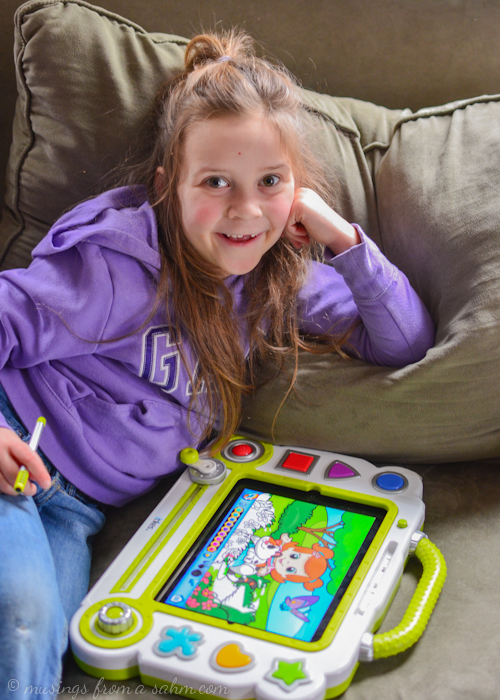 I was a little skeptical of the iTikes Canvas at first, but after watching my daughter enjoy it for hours at a time, I'm sold. This is a really cool toy. I wouldn't recommend it if you didn't have an iPad because that's the best part of it (and again I wasn't a huge fan of the magna doodle portion by itself) but if you do and are willing to share with the kids? This is a winner.
Buy It:
Find the iTikes Canvas at stores everywhere, including Target, Walmart, Toys R Us, Amazon, and more
MSRP: $39.99
Win It!
1 lucky winner will receive an iTikes Canvas of their very own!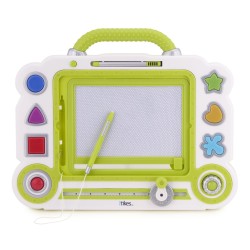 CLOSED