Whether you are dieting (or will be in January as many of us do) or simply cooking or baking, a good kitchen scale can really come in handy. And I have just such a scale to tell you about!
The EatSmart Precision Pro Kitchen Scale is a handy multi-functional little scale to have around. It's small size doesn't stop it from doing a great job. It weighs up to 11 pounds and displays ounces/pounds/grams/kilograms. With a graduation of .05 oz or 1 gram, this EatSmart scale is exactly what its name says: precise.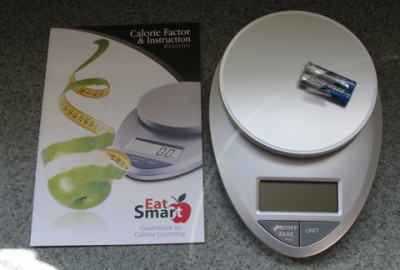 I've worked with the folks at EatSmart before (see my EatSmart bathroom scale post) and this latest product confirms what I already knew: EatSmart knows what they are doing, including adding little details that turn a good product into something great. There is a reason the EatSmart Precision Pro Kitchen Scale has a solid 5 star rating on Amazon!
In addition to how much it will weigh and the options there, the EatSmart scale has a high resolution screen that allows for easy viewing at any angle. The tare features lets you zero it out so you can weigh something without including the weight of the dish you are using.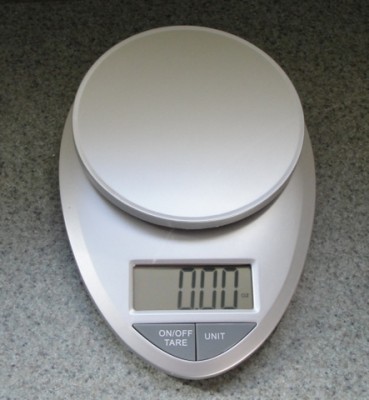 I love my new kitchen scale. Before I had this, we used an old large scale that wasn't nearly as accurate. It was so big we had to store it elsewhere and it constantly turned off which was a pain when we were trying to weight things. The EatSmart Kitchen Scale turns off after 3 minutes to save on battery life, but it gives you enough time where you're not constantly needing to turn it back on like our old scale. The scale uses 2 AAA batteries, so you don't have to worry about finding that never-in-stock exact button battery either!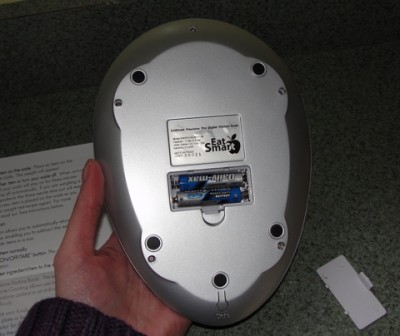 I love how small and sleek this scale is; I don't have a lot of storage room and this scale stores so easily. I can put it on top of my cupboard where I can reach it anytime I want yet it is so small that no one can see it is there. Of course it looks so nice that I don't have to hide it if I don't want to!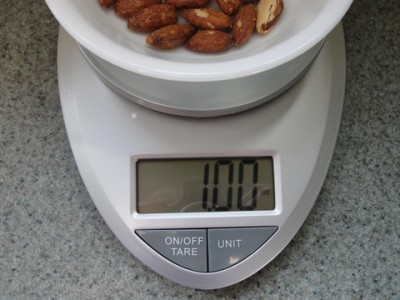 Before, I often guessed on the weight of food. Now I don't have to; it's easy to just pull out my EatSmart scale. I have used this for so many things; from weighing almonds (see my video below) to measuring how much sugar I need for a recipe to separating meat. We usually buy bulk quantities of meat when it's on sale to save money but I don't like to freeze 4 pounds of ground beef at once. So now I can easily weigh it and know I have exactly one pound in each of my freezer bags.
With a great product and amazing customer service, EatSmart fully backs its products with the 100% EatSmart satisfaction guarantee.
Check out my video review here:

Buy It:
The EatSmart Precision Pro Kitchen Scale comes in 4 color varieties and can be purchased at Amazon.
Disclaimer: Thanks to Eatsmart for the free product I was sent to review. I received no monetary compensation and my opinions are my own and were not influenced by the sponsor.