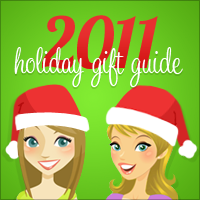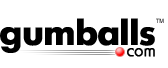 Do you remember getting a gumball from the store gumball machine as a child? Or maybe it was a relative who was lucky enough to actually have a gumball machine in their home? I don't think any child can resist a gumball machine. Or for that matter, adults too!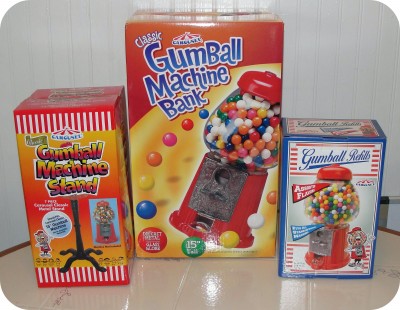 When we were sent the Gumballs.com King Carousel Gumball Machine package, I'm not sure who was more excited: the kids or me! The set includes the King Carousel Gumball Machine with the stand plus a 4 pound package of gumballs.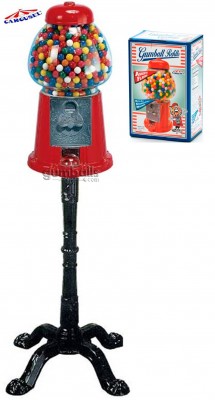 With a glass globe, cast metal features, this gumball machine is made of quality materials that are not just any cheap imitation. The King Carousel Gumball Machine is a brand new replica antique gumball machine that is guaranteed authentic by Carousel. It's based on the original model introduced in the 1920's!
The machine accepts any coins (from quarter size on down) and can be made to "free spin" (release gumballs without coins) too. The gumball chute has a handy little door so the gumballs won't go flying. Standing 15″ high, the machine can take up to 5 lb of small gumballs or small candy or nuts.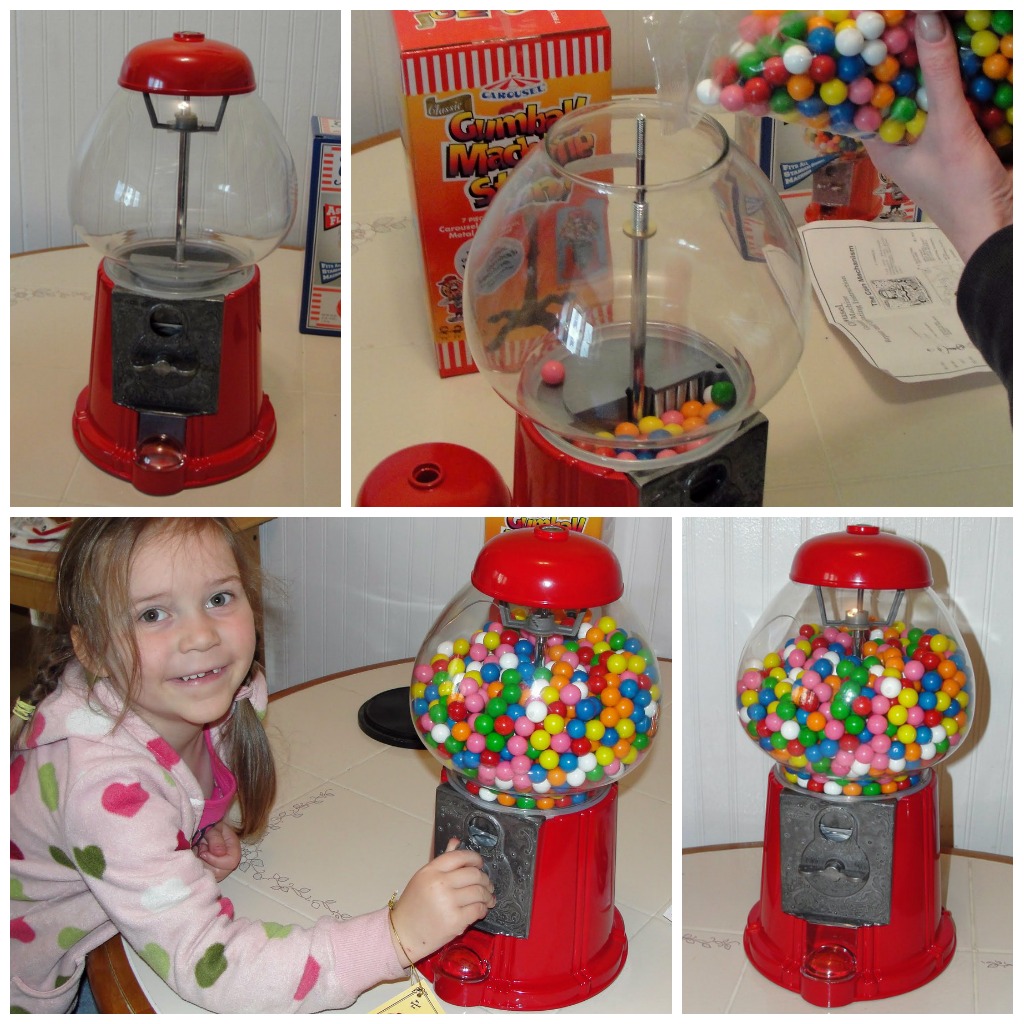 Our gumball machine came fully assembled but when we needed to take it apart to change the settings (to let out fewer gumballs at a time) it wasn't that difficult to put it back together. One thing: be sure to heed the warnings to NOT tighten to the glass globe too much because it can and will break. Our first globe cracked when Nate tightened it too much. In fact you're not even supposed to use a screwdriver. Luckily the folks at gumballs.com were super great and sent us a new globe quickly (normally you have to pay for a new one.) So we were extra careful with our new one and we've had no problems.
Once assembled, just pour the gumballs in. The 4 pound box of gumballs that was included in the gift set almost filled up the machine. I really like that we could change the settings to allow just one gumball out at a time. This is perfect for the kids. I also love that I can use M&Ms or some other candy if we want.
There are so many fun things you can use the gumball machine for. We've been using it as a simple reward system with the kids and it's amazing how quickly they remember to do something like take off their shoes at the door without being asked when it means they will earn a gumball! Another great way to use the gumball machine is as a savings bank.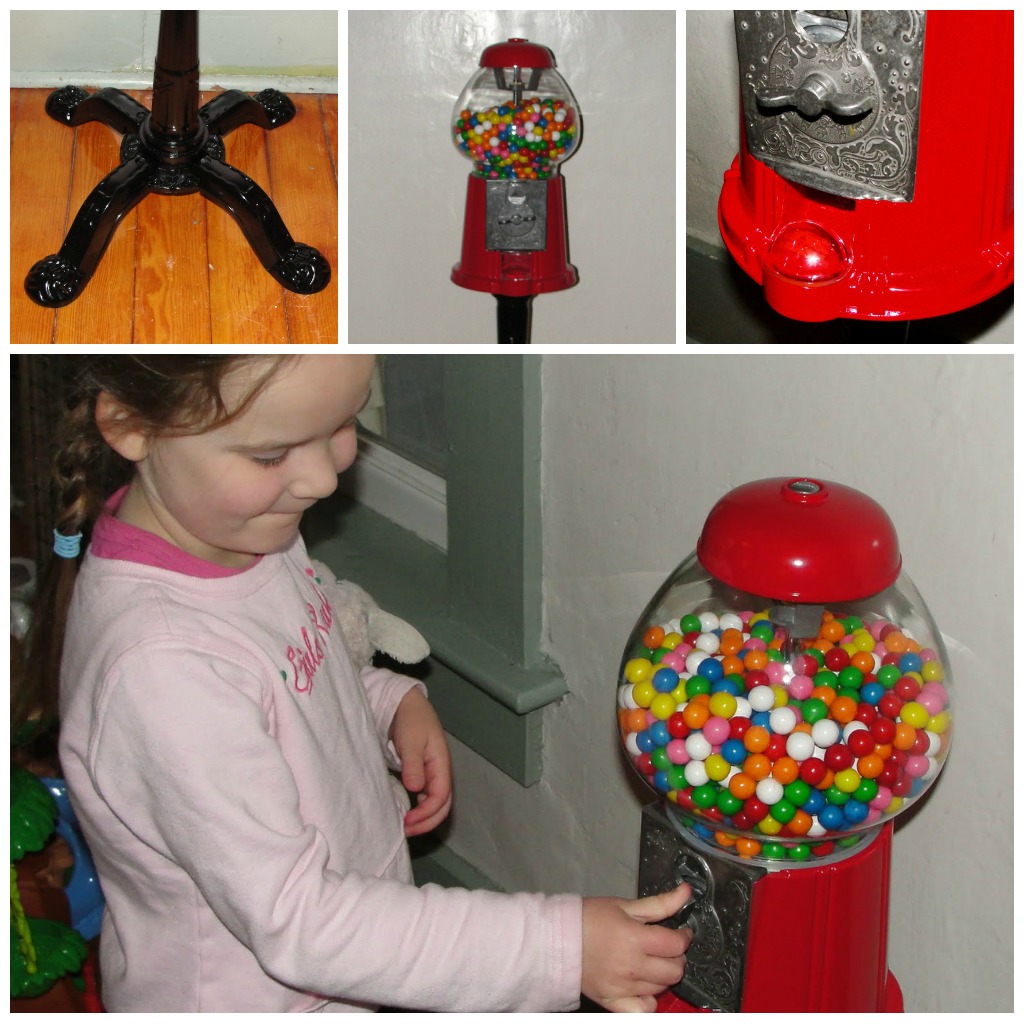 I was very impressed with the quality of this machine. So many products are so cheaply made these days and don't last. This machine is built with original quality and is absolutely worth the money. There's very few products I can say this about, but I know the King Carousel Gumball Machine will last for many years to come.
This is the gift that will keep on giving. Whether it's for your own inner child or your children, it's a perfect idea!
Buy It:
Purchase the King Carousel Gumball Machine w Stand Gift Set at Gumballs.com for $88.99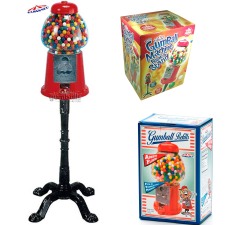 Disclaimer: Thank you Gumballs.com for the free product I was sent to review. I received no monetary compensation and my opinions are my own and were not influenced by the sponsor.