You may have seen the "As Seen on TV" commercials for this fun snack bowl. When my kids saw the ad a few months ago, Nathan immediately announced that we "should really get one since Joshua is so messy with his snacks!"
The Gyro Bowl is a revolutionary "no spill" bowl that helps end messes from kids eating. The kid-proof bowl uses 360 degree inner bowls that rotate inside to keep the contest upright no matter what kids do to it. It features:
• Inner Bowl Rotates 360 Degrees
• Virtually Indestructible
• Saves Time, No More Cleaning
• Use it for Non-Food Items
• BPA-Free Plastic
• Top Rack Dishwasher Safe
• Not Microwave Safe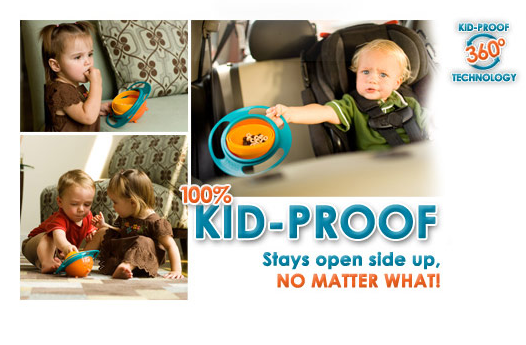 Since Joshua is 2 year old, the Gyro Bowl became his. Our household rule is that the kids have to stay at the kitchen table with their snacks, so while I didn't let Joshua run all over the house with it, it did save some of the not infrequent spills that occur just at the kitchen table. This was great because not only did I not have to clean up a mess, but it helped avoid a meltdown from Joshua. (He gets very upset if his food spills.) He was so cute the first time he tried out his Gyro Bowl; he was so happy when he realized his goldfish crackers wouldn't spill!

The Gyro Bowl was also handy for when I sent the kids outside with their snacks. Joshua always spills his snack when I send him outside with it and then he ends up back in the house crying. But that didn't happen with the Gyro Bowl. It's also great for on-the-go. We all hate having to vacuum out the car time and time again because of all the spilled snacks; the Gyro Bowl can help prevent this.
So does it really work? Yes, it does. It does a great job in preventing spills. But I'd say it's stretching it to claim 100% kid proof; kids can always find a way if they really want to. My kids discovered that if a cheerio lodged in between the bowls just right or they yanked one of the bowls out of alignment, it would stop spinning and the snack could spill out. However this was my older two who are 8 and 5 and my two year old (the main mess-maker) did not figure this out. If you have a really curious child who likes to take things apart, you may have less than ideal results with the Gyro Bowl. But aside from that, it does work really well and I like it.
A couple of other things I noted:
I liked that the Gyro Bowl comes with a lid. I didn't realize that before we received ours and it's a nice feature.
The bowl is a little awkward for storage; I still haven't figured out the best place to keep it, however we use it so much, I haven't really had to think about it yet. Washing the bowl can be a little awkward with the spinning bowls; you have to kind of pin them down to really scrub it. But it is top dishwasher safe which is handy.
My 8 year old, Nathan was determined to test the "indestructible" claim of the Gyro Bowl and I caught him just before threw it down our full flight of stairs. I told him I wanted to test out the Gyro Bowl, not deliberately break it! Of course Nathan is my resident scientist, so he is always out to prove or disprove a claim. So needless to say, we did not test out throwing the Gyro Bowl down the stairs, but overall I'd say the Gyro Bowl is pretty sturdy.
Overall, our results with the Gyro Bowl were pretty good. I don't think I'd try the pudding that was shown in the video, but all the regular snacks – goldfish, pretzels, rice cake, cheerios – stayed in great and did not spill out as Joshua stayed busy with his Gyro Bowl in hand. I only wish I had this when my older two kids were younger!
This would be a great Christmas gift this year for the little one in your life!
There's my Gyro Bowl review!
Buy It:
You can find the Gyro Bowl online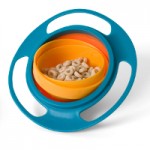 Disclaimer: Thank you to the sponsor for the free product I was sent to review. I received no monetary compensation and my opinions are my own and were not influenced by the sponsor.