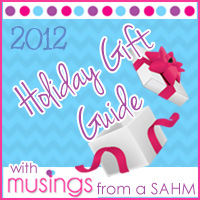 Little children love to copy "big" people. Whether it's mom or dad or older siblings, they are often right there, pretending to do the same thing. Of course, whether they can actually do it is another story. And that's where toys, like the
Kinderfeets wooden pushbike
come into the picture.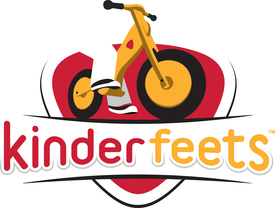 Kinderfeets is a brand new, just released this season. It's an eco-friendly push bike (otherwise known as a training bike.) Designed to help teach young children about the balance and coordination of a "bigger" bike, these bikes are made for children ages 2 and up, with a max weight of 65 pounds.
Features include:
Ergonomically designed seat and handlebar position encourage good posture and comfortable position
Low step through frame position's children's feet close to the ground so they feel safe
Foot pegs help children position feet properly for cruising and preparing for pedals
Adjustable, comfortable, washable seat
Biodegradable EVA airless tires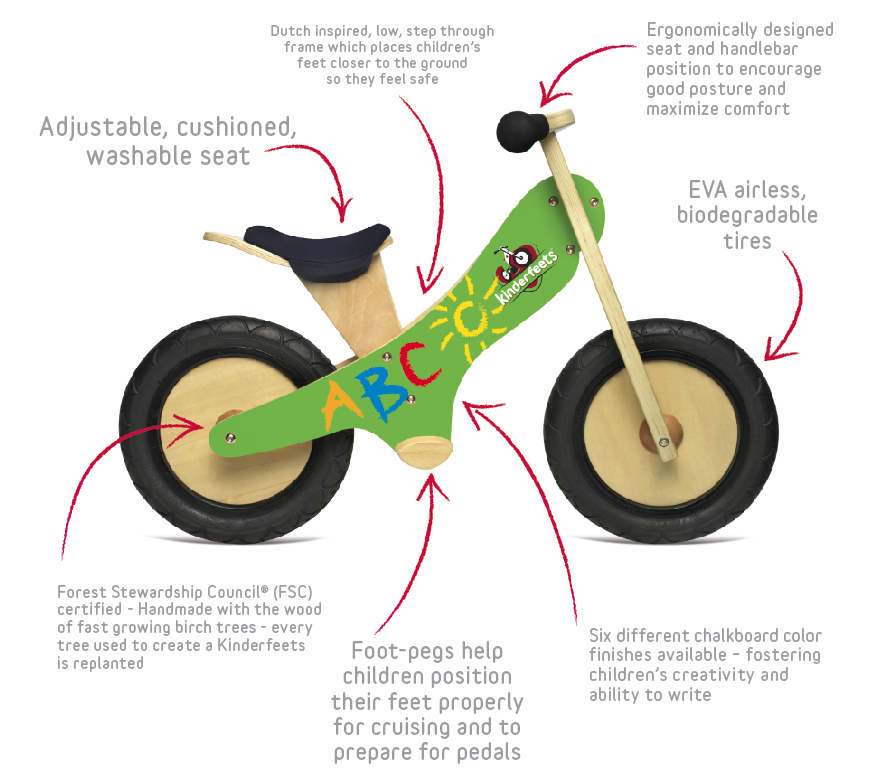 Each Kinderfeets is carefully handmade with birch wood. And for every tree used, a new tree is planted! There are six colors, plus natural finish, all with a chalkboard finish, so kids can be creative and make it their own!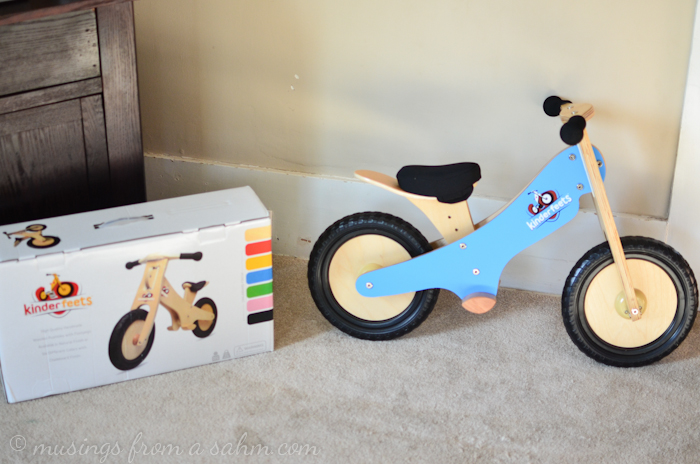 I was thrilled to receive a Kinderfeets to review. Joshua is 3 and a half and he's always wanting to do big-kid things, like ride a bike, but he's not old enough yet. I knew this would be perfect for him.
Nate put the Kinderfeets bike together and it wasn't long before Joshua was off and riding around the house.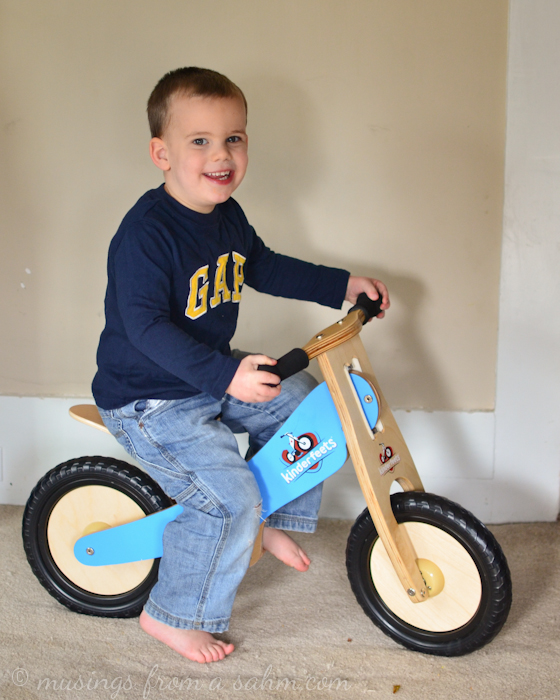 One thing I immediately noticed was how quiet and smoothly the bike rides. I don't worry about the tires ruining our indoor wood floors – their airless tire design is really gentle. This will be another great advantage for the upcoming winter months.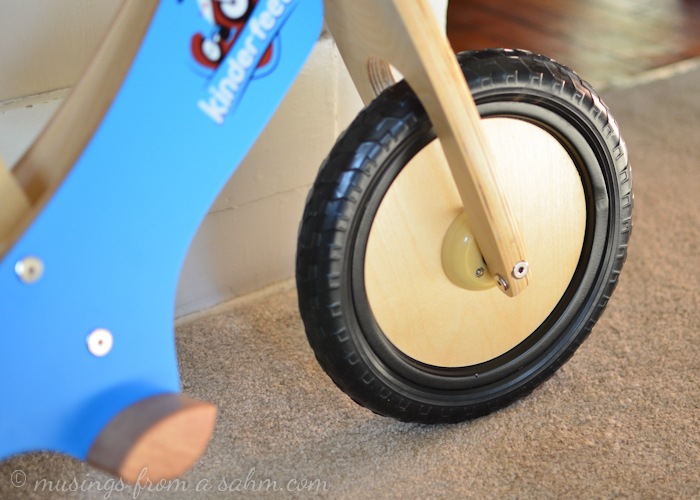 The quality of our Kinderfeets bike is comparable to none. This bike is built incredibly well and the wood is spotless and so smooth. I love the colors too.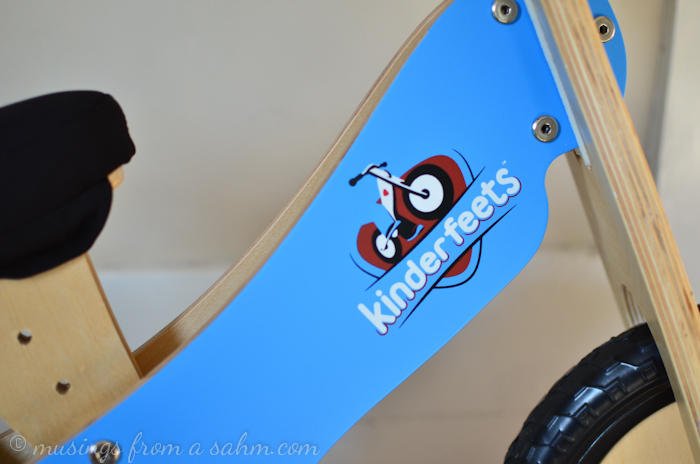 Both the handles and seat of the bike are very comfortable. Joshua will ride around on his bike for a long time and he loves it. The seat is even washable!

I like that the seat height is adjustable too. We have it on the highest height option for Joshua because he is tall.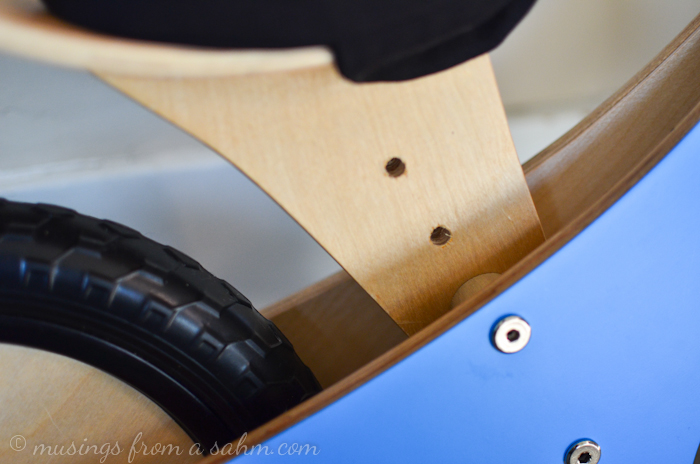 Kinderfeets was designed by a dad who wanted a better pushbike for his two year old son. It's Dutch-inspired, with the name Kinderfeets meaning "child's bike."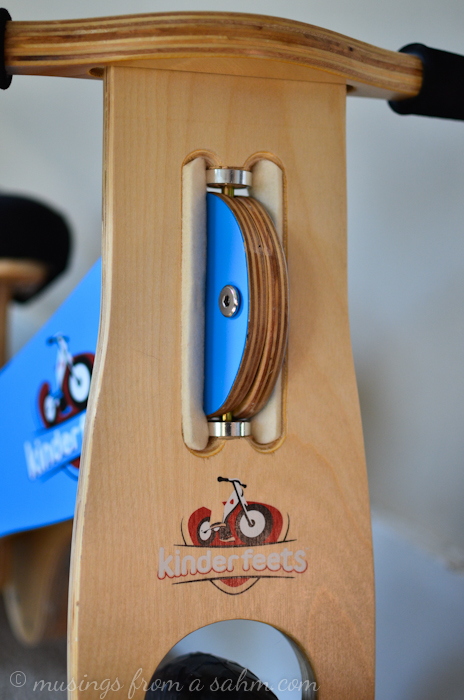 The whole design is made so that children will feel comfortable as they cruise around. From the position of the handlebars and ergonomically-designed seat that encourage good posture and a comfortable position, to the low step-through frame that allow children to keep their feet close to the ground, it seems the creator thought of every detail.
I am very impressed with our Kinderfeets bike. Joshua loves his new bike and I love that it helps him stay active and encourages his balance. I can see where this will definitely help him be ready for a "big kid" bike sooner and in the meantime, he has his very own bike, so he's not left out. I know Luke will love it too when he gets just a little bigger.
The Kinderfeets wooden pushbike retails for $119 for a natural finish bike to $129 for the color choices. I won't buy just any children's product at that price, but this bike is the exception. Because it's exceptional. I have never seen a bike made with such detail or quality and it is absolutely worth every penny. And again, it's handmade! I am confident our Kinderfeets bike will last for years to come.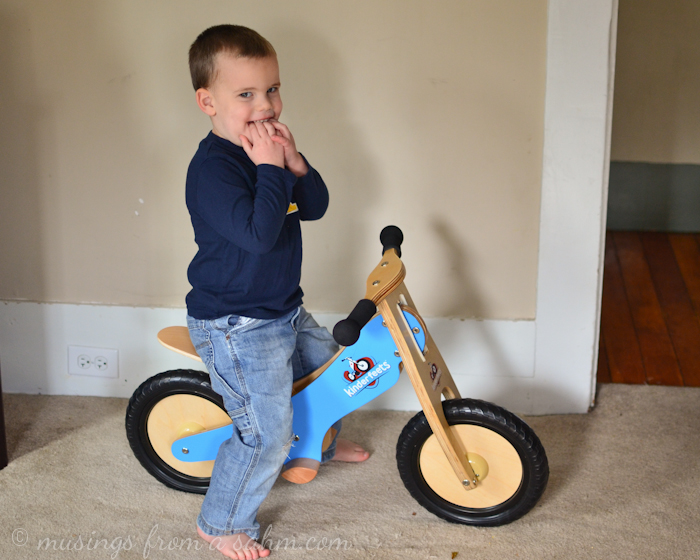 I absolutely 100% recommend the Kinderfeets wooden push bike.
Buy It:
Buy a Kinderfeets Bike online at Kinderfeets.com
You can also find Kinderfeets products on (affiliate link) Amazon.