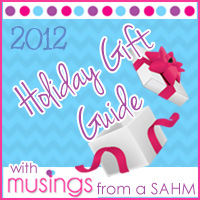 I readily admit that I love Lalaloopsy dolls just as much as my 6 year old daughter, Emily does. Afterall, they are recommended for ages 4-104 and that includes me! And can you blame me? When these adorable dolls first came on the scene a couple years ago, I knew it was a toy line that I would be buying for my daughter. Lalaloopsy dolls are SO cute, innocent, and just plain fun. There's none of that bad-girl/ slutty-girl attitude that you get with some other dolls.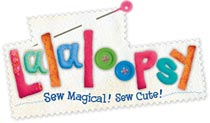 Emily already has several Lalaloopsy dolls and adores them. So when I had the chance to review one of the newest dolls this season and share it with you, I jumped at the chance.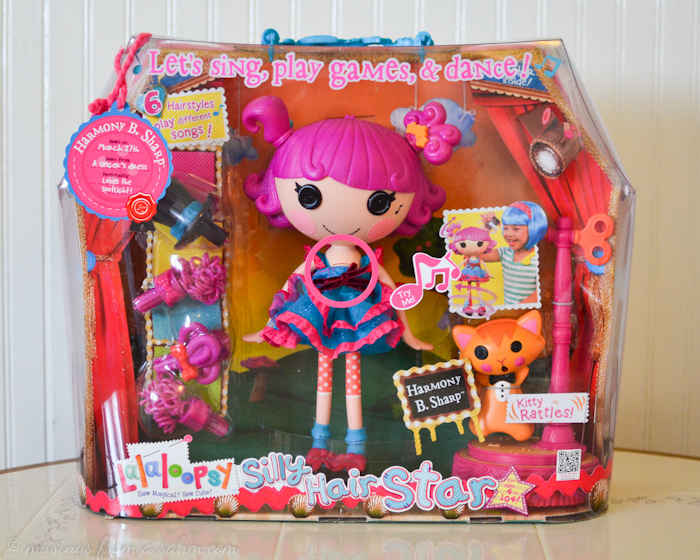 Lalaloopsy Silly Hair Star: Harmony B Sharp is the first ever talking, dancing, and singing Lalaloopsy doll. Harmony B Sharp can tell jokes, says funny things, and sings/dances to 5 different songs, all of course in a charming Lalaloopsy fashion.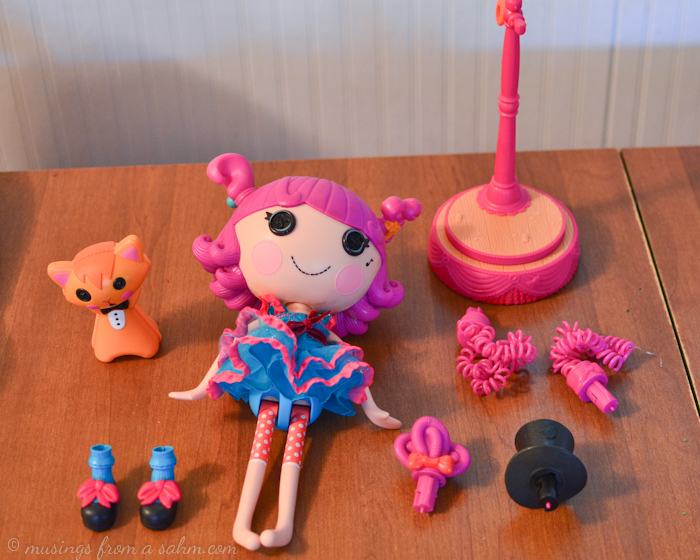 Harmony B Sharp comes with 5 interchangeable hair pieces and a hat. My daughter loves trying different combinations of her hair pieces and the hat. And the doll sings different songs depending on the hair pieces so it's fun to see what she'll do. And of course, the twirling silly hair aspect is hilarious. All four of my childen – even 23 month old Luke – finds this amusing.

Harmony comes with a stand that you connect her to and then she'll dance in addition to singing and talking. We weren't able to get her fully snapped into the stand like the directions implied but she's never fallen off. I've been pretty impressed with how sturdy the whole set up is.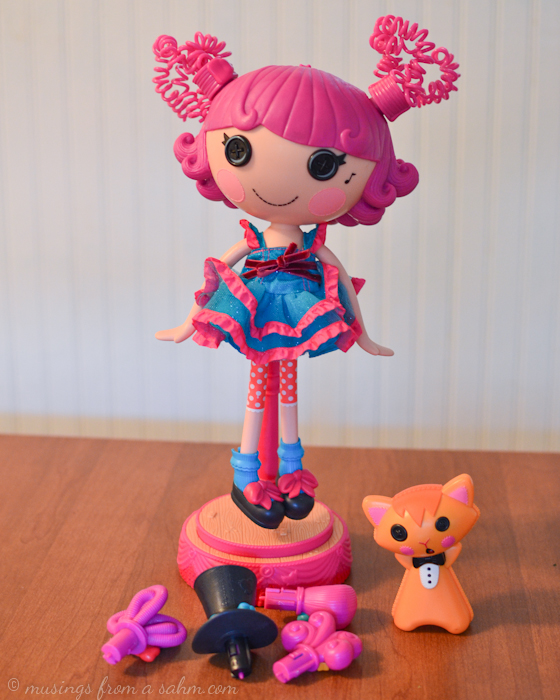 I did notice that the motor sounds, with Harmony moving her arms, legs, etc, were a little loud. But it didn't bother Emily at all and even I found it easy to tune out as we listened to Harmony singing and talking.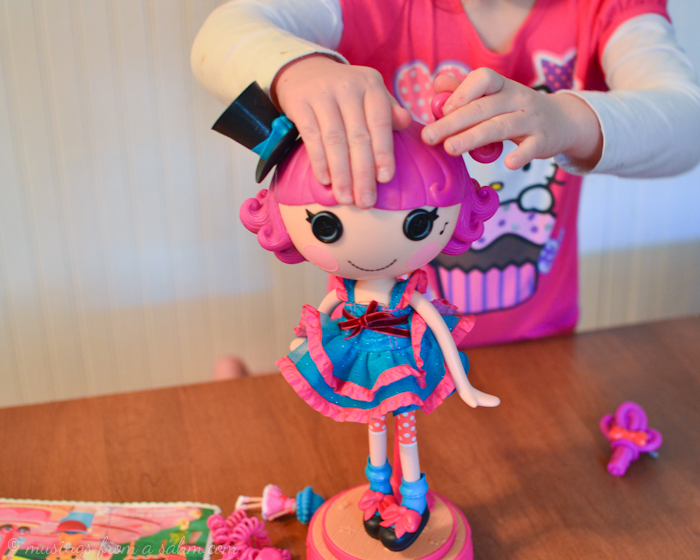 Little girls will have fun dressing Harmony too (her dress can be removed.) Her dress is sparkly pink and blue and her shoes are a nice molded material that are easy to take on and off. And, as with all the Lalaloopsy dolls, Harmony B Sharp comes with a pet too. Harmony's pet is a cute plastic cat that rattles, so she can keep time with Harmony's song.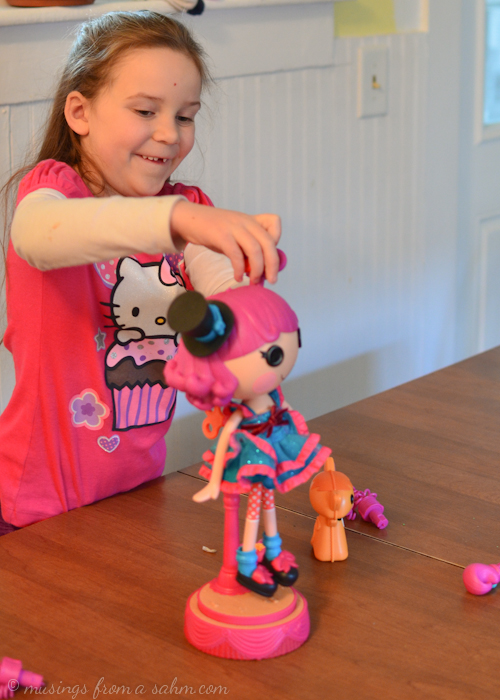 Let me just tell you – this doll is ADORABLE! The creators could have easily made her annoying, but she's not. And Harmony B Sharp is friendly and confident, but she's also sweet. One of my favorite things is when she practices singing and hits the wrong note. Harmony always laughs and then tries again. I love that this simple, yet valuable lesson was included – learning to laugh when you make a mistake and then try again. And Harmony does a great job of encouraging kids.
Emily loves her new Lalaloopsy Harmony B Sharp doll and plays with her all the time. It's been days and, unlike many other toys, she hasn't lost interest.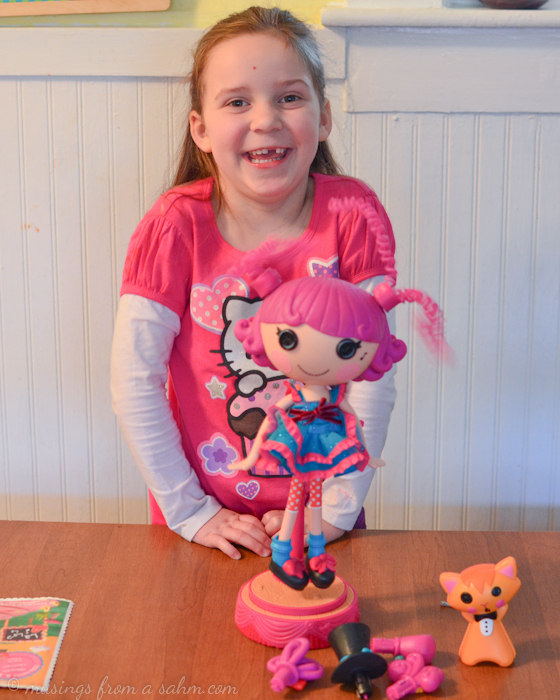 The doll is a little pricey at an ARP of $69.99, but I've found it many places for much cheaper.
I highly recommend Lalaloopsy Silly Hair Star: Harmony B Sharp – it's a toy your little girl will really enjoy and something you, as a mom/grandma/aunt, etc., can feel good about giving her.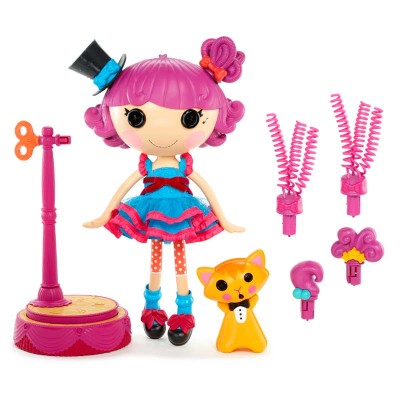 Buy It:
Find Lalaloopsy Silly Hair Star: Harmony B Sharp at
Toys R Us, Target, Amazon, and stores nationwide
ARP: $69.99
Win It!
1 lucky winner will receive a Lalaloopsy Silly Hair Star: Harmony B Sharp doll!
CLOSED