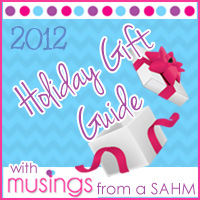 Teaching a child to read and encouraging them to explore the world that comes with it is truly a priceless gift.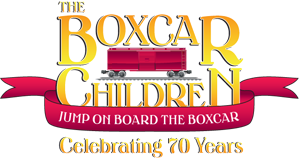 My grandmother was a librarian and she passed that love for books onto my mom, and in turn, to me and my siblings. I grew up reading for hours on end. I would get in trouble because I would stay up reading so late at night! One of my favorite series of all times (I still love it!) is The Boxcar Children by Gertrude Chandler Warner. This classic series has over 100 titles and 50 million copies in print!
In the first book, written in 1942, four siblings were orphaned and ran away to live in an abandoned boxcar because they were afraid of their grandfather. But they soon learned that he was a kind, loving man and he gave them a wonderful home. Together, they had adventures and solved many mysteries. The simple but exciting stories are written well and include illustrations throughout.
I've always loved that The Boxcar Children share wisdom and good values throughout the series too. The siblings are kind to one another and the older ones don't act like the younger ones are pests, like you see so often in tv and stories now days.
The Boxcar Children books are a series that I am proud to have my children read. I introduced them to Nathan about 2 years ago when he was 7. We have many of the books and I frequently find him engrossed in one of them.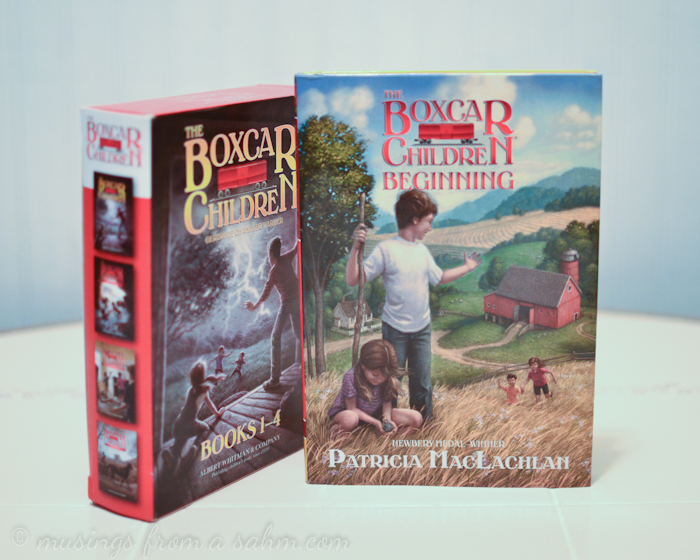 The Boxcar Children series marks its 70th anniversary this year and to celebrate, a new prequel has been written by the award-winning author of Sarah, Plain and Tall, Patricia MacLachlin. The Boxcar Children Beginning: The Aldens of Fair Meadow Farm introduces the Alden children before they became the Boxcar children.
I love Patricia MacLachlan and while I haven't had a chance to read the book yet, I know she did a wonderful job. It takes a special person to take a good thing like the treasures that the Boxcar Children are and keep it that way. And she is just the author to do so.
Watch this short clip here:
I am saving this book to give Nathan for Christmas and I can't wait to hear what he thinks! And once he's finished reading it? You'd better believe I'll be reading it too!
Visit The Boxcar Children website for more information, activity sheets and guides, and more.
Buy It:
You can find The Boxcar Children Series
and the new Boxcar Children Prequel
anywhere books are sold
Win It!
1 lucky winner will receive a box set containing the first four original books, including:
The Boxcar Children
Surprise Island
The Yellow House Mystery
Mystery Ranch
and a hardcover copy of the new series prequel The Boxcar Children Beginning: The Aldens of Fair Meadow Farm signed by author Patricia MacLachlan
CLOSED