This is the time of year when we all want disinfectant wipes close by as our weapon against getting sick. If you look in the average mom's purse, diaper bag, car, bathroom, or even classroom, chances are you'll find disinfectant wipes.
Since these are so handy and used so often, I'm going to show you a version of homemade disinfectant wipes that uses castile soap and essential oils. If you are looking for a natural disinfectant without alcohol or need something for sensitive skin, this homemade recipe is for you!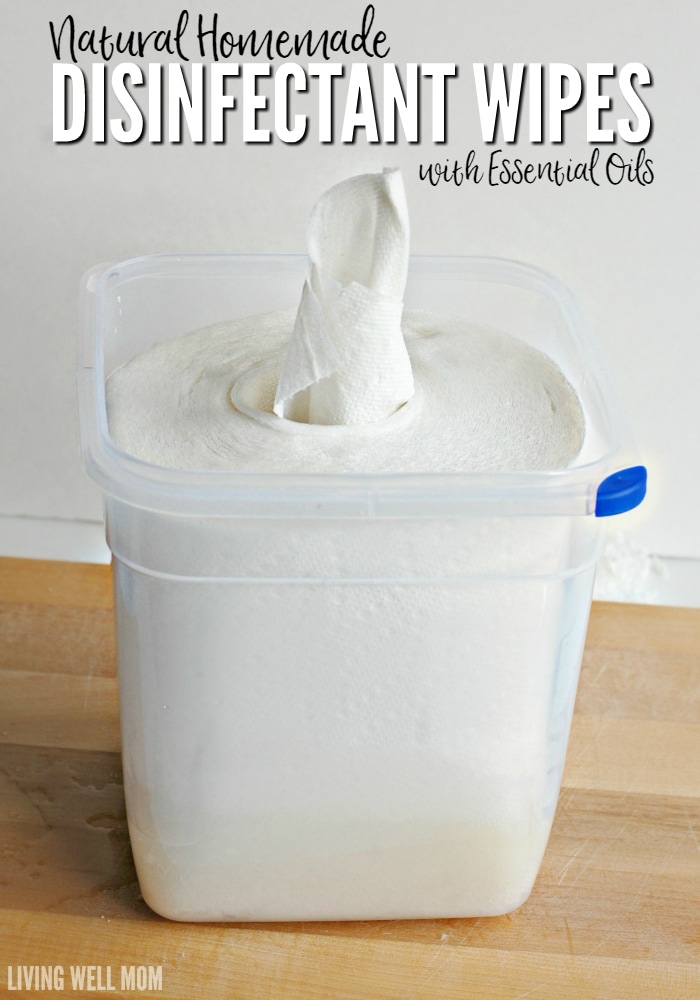 Homemade disinfectant wipes are easier to make than you might think! The first batch will take the longest as you put together your re-usable container and dispensing plastic top. Once that is done, you can re-fill this again and again and it will just take minutes to make a new batch.
What you'll need to make homemade disinfectant wipes: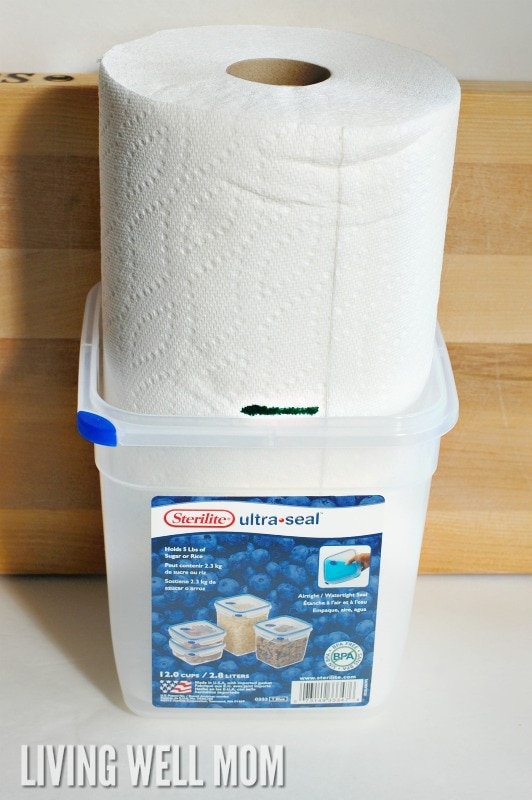 I think the biggest time consumer in making these homemade disinfectant wipes was just finding a good container that they would fit in. Now that I've done that for you, this will go even faster for you. This Sterilite container was the perfect fit! You don't have to use this exact container, any 12-cup or 2.8-liter container will work. But if you don't want to spend time hunting for a container that fits well with paper towels, then just order this one
!
Once you have your wipe dispensing container, take your roll of paper towels and placing into the dry 12 cup container. I used a sharpie and marked where on the paper towels I needed to cut. You will cut your roll of paper towels in half with a knife, so you can save the second half for another batch of wipes later.
I got out my Miracle Blade bread knife and that did the trick to cut the paper towel roll in half. It won't be a super clean cut as you can see, but it gets the job done!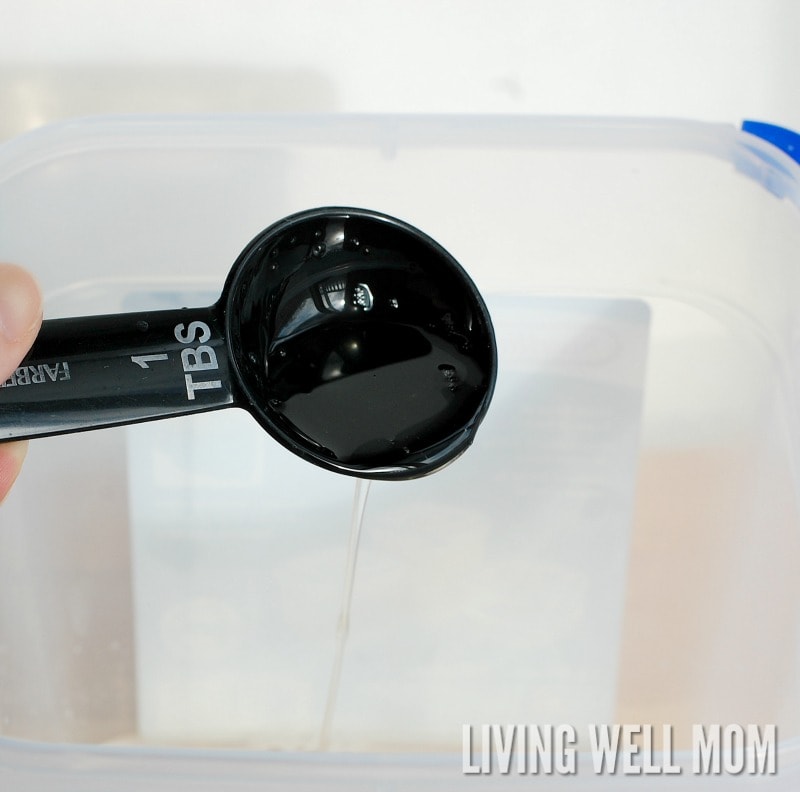 Take your empty 12 cup container and add to it 3 tablespoons of Dr. Bronner's Castile Soap.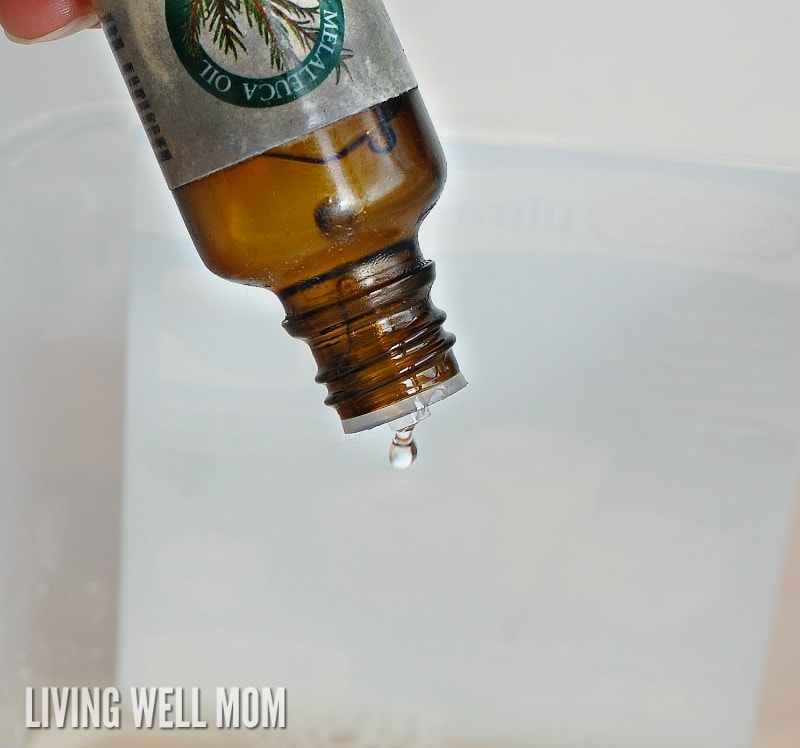 Then you will want to add 30 drops of tea tree oil. Tea tree oil is great for disinfecting purposes. In fact – it was key to helping me clear my adult acne! You can read about that over here.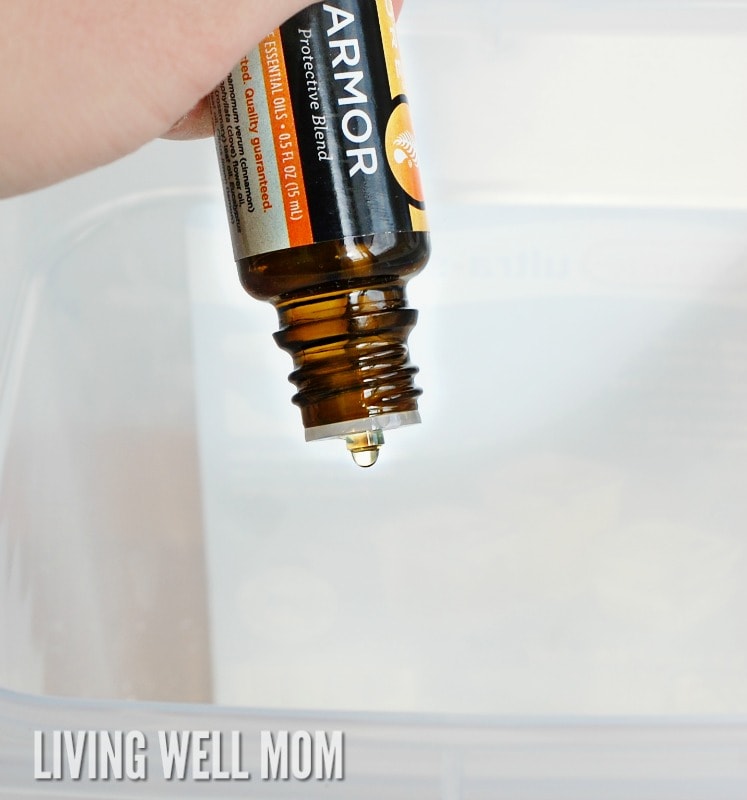 If you are a regular essential oil user, chances are you've already heard of Thieves or Armour. Those are similar immune system boosting blends from Young Living. Rocky Mountain Oils also has a version called Immune Strength.
Each essential oil blend contains eucalyptus, lemon, clove, cinnamon, and rosemary. This combination makes a powerhouse antiviral and anti-bacterial mixture. I happened to have Armour on hand so that's what I used.
Add 30 drops of your preferred immune strengthening essential oil blend to the wipes container.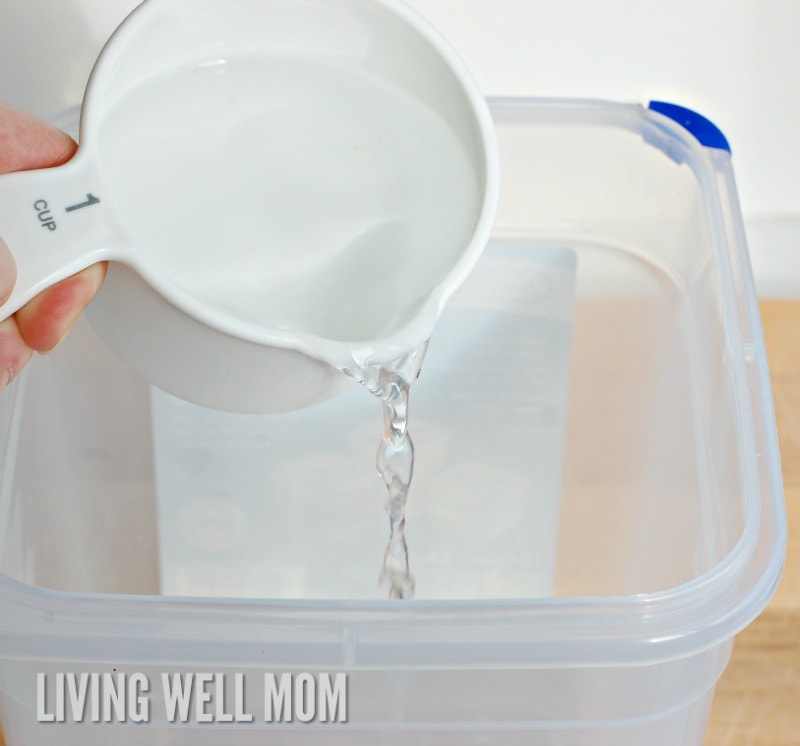 Now you will need to dilute this disinfecting solution and make this wet enough for the paper towels to soak up the liquid. It took 4 cups for my paper towels to fully get damp.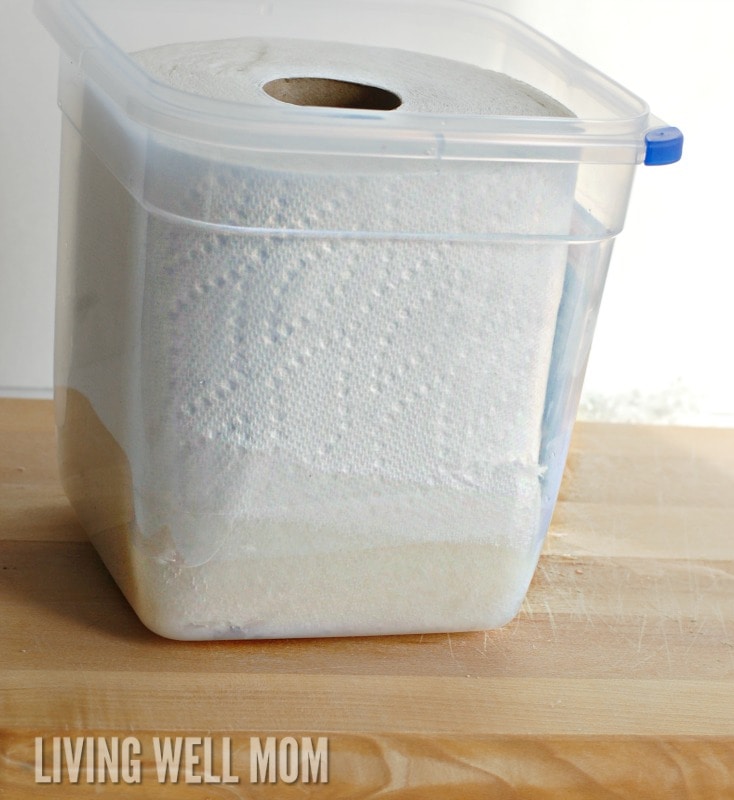 You can see in the picture above that the water is slowly being soaked up by the paper towels. It may take 15 minutes or so for the water to get fully absorbed.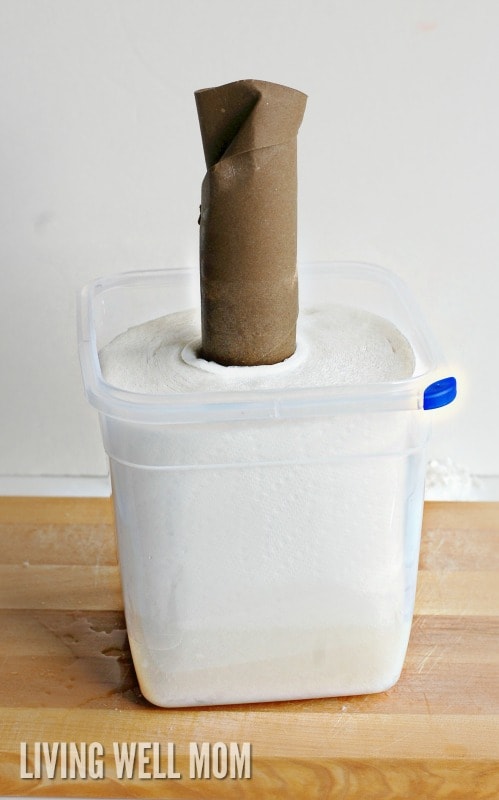 Once the cardboard tube from the paper towels gets fully wet, it will be pliable enough to just pull right out.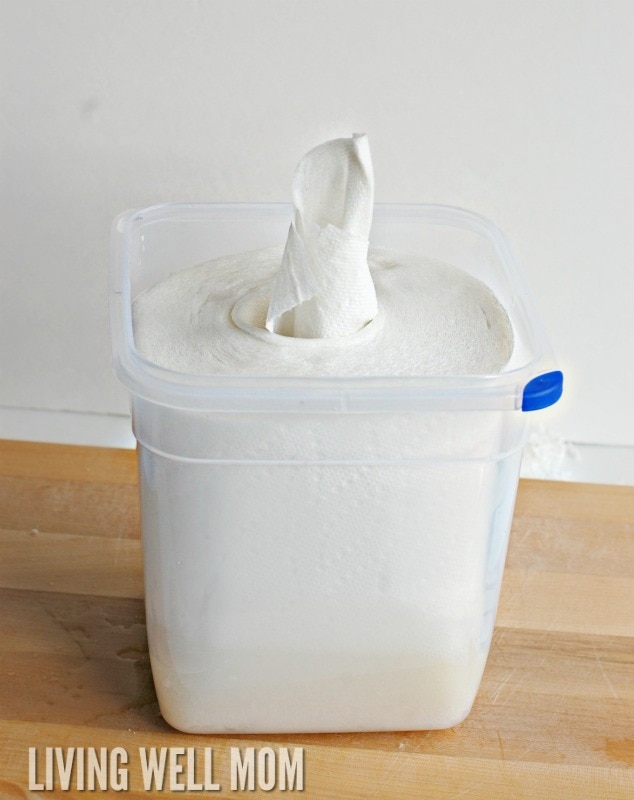 Now you can pull out the center of the paper towels and start using them as disinfectant wipes!
In order to create an environment where these won't dry out too easily, and at the same time are easy to pull out, I created a makeshift facial tissue box dispenser using a plastic gallon sized bag.
I would have loved to have just used the Sterilite container top that it came with – but that plastic was just too thick and stiff and the wipes were never going to be able to be easily pulled out.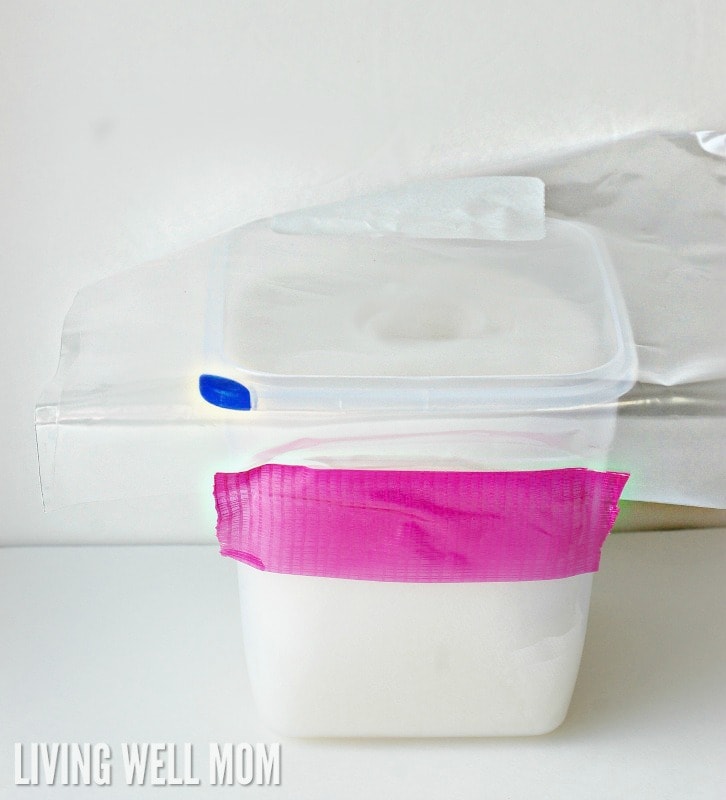 To make yours, start by taking your gallon sized bag and cut off the zip lock end. Now you should have a double layer of square plastic. Take just one layer of the plastic and tape that onto the 12 cup container using duct tape. I love it now that duct tape comes in a variety of colors and patterns so we don't have to just have boring silver/gray on our wipe container!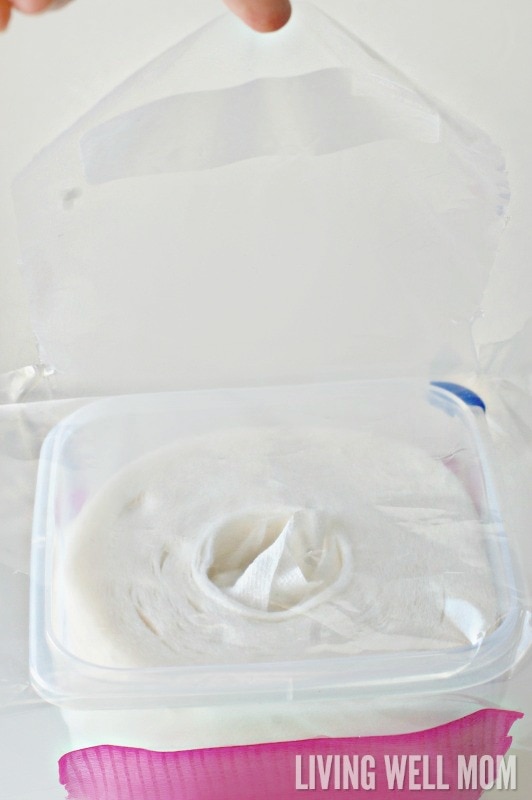 Now you can see that one part of the plastic bag is taped down and the other part is left free. This will be used as a "flap cover" over the slit we will cut to get out our wipes.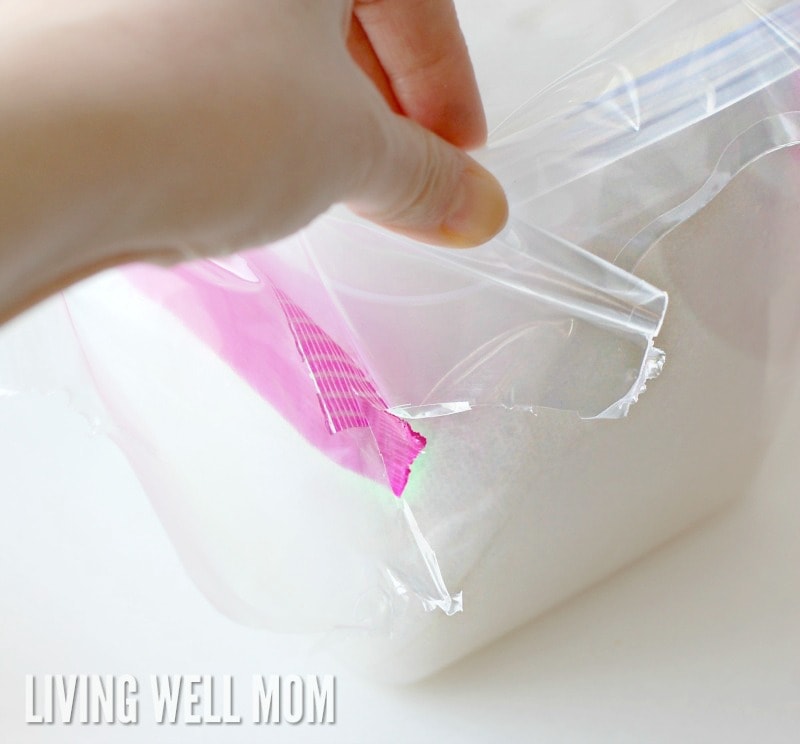 Now you will need to tape down your plastic cover on all 4 sides, again leaving the top flap of plastic loose. I folded the corners like I would when wrapping a present, and just used a strip of duct tape to secure it.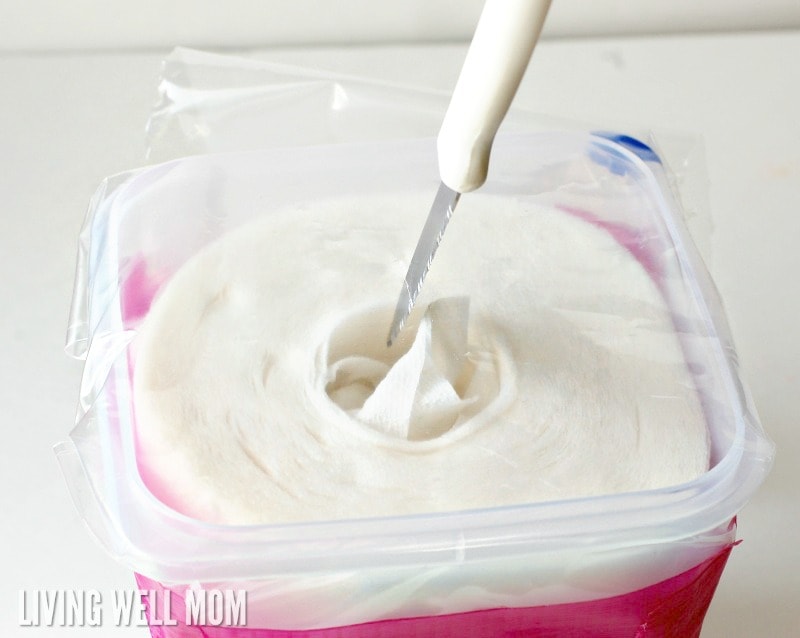 Once you have all four sides taped down, grab a razor blade or sharp steak knife and cut a slit in the plastic. Make it big enough to fit your hand in so you can grab a wipe when you need one.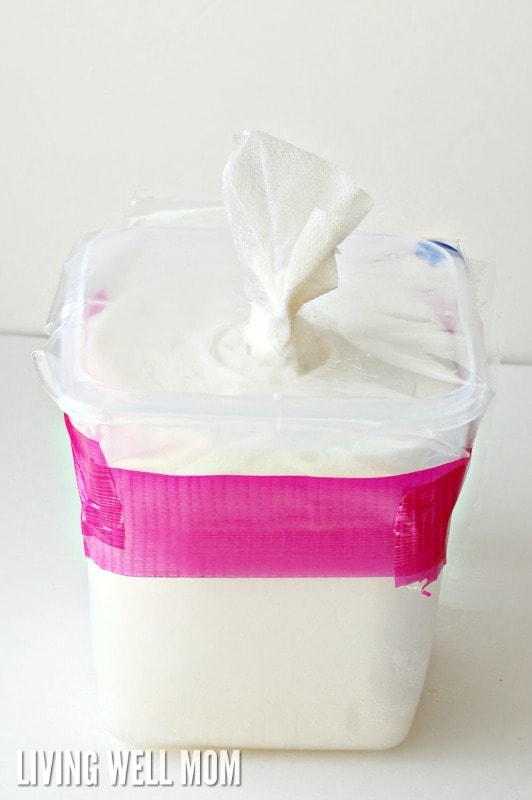 Here are the wipes ready to pull out and disinfect!!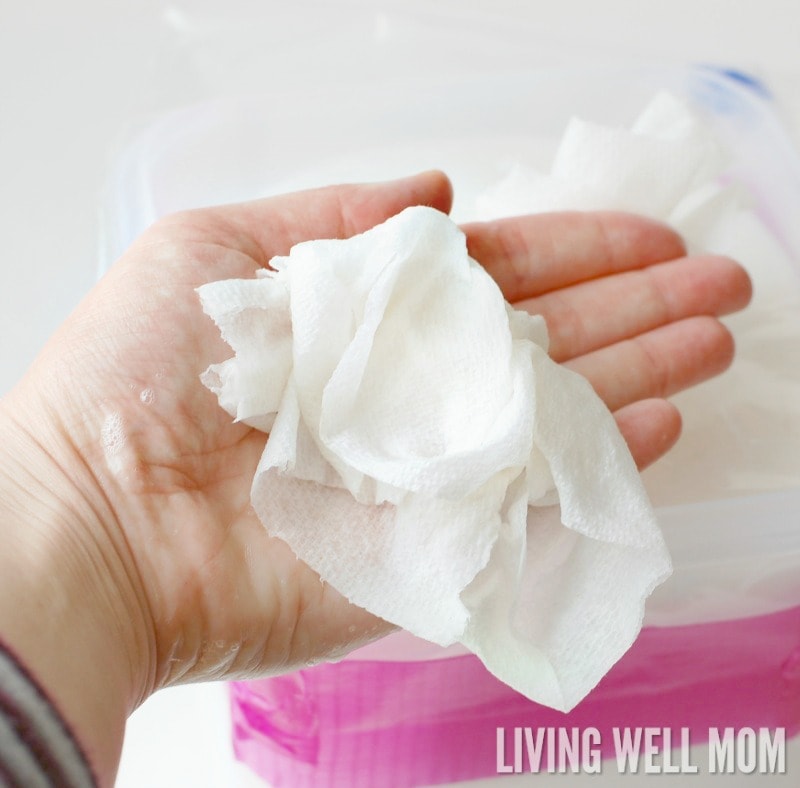 I like these because they smell wonderful (unlike the usual harsh disinfecting wipes!!) and are a bit soapy as well. These will come in so handy in my car when my 3-year-old is sneezing, spilling food, or smearing chocolate! 😉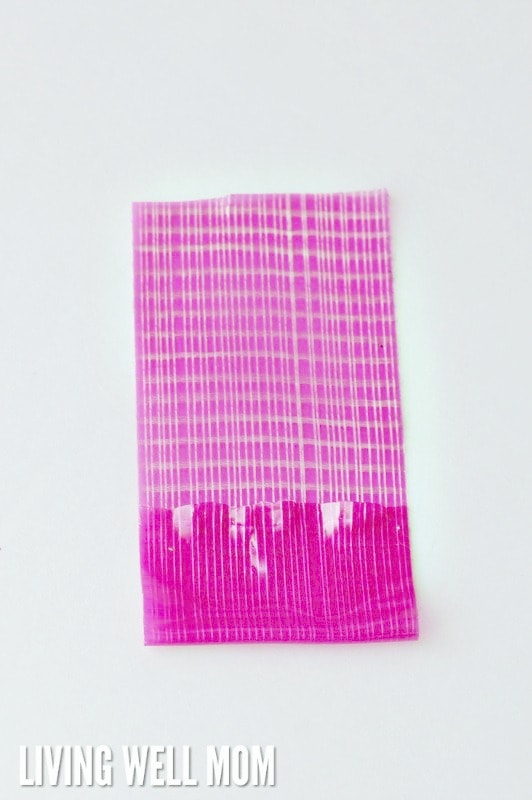 To keep these from drying out really fast, I wanted to keep that second layer of plastic from the gallon bag to use as a "flap" to cover the slit.
To do this, get another piece of duct tape, about 6 inches long. Fold up just about one inch, and leave the rest sticky.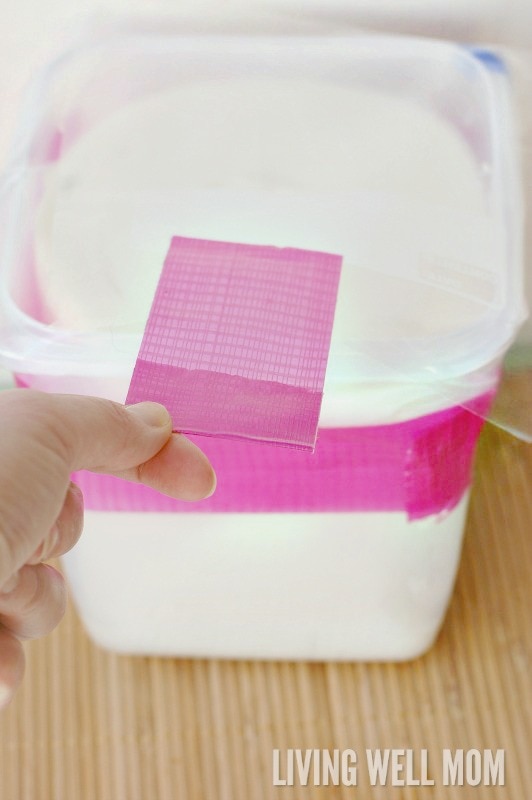 Attach the sticky side of the tape to the plastic flap, and secure it over the edge of the container. This works great as a reusable seal. You can just grab the tab and lift the top layer of plastic to grab a wipe. When you are done, reseal it using your duct tape. My husband makes similar reusable seals on cardboard boxes, and they do last a really long time. Now, this set up is by no means air tight – but having a layer of plastic over the slit will prevent these wipes from drying out way too quickly.
Now let's say you have these wipes in a really hot car for a few days and they dry out anyway. Good news – you don't have to throw them out and start over! Simply just pour in another cup of water and wait for the wipes to get moist again.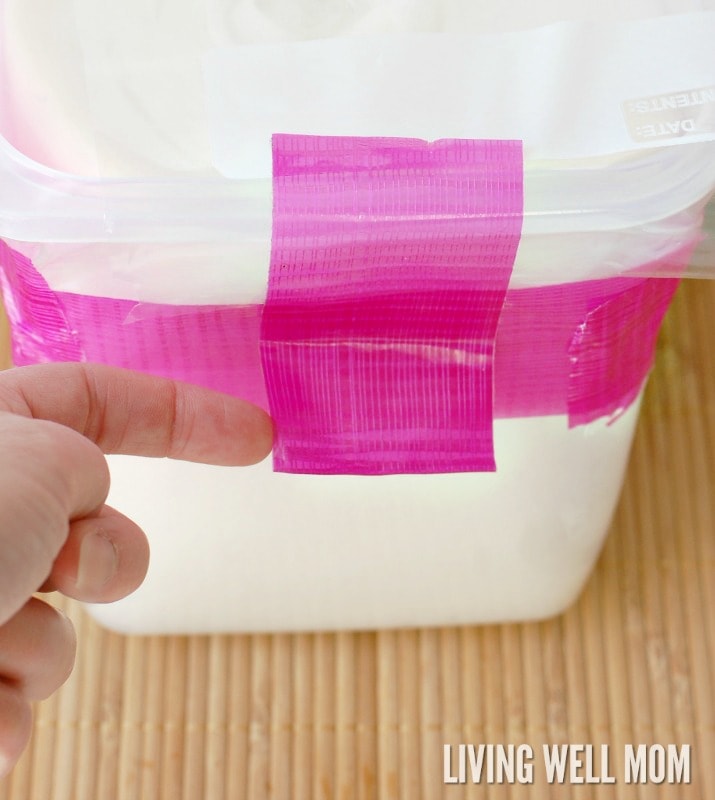 This container is now in my car and boy has it been useful! One thing to note is that while this is great for the car – this is not something I want to lug around in my purse. For a "travel size" version, I have just taken some wipes and added them to a plastic sandwich bag. Every time I step foot in a restaurant or want to wipe off a shopping cart, I'm glad that baggie is in my purse!
When you run out of wipes, you can peel off the duct tape enough to open up the plastic top. Add your liquid ingredients again with another half of a roll of toilet paper and let it soak. If your duct tape stays sticky enough, you should be able to use your plastic cover again. It's nice that you just need a gallon plastic bag so this is very easy to refill and reuse.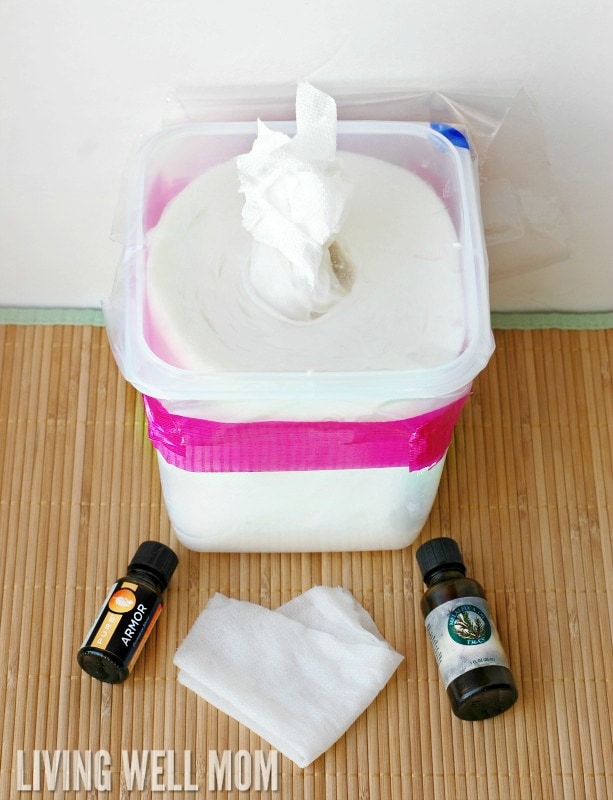 You can also easily turn these into baby bum wipes. You just simply swap out the Tea Tree and Armour oil for just Lavender essential oil. Lavender oil is great for any skin condition (like diaper rash) and castile soap is so gentle! Once you have the castile soap, container, and essential oil, you'll be able to make batch after batch at a fraction of the cost of buying a new pack of wipes!
If you are looking for more homemade ways to fight colds and flu this season – then check these out: