Did you know that Americans spend an average of 73 hours each year working on their lawns? I was surprised when I heard that, but it's true. And it makes sense because it can take a lot of work to maintain a nice lawn. That's why I was more than happy to partner with Pennington Smart Seed to learn more about their drought resistant grass seed and tips for how to plant grass seed.

Pennington Smart Seed is a high-quality seed with no filler and it requires less water. That means healthier thicker lawns that are easier to maintain.
With four kids, we've had a hard time keeping grass in our yard. But up until now, we haven't used Pennington grass seed.
My main focus this year is our front yard. We live on a side street with a small front yard. Very small. That's why it's great to have a bigger fenced-in back yard for the kids to play in. But they still like to play out front – riding their bikes and scooters, writing on the sidewalk with chalk, and running around with their friends. All over the small front yard too.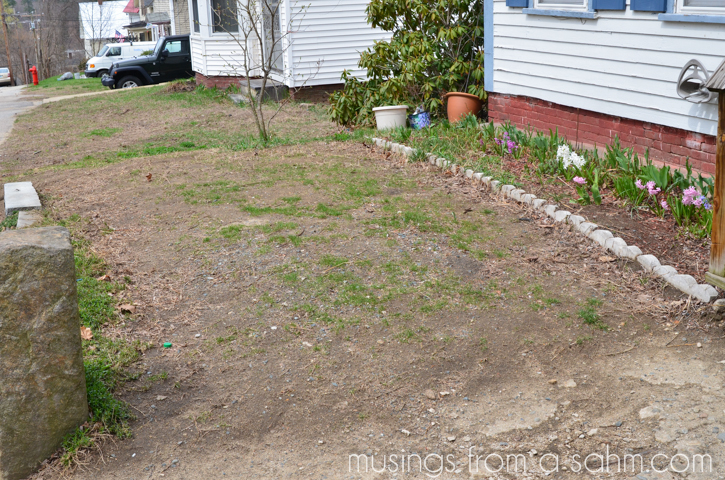 While we don't typically have drought conditions here in New Hampshire, our front yard is in full sun for most of the day, meaning we have to water the grass frequently or it will die. Last year, we tried reseeding the lawn, but didn't pick a high quality grass seed, nor did we water the lawn as much as we should have. It didn't last.
We needed help.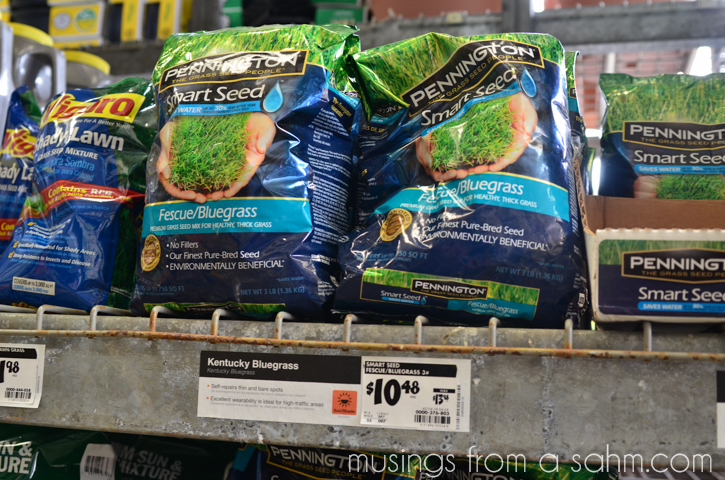 Pennington Smart Seed requires up to 30% less water each year when compared to ordinary seed and it will stay green for up to three weeks without water. That's the kind of seed we need!
Especially when you consider that a predicted 36 states will likely experience at least some water shortages this year, even without drought conditions. Last year (2012) was the hottest year on record with 2/3 of the country facing drought. There's just one of the reasons why it pays to choose a pure-bred, drought resistant grass seed like Pennington Smart Seed.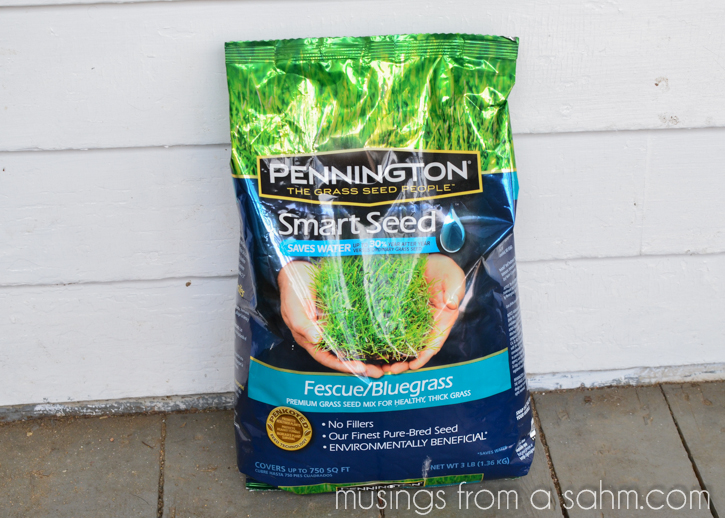 How to Plant Grass Seed Tips:
I've learned some great tips from Pennington Smart Seed for how to plant grass seed. Some tips are basic and things most people would already assume, but others – like how much to water the grass seed – were new and very helpful to me.
1) Till the soil to a depth of 4-6 inches.
2) If you're not sure about the quality of your soil, have the pH and other nutrients in your lawn tested. You can bring a soil sample to your local lawn and garden center or buy a simple test kit yourself. This helps determine how well the grass will grow and what type of fertilizer would be best.
3) Apply the fertilizer and any other recommended amendments, like lime or gypsum, according to the directions.
4) Rake the fertilizer evenly into the soil and rake the soil smooth.
5) Sprinkle the grass seed over the soil evenly and rake it into the soil just barely – about 1/8″ deep.
6) While the grass seed is germinating, make sure you keep the soil consistently moist. Water daily as this will help the grass establish a good root system. After two weeks, you can water every third day for 15-20 minutes. Once the grass is fully grown, water every fourth day for 20-30 minutes.
Seeding Our Lawn with Pennington Smart Seed
This year, armed with our new tips, we purchased Pennington Smart Seed Fescue/Bluegrass.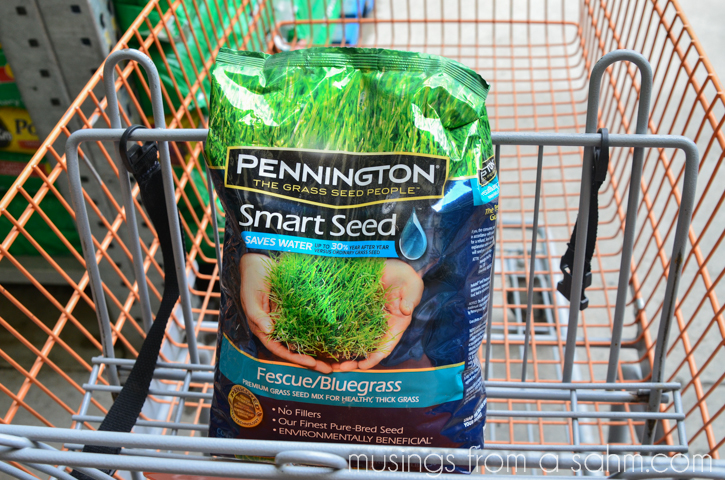 Following the tips above, Nate raked the lawn first to get the soil ready.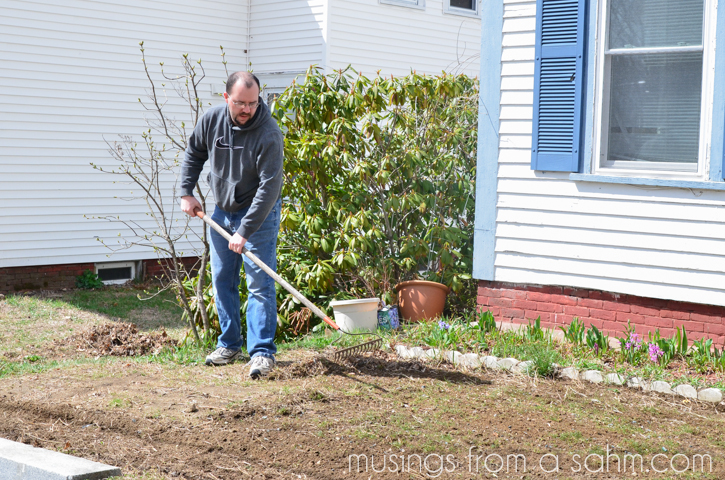 After spreading fertilizer, my brother, Jonathan, spread the grass seed evenly over the soil and gently raked that in.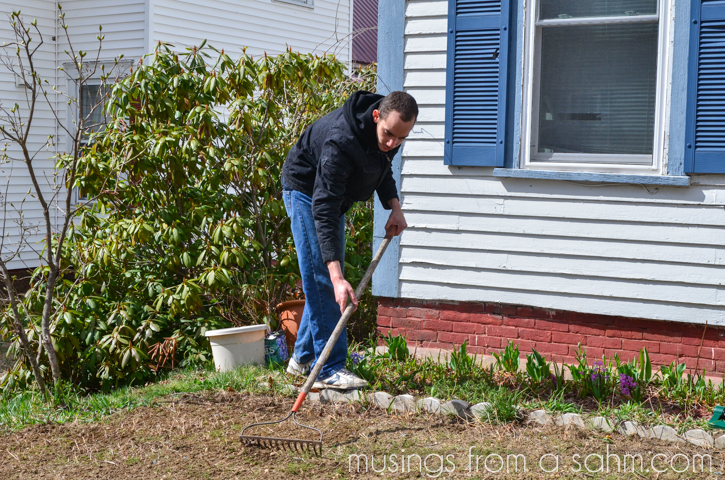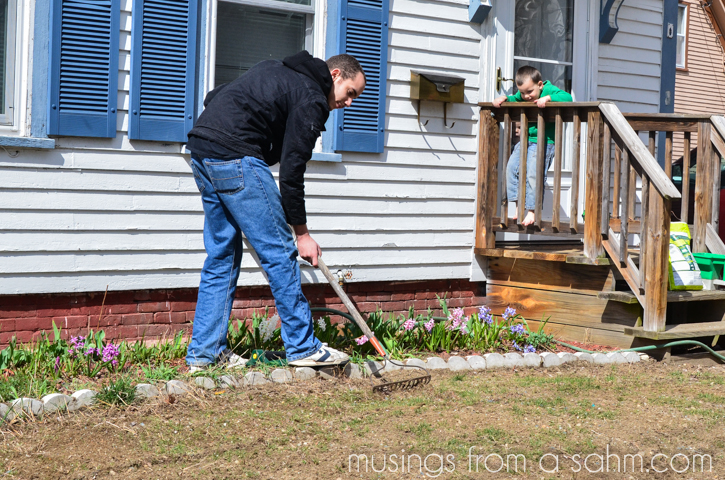 We roped off the lawn (to temporarily prevent little feet from running all over) and have been following the watering recommendations. I think those will be key because not watering (or overwatering) has been our downfall in the lawn before.
Thanks to Pennington Smart Seed, I am confident we'll finally have a nice front lawn this year. I'll be updating you next month on how our lawn is growing and sharing more tips from Pennington.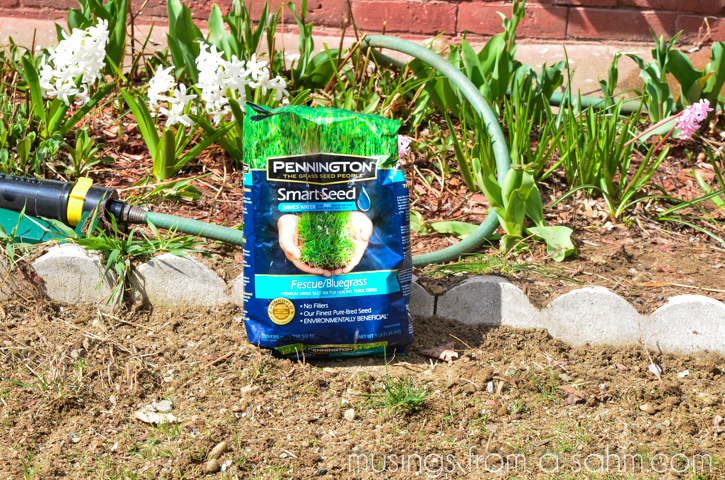 In the meantime, you can read more tips and lawn information at PenningtonSeed.com. Be sure to follow Pennington on Facebook and Twitter too.
Click here to see how the lawn looks a month later: New Pennington Smart Seed Lawn.
Disclosure: Central Garden & Pet partnered with bloggers like me to help educate us all about their Pennington products. As part of this program, I received compensation. They did not tell me what to purchase or what to say about the use of the products. Central Garden & Pet believes that consumers and bloggers are free to form their own opinions and share them in their own words. Central Garden & Pet's policies align with WOMMA Ethics Code, FTC guidelines and social media engagement recommendations. A winner will be chosen by random and gift card fulfillment will be handled by a third party.