My two-year-old, Luke, is at that busy age where he' constantly on the move. Often, it seems the only time he slows down is at nap time or bedtime when he's finally fallen asleep. (But even that step can take some effort!)
Diaper changes are no exceptions; Luke hates getting his diaper changed and it's become quite a challenge with him shrieking and wiggling all over. Of course, he would much rather spend that brief period of time running around, getting into mischief!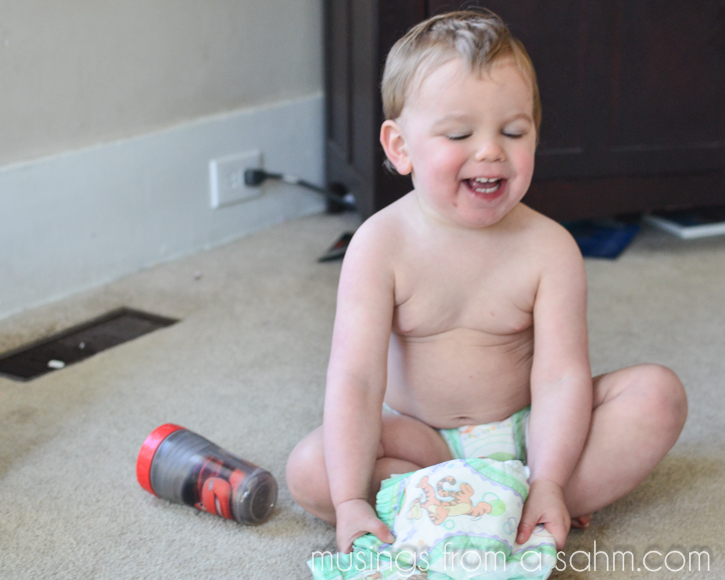 That's why I was so glad to be sent HUGGIES® Little Movers Slip-On® Diaper Pants through Mom Central Consulting on behalf of Huggies. The timing was perfect.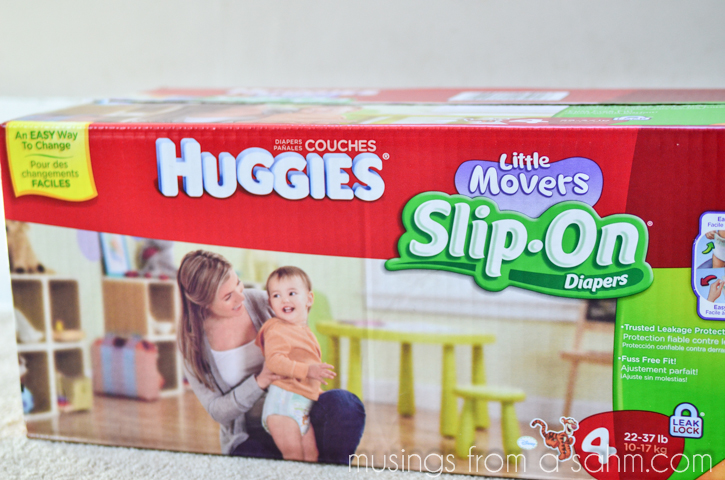 Huggies Little Movers Slip-On Diapers are designed for standing and walking babies/toddlers and are unique because they come ready to go. The sides are pre-fastened with no adjustment required. Pull the diaper on baby and it fits perfectly the FIRST time. Plus with their trusted Leak Lock protection, these diapers absorb and lock in wetness so baby will stay dry.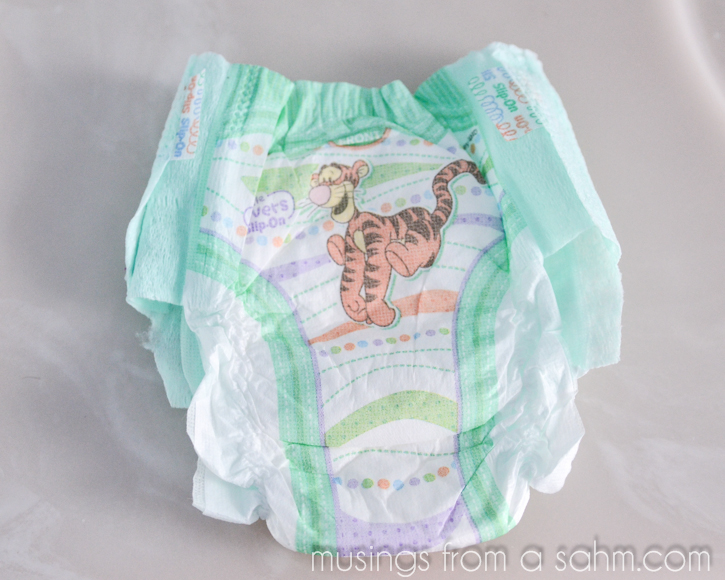 Huggies Little Movers Slip-On Diaper are perfect for Luke.
For starters, diaper changes are now much faster. Luke can stand while I simply pull his diaper up, then his pants, and he's ready to go. It's more like getting him dressed instead of stopping for a diaper change. What used to take a few minutes now takes seconds.
What about the Leak Lock protection? Does it work?
Yes, it does. After using Huggies Slip-On Diapers for over a week, there was no leaking. We've even tried them for overnight use with no issues.
I love that I can reattach the diaper if needed with its easy-open side and grip tabs. On one occasion, Luke took his pants off and ripped open the side of a diaper. (He's been trying to run around naked lately, much to my chagrin!) But thanks to the handy design of this diaper, I was able to reattach the side and still use the diaper.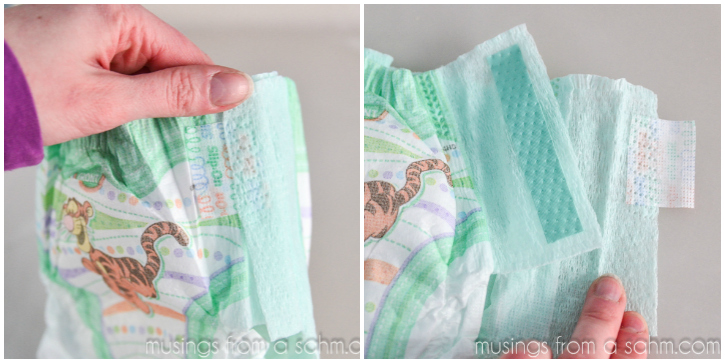 As I mentioned before, Luke is very active. We call him our little monkey, because he is constantly climbing and jumping off everything. Even with all that activity, I've found Huggies Little Movers Slip-On Diapers to stay on well and move right along with him.
The stretchy sides move right along with him.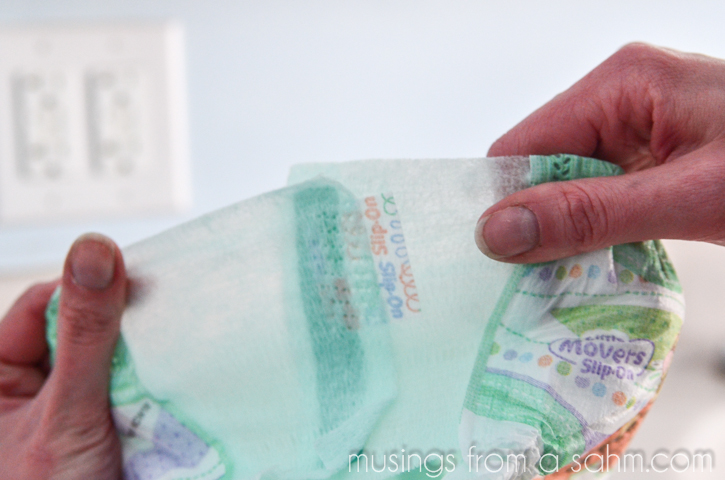 I tried hard to get a good picture of Luke wearing his Huggies Slip-On diapers. But he wouldn't sit still! And no way would he pose. But at least I can show you how the diaper works with all that motion.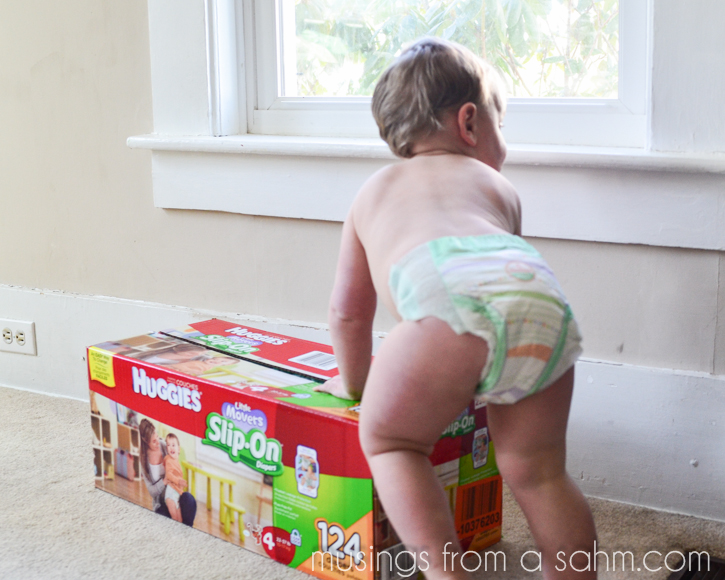 To add to the advantage, Luke loves his Huggies Little Movers Slip-On Diapers. We call them his "big boy diapers" and he's now quite willing to slip into his diaper.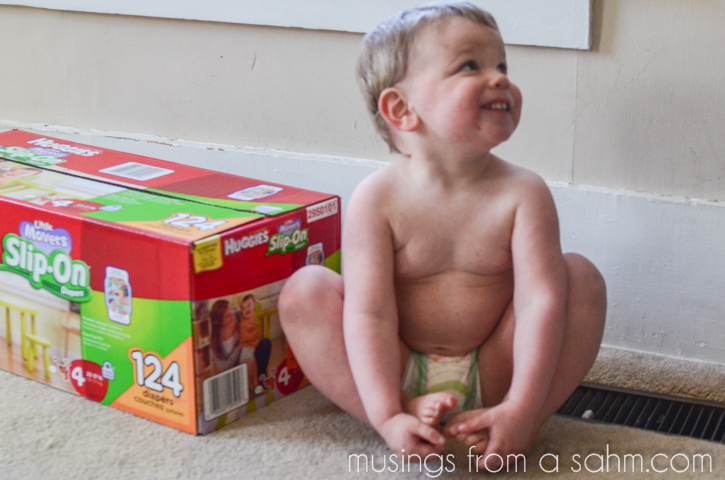 With four kids, I've been a Huggies mom for a long time now and I'm happy to say that my favorite diaper brand has another winner with Huggies Little Movers Slip-On Diaper Pants.
Now, if Huggies could figure out a way to clean up and dispose of stinky diapers, we'd be all set!
Click here to print out a $2.00 off coupon for Huggies Little Mover Slip-On Diaper Pants. Share the coupon with three friends and the value will increase to $2.50.
Disclosure: I participated in a campaign on behalf of Mom Central Consulting for HUGGIES. I received product samples to facilitate my review. All opinions are my own.