I will readily admit that the idea of Samuel getting sick or being in pain could keep me up at night if I let it. What parent doesn't hate seeing their child suffer? While I am certainly grateful for medical professionals when they are needed, my husband and I both prefer homeopathic remedies to traditional medicine when they are appropriate. So, I was thrilled to have the opportunity to review the Hyland's Baby Homeopathic Remedies line of products. They sent me a gift basket full of Hyland's Baby products to use on Samuel!

Included in my gift basket were some Hyland's Baby remedies, including Teething Tablets, Teething Gel, Cough Syrup, Colic Tablets, Diaper Ointment, Tiny Cold Tablets, and Vitamin C Tablets. Now, I am a label reader. I read ingredient lists, and if I see something that is suspicious or that I don't like, I will put the product back on the shelf. So I was really curious to see what is in the Hyland's products. I was pleased to find that the only things I don't love are the preservatives in the cough syrup and teething gel, but I realize those are a necessity if something is going to have any shelf life at all. All of the tablets are based in Lactose N.F., so you would want to avoid them if your child is allergic to lactose. However, the teething gel does not contain any lactose, so that is still a great option! And each box advertises "No artificial Flavors, Dyes, or Parabens," which is indeed true. Overall, I am very pleased with the ingredients in all of the products I received and would not hesitate to give them to Samuel.
The two products I have used extensively since I received them are the teething tablets and teething gel. Samuel just cut his first tooth three days ago, so this came at a perfect time!!
I am LOVING the teething tablets, or 'tabs' as we call them here! By way of disclaimer….I ate a couple. I decided when Samuel was born that I would never put something in his mouth that I wouldn't put in my own. Therefore, I have to try everything first. Since he isn't eating solids yet, I've yet to have much opportunity to do this though. So, I tried a couple of the teething tablets and was shocked at how they dissolved instantly! I was also pleased to find that they have no flavor and are not chalky tasting. Compared to another brand of homeopathic teething tablets I have, these win hands down as the others take forever to dissolve (I ended up having to crunch them with my teeth) and are pretty chalky.
So do the Hyland's Teething Tablets help with Samuel's teething pain?? I have to say I think they do!! And they seem to work pretty fast at that! When Samuel starts getting grumpy, if I think it is because of his gums, I'll ask him if he wants a tab. Who knows if it's because I ask him excitedly and with a smile, or if it's because he actually knows what I'm talking about, but he smiles and gets excited too! And he even seems to get a bit impatient as I'm opening the bottle, bouncing up and down in my lap. Either way, the boy likes his tabs. He eagerly accepts them and allows me to hold them under his tongue as they dissolve. And for a little while after, he seems happier and less grumpy. All I can figure is, they work! And bonus! He enjoys playing with the bottle too. 🙂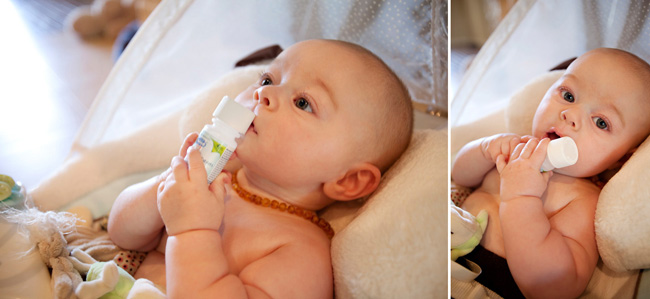 Unfortunately, I haven't had as much luck with the teething gel, but I attribute that to user error. I have yet to figure out how to rub the gel on his gums before he is able to lick it off my finger. Even the process of getting my finger into his mouth often leaves half the gel around the perimeter of the outside of his mouth! However, I can say that the gel seems more convenient, especially if you're on the go, because you don't have a bottle full of tiny pills to juggle at the same time you're juggling an unhappy baby. I did taste the gel and it is also tasteless. I'm going to keep trying and perhaps I'll eventually get the hang of it.
While I don't ever look forward to Samuel getting sick, I am excited to have my medicine cabinet stocked with Hyland's Baby products. I'll have those Tiny Cold Tablets and the Cough Syrup ready to go at the first sign of a cough or sniffle!
You can find Hyland's Baby products at stores, health food stores, and online.