Her life changed in an instant…..she was on her way to dinner at her boarding school, worrying about her Latin test when the headmistress told her that her father had been lost at sea and that her estranged aunt and uncle were on their way to pick her up from the comfortable life she knew and bring her with them to London – away from all that was familiar to her.
So begins the story of Amelia, a doll from the A Girl for all Time collection. I love that each doll has her own story book and a blog that is updated frequently by Amelia during her journey. Amelia's story is engaging and instantly draws you in, wanting to learn more about this spunky 12 year old girl as she searches for the truth about her father.
I was thrilled when the girls were offered the opportunity to review one of the dolls from A Girl for all Time. When the box arrived the girls were so excited to see that there was an Amelia doll for EACH of them! I heard squeals as I was opening the boxes and then just as quickly the room was silent as they ran off to play with their new dolls.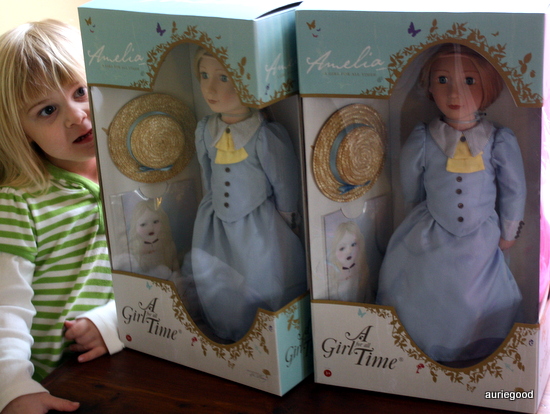 Bella loves Amelia's hair, and brushes it for hours. She tries to style it, but more often that not Mommy has to step in and save the hair! I really like that the A Girl for all Time site has a page that teaches you how to style your girl's hair with rags, just like Amelia's hair in the story. She also likes to bring her Amelia doll with her to the table and *helps* her to eat and drink. The arms and legs are jointed so the doll sits very easily, which is great for my little Bella.
Sophie has taken her Amelia everywhere. She's been to the park, the playground and sits in the car when we run errands. Sophie's favorite thing to do with her A Girl for all Time doll is to play dress up. The outfit that Amelia comes in is beautiful – very Victorian, down the the lacy socks and kid boot shoes. You can purchase additional wardrobe outfits at A Girl for all Time site, or most 18 inch doll clothing and shoes seem to fit.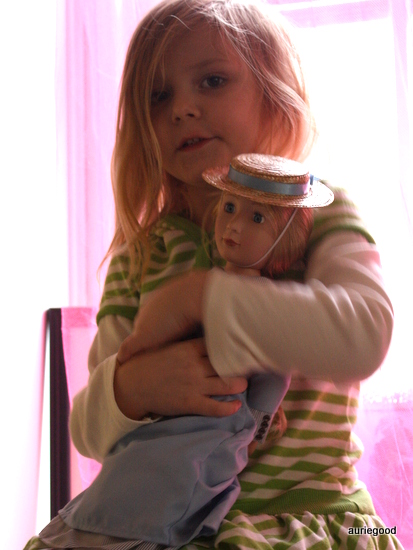 I personally love the quality of the dolls. The jointed arms and legs make is so easy for little hands to dress and undress the doll without excess pulling of the clothing. The body is well constructed and is easy to clean. Since Amelia has traveled to a few play places, she's had to have a few sponge baths and has cleaned up quite nicely. The hair is long….which can mean lots of tangles, but if you can keep it in a band or braid it then the hair stays relatively tangle free. I highly recommend the dolls from the A Girl for All Time Doll collection – they are perfect for girls aged 4 years old and up.
Win It!
1 lucky winner will receive a doll from A Girl for all Time!
CLOSED