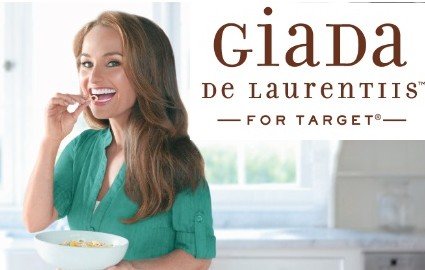 I love cooking and baking around the holidays. Whether it's a special holiday dish for a family gathering or a simple batch of gingerbread men, there is just something special about it.
This year, Giada De Laurentiis has joined Target with a great new collection of products. They include quality cookware, bakeware, and kitchen tools, along with specialty food items. With the collection, comes some handy tips and recipes from Giada herself.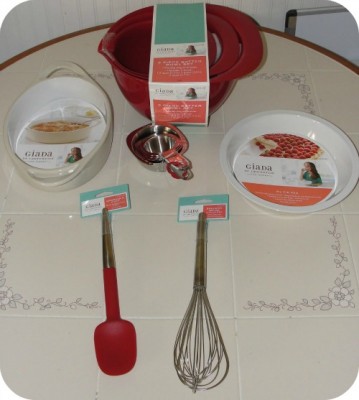 I was sent a selection of the Giada De Laurentiis for Target products, including a 2 quart ceramic bakewear, ceramic pie pan, silicone spatula, 3 piece set of plastic bowls, a whisk, and a steel measuring cup set.
I admit, I was practically giddy waiting for my Giada package to arrive; I just love getting new cooking products for my kitchen! In fact, I've been needing to update some of my kitchenware so the timing was perfect.
Giada De Laurentiis for Target products are practical yet still pretty. Most kitchenware is either one or the other, but Giada has the perfect combination. I love the 2 quart ceramic bake dish; I will use this for my green bean casserole at Christmas dinner – I can bake it in the oven and then serve it right in the beautiful dish.
Everything seemed to be excellent quality and there honestly wasn't one item I didn't like. I've put some of them to the test with a lot of baking this past week and I am very impressed with their performance. The spatula works so well, I plan on picking up a couple more to replace my others the next time I'm at Target. The whisk was also stronger and easier to use than my old one.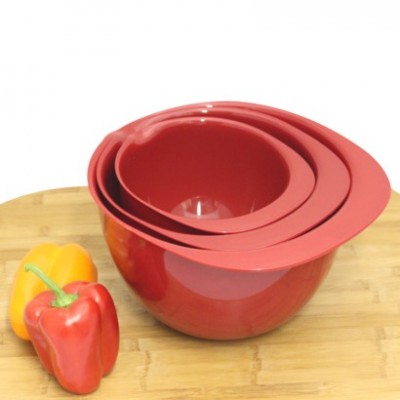 The 3 piece set of plastic bowls have a spout on the side that makes for easier and cleaner cooking and baking. We have used these for many things, from pouring pancake batter to whipping up frosting and even as a popcorn bowl. They are light, yet sturdy and the rubber base keeps it from sliding around. Even the price – $19.99 for the set – is great!
Giada has some wonderful recipes and tips to go along with her new products and food. Her delicious pantry items like the marinated sun dried tomatoes, black olive tapenade, roasted red peppers, marinated mushrooms, basil pesto, and eggplant & pepper pesto I received are perfect for quick appetizer and snack options for guests. Or for adding a special touch to a meal.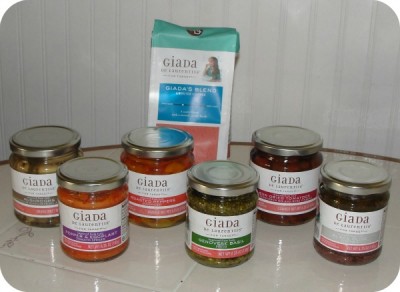 There's also her delicious coffee – Giada De Laurentiis for Target Giada Blend Coffee comes with a yummy recipe that I tried.
Spiced Coffee with Cinnamon Whipped Cream
Recipe Courtesy of Giada De Laurentiis
• 1 cup granulated sugar
• ¼ tsp ground allspice
• ¼ tsp of ground cinnamon, plus more for dusting
• ¼ tsp ground ginger
• 1 cup boiling water
• 1 cup brewed Giada De Laurentiis for Target Giada Blend Coffee
• 1 cup heavy cream
• 2 tbsp confectioners' sugar
1. In a small sauce pan combine the granulated sugar and ½ cup of water. Bring to a boil over medium heat and reduce heat to low.
2. Add allspice, cinnamon and ginger. Simmer for 5 minutes or until sugar is dissolved.
3. Take the pan off the heat and set aside.
4. In a heat proof pitcher or measuring cup add the boiling water to the coffee /espresso.
Divide it among four 6 to 8 oz cups.
5. Add 2 tablespoons of the spiced syrup to each cup and stir to combine.
6. Using an electric mixer with a whisk attachment beat the heavy cream until soft peaks form. Add confectioners' sugar and continue to beat until stiff.
7. Top each with a dollop of whipped cream – dust with cinnamon and add cinnamon stick.
Yield: 4 servings/ 4 (6-8 oz) cups
Prep Time: 10 minutes
Cook Time: 7 minutes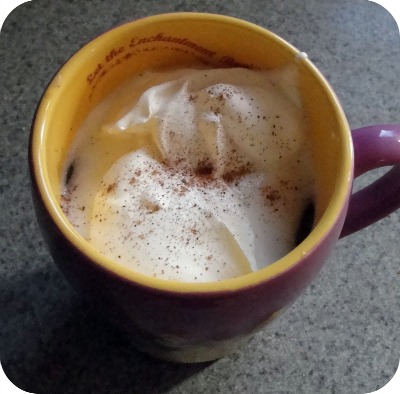 It is delicious! It was easy to make and a real treat; I will definitely be making this again!
I am so pleased with Giada De Laurentiis for Target's products. They have added a wonderful touch to my holiday cooking and baking and will be great for year round too. I encourage you to see for yourself the next time you're at Target!
I wrote this review while participating in a blog tour by Mom Central Consulting on behalf of Giada De Laurentiis for Target and received product samples to facilitate my review.