I'm a big fan of Old Navy. I buy a lot of my children's clothes there, thanks to their affordability and decent quality, and now I have another reason – their new BEST-TEES. The word t-shirt is often associated with bagginess and a lack of style, but that's not Old Navy's BEST-TEES.

Old Navy has reintroduced their popular tee after researching style, comfort, and what people want. BEST-TEES have brighter, bolder colors, more style choices, and are made with premium, soft fabric. The tees conform to your shape for a more flattering fit and are soft, comfortable, and move with you. BEST-TEES are for the whole family – for men, women, children, even toddlers. Styles range from the typical t-shirt pattern to v-necks to vintage looks (my personal favorite.)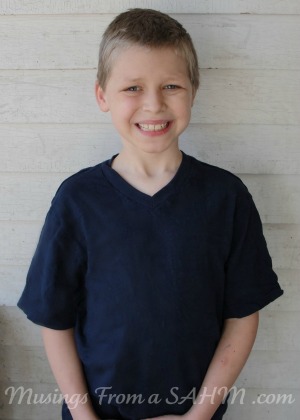 I was sent a BEST-TEE for my 9 year old, Nathan. I asked for one in his size knowing that he needs more t-shirts for the summer. Yep, he's growing like a weed again. The tee is a v-neck in a navy blue color. The BEST-TEE is so soft! That's the first thing I noticed. The fabric is also lighter-weight than many other t-shirts, a nice advantage for the hot summer months. I ordered a size 10-12 for Nathan. He's at that tricky in-between-sizes phase where the previous size is too small, but the size 10-12 is a little big yet. I'm not worried; he's growing so fast, I'm sure it will fit perfectly by this summer. But in the meantime, while it's a little big, I could already tell that it was going to fit him better than his other tees. It's definitely not as baggy and the v-neck style is a nice change from what he usually wears.
I asked Nathan what he thought and he said it was "very soft and feels good." I have to say I'm a little jealous and now I wish I had ordered the BEST-TEE for myself, because now I want one! But the other great thing about these tees is that they're affordable (prices range from $8.50-22.94) and I know I can buy a few for myself and more for the rest of the family without breaking the bank. Which I definitely plan to do within the next couple of weeks!
Watch Old Navy's BEST-TEE commercial here:

Don't forget about Old Navy when you do your spring/summer shopping for your family this year!
"I wrote this review while participating in a blog tour campaign by Mom Central Consulting on behalf of Old Navy and received a product sample to facilitate my review, and a promotional item to thank me for participating."