Just about every little girl loves playing with baby dolls at one point or another. Maybe it's your two year old sharing her sippy cup with her dolly or your four year old pretending to be a mommy. As a mom yourself, you probably enjoyed dolls as a little girl too. I certainly had my own collection of baby dolls – just ask my mom; I had a lot! Despite having three brothers, my daughter, Emily, is very much a girly girl and she adores her dolls and stuffed animals too.
I was asked to review a doll from JC Toys and I hesitated until I saw the website with pictures of their dolls. You see, I'm pretty particular when it comes to baby dolls. Many baby dolls aren't cute and some are just plain ugly. But JC Toys dolls are adorable and almost life-like. There are so many cute dolls, it was hard to choose one!
Emily and I picked out the JC Toys La Newborn 15″ Real Girl baby doll.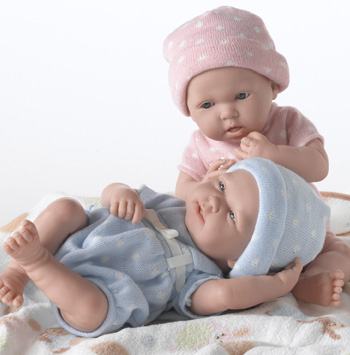 JC Toys is an expert in the doll-making field with over 30 years of experience. Their dolls stand out because they have amazing expressions and realistic eyes, hands, noses, even belly buttons.
Emily was practically jumping up and down with excitement as we opened the box containing her new JC Toys La Newborn doll.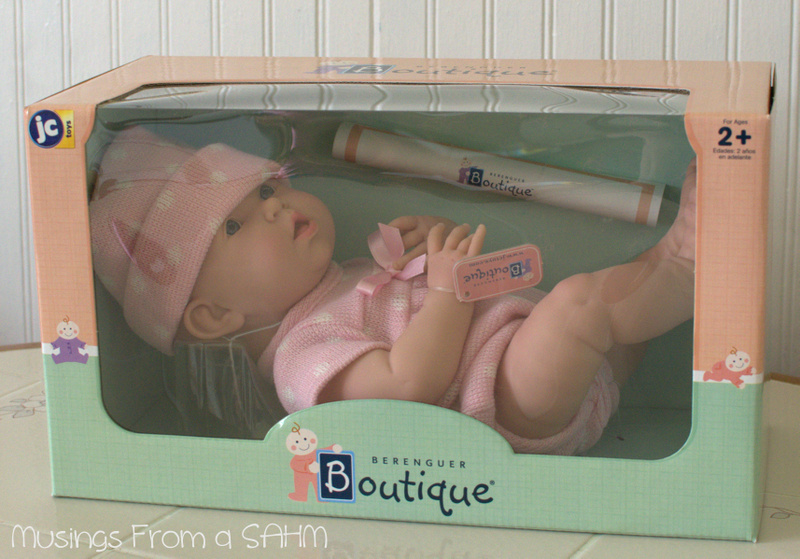 When we took the new doll out of the box, Emily looked her over carefully and then hugged her tightly.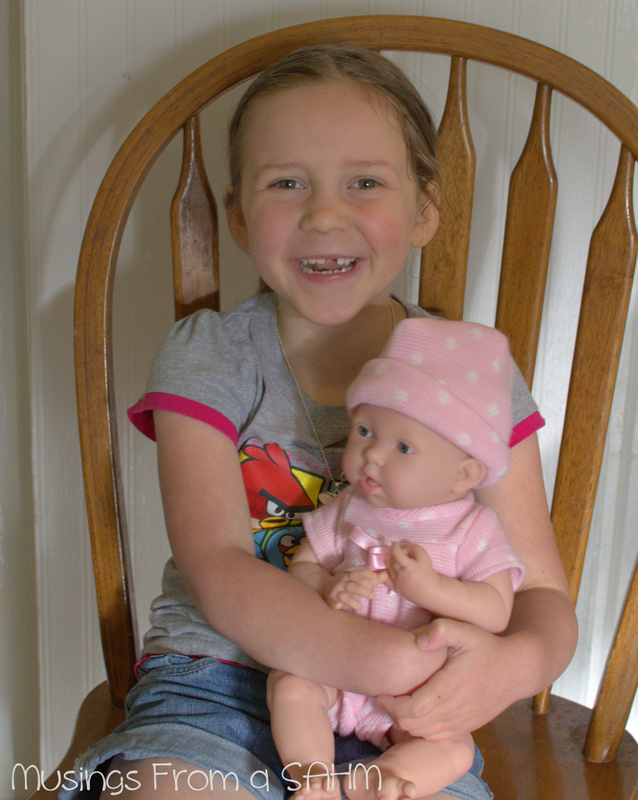 The JC Toys La Newborn baby doll is even cuter in person. Many baby dolls try to look realistic, but their hard plastic arms, legs, and faces are anything but cuddly. I remember my favorite "realistic doll" as a girl and while I loved her, she was not all that fun to play with because she was so hard. But the dilemma is that you can't have a very realistic cloth doll, so what to do?
JC Toys figured it out. Our La Newborn baby doll is sturdy with soft, almost velvety-feeling arms. While nothing can quite replicate the feel of a real baby's skin, this doll comes as close to it for a doll as I've ever experienced.
All the small details add to the "life-like" appearance of this doll. From her wrinkled feet…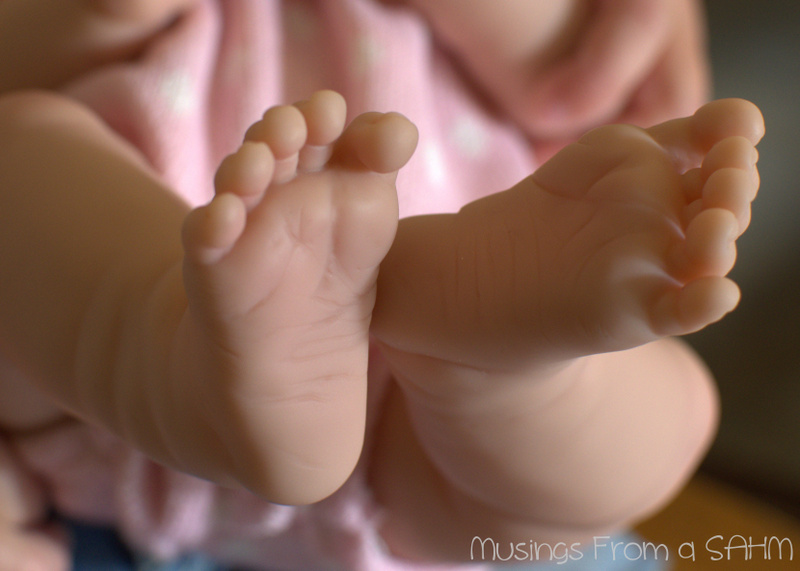 …to her sweet button nose…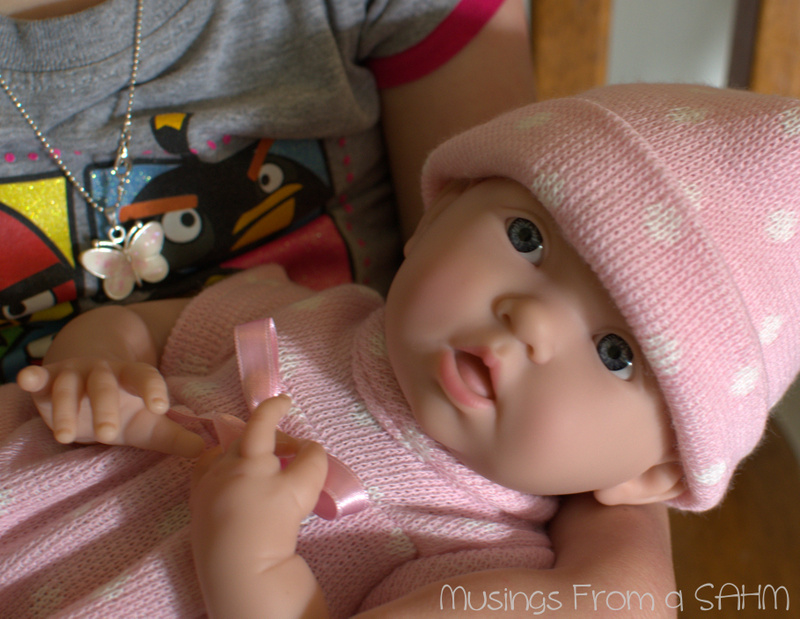 …this is one really cute dolly.
And a very loved one, I might add! Emily takes her baby very seriously. She named the doll Savannah and takes her everywhere. She stops to "feed" her a bottle, tucks her in for naptimes, even buckles her up in the car.
I asked Emily what she thought and her response was to hug Savannah tightly and say "I LOVE her! And I will always take very good care of her, Mommy!"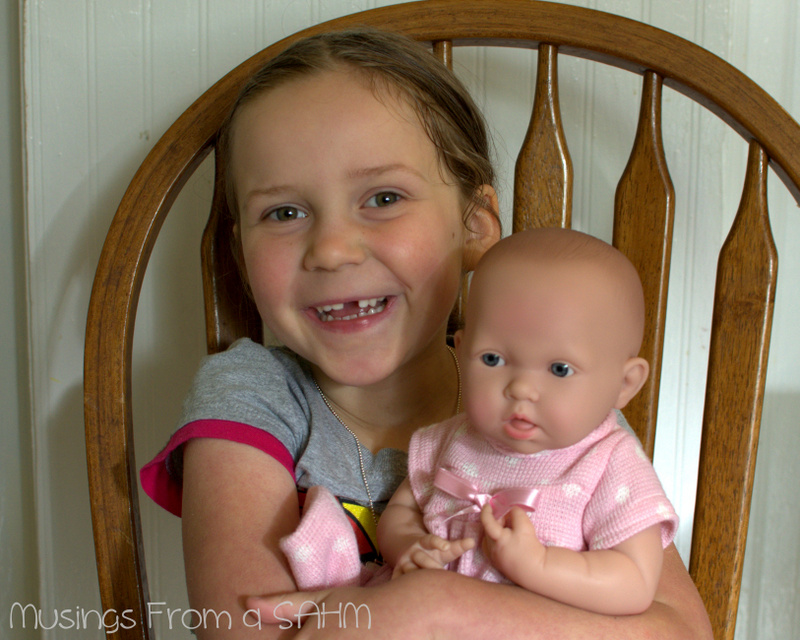 Buy It:
Find JC Toys baby dolls online and on Amazon. (<affiliate link)