It's great to recycle, but finding a way to organize it and a system that works can be more challenging than one would think. Sometimes you just don't have the time to take things outside immediately, especially if it's multiple times a day. So what do you do? Leave it on the counter?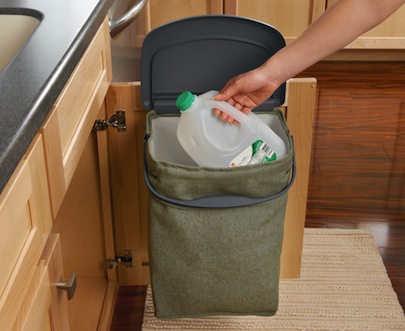 Rubbermaid has created the perfect solution: The Rubbermaid Hidden Recycler. This simple product is designed to keep your counters clean. It's a flexible bag that attaches to your cabinet door with included hooks or screws. The bag is 5 gallons and can hold 36 12-ounce cans and is big enough to fit a milk jug. The liner is leakproof and machine washable so any spills can be easily cleaned. When you're ready to empty it, simply unhook it from the frame and carry it out to your recycling bin with it's convenient handle. And of course, the Hidden Recycler is made from recyclable material and can be recycled itself.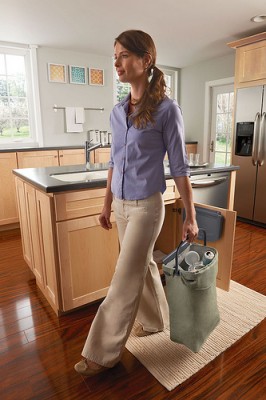 My family of 6 collects a lot of recycling, between all the typical kitchen stuff, like milk jugs (we go through 4 gallons of milk a week), cans, cereal boxes, and then there's junk mail, paper, and cardboard (I get a lot of boxes from the product reviews I do.) We toss our daily recycling into a plastic kitchen trash can that sits just inside our storage room next to the kitchen. My 9 year old, Nathan, empties it into the big recycling trashcan outside each morning as one of his chores. So far, that's worked pretty well for us, but I still end up with recyclables on my counter. I either have to make multiple trips or bring our recycling bin next to the sink. While it's not a huge deal, it can be a little inconvenient at times.
I was intrigued when I was given the opportunity to review Rubbermaid's Hidden Recycler. I wasn't sure it would be big enough for my family, but I knew I wanted to try it. I love Rubbermaid because it's all about organization and making life easier and this recycler sure looked to fit that description.
Installation was simple. I did it myself. Normally my husband does this type of thing (not that I can't, just that he's faster and doesn't mind) but this week he was very busy and didn't have a chance. I was too impatient to wait so I pulled it out and it was much easier than I thought; just fit the hooks over the door, attach the bag to the plastic frame, and it's ready to go!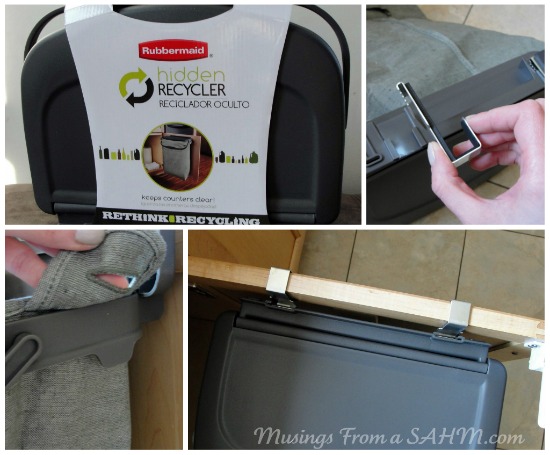 As I suspected, the Rubbermaid Hidden Recycler isn't big enough to hold our full day of recycling, but I've found it to be the perfect solution to getting the kitchen stuff out of sight just after I rinse them. My only complaint is that the lid shuts a little too easily; sometimes I like to open it and toss things in one after another and the lid tends to shut. Aside from that, I really like it. I haven't needed to wash it yet, but it's great knowing I can just toss in the washer whenever I need to. It's easy enough to detach the bag from the frame and simply carry it over to our big bin and dump it.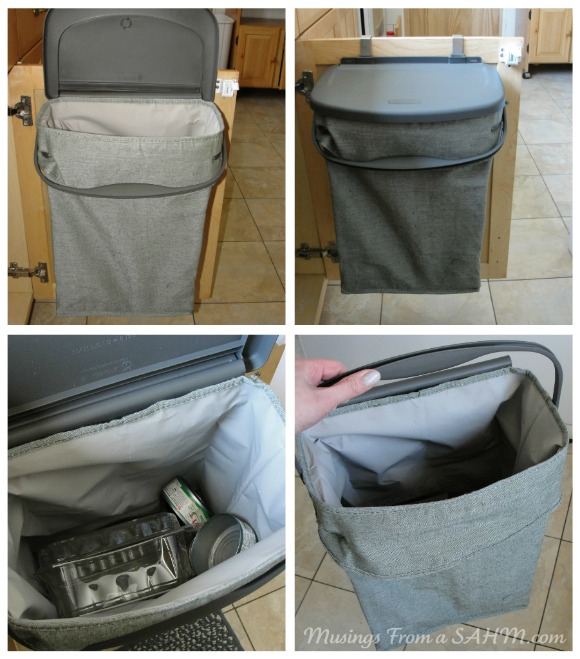 Rubbermaid has found another great solution to an organizing problem and if you're one of the millions of Americans who recycle, you should definitely check out the Hidden Recycler.
Buy It:
You can find the Rubbermaid Hidden Recycler at stores nationwide, at Rubbermaid.com, and Amazon
Disclaimer: Thank you to the Rubbermaid for the free product I was sent to review. I received no monetary compensation and my opinions are my own and were not influenced by the sponsor.