Kidorable takes everyday children's accessories and transforms them into delightful functional products that encourage imaginative play and fun. This wonderful company offers many fun styles in everything from backpacks to rainwear and even knitwear and towels. With styles including Space Hero, Dinosaur, Ladybug, and many more, there is something for every child to enjoy. They even have sizes for babies and toddlers too.
There are so many wonderful products at Kidorable, it was hard to choose! I decided to get something for Emily and she chose the new Ballerina collection.


We were sent the rain boots and the rain coat. Emily was so excited to get her new rainwear – she couldn't wait to try them on!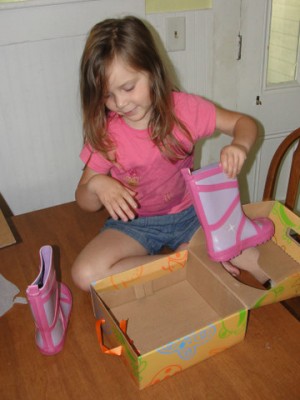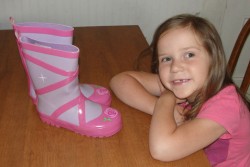 I've seen many children's rainboots and raincoats, but Kidorable definitely takes the adorable factor to the next level. Everything has cute detail, from the pretty roses on the boots to the ruffle along the raincoat.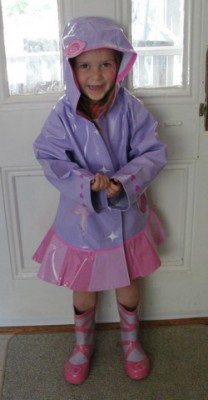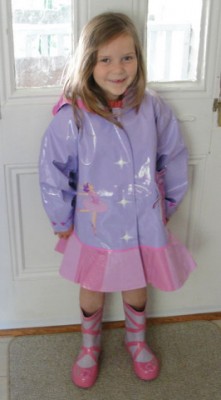 The boots are easy to put on and Emily loves to wear them all over, inside and out and whether it's raining or not! She tells me she is pretending to be a ballerina in the rain because "ballerinas need to keep their special feet dry too!"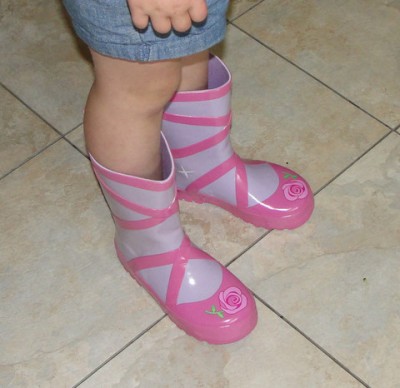 The raincoat is so pretty and the quality is excellent. I've seen many raincoats that have cheap material that rips easily; Kidorable rainwear is different and I can tell it will last. It also has a very comfortable feel to it, unlike other raincoats that are so plastic-y and almost sticky-feeling.
We also received a super cute matching ballerina wooden hanger with the raincoat and I love how well made and sturdy it is.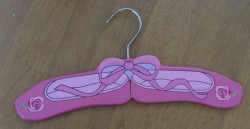 The raincoat has a little loop to help it stay on the hanger too for easier hanging up. While it's a little detail, I think it's wonderful that Kidorable put this much care and thought into their product line.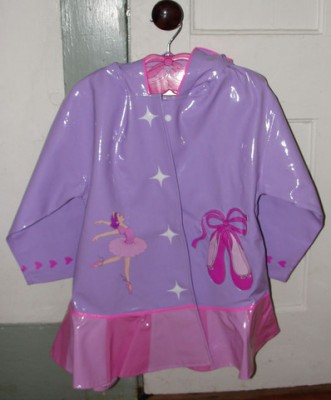 Kidorable rainboots are available in My First (size 5), children's sizes 6-13, plus young adult sizes 1 and 2.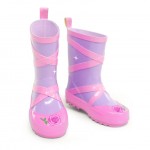 Kidorable raincoats are available in sizes My First (1T, 12-18 mos.), 2T, 3T, 4T, 4/5, 5/6 and 6/6X. And all raincoats now come with a free matching hanger.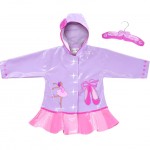 With Back-to-School Season upon us, now is the perfect time to check out Kidorable's backpacks too: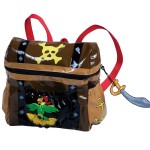 Buy It:
Visit Kidorable to find a retail store near you or you can purchase online.
Kidorable rain boots are $29.00
Kidorable rain coats are $36.00
Disclosure: I received a free product from the sponsor to review. I received no monetary compensation and my opinions are my own and were not influenced by the sponsor.