I have to admit I was a bit of a skeptic when I agreed to try the CopyKids: Eat Fruits & Vegetables program out on my boys. Eating healthy has never really been a strong suite for them, hence my love of vitamins. But I when I read about the program, I thought I would give it a chance.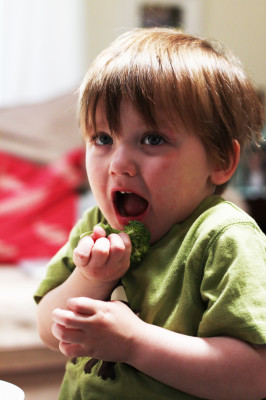 When you start the DVD, you are given options of footage based on your vegetable selection. We had carrots and broccoli (raw), so I started with carrots, because I was slightly more optimistic.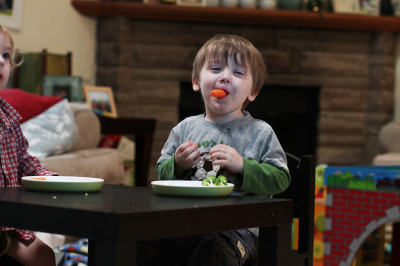 The DVD depicts preschool age children eating and enjoying vegetables. When we selected carrots, the boys started laughing at first when they saw all the "silly" kids eating them. It took them about 3 minutes of watching before they started totally chowing down. I was amazed. But after about 5 minutes of watching, I found myself stealing carrots from their plate too.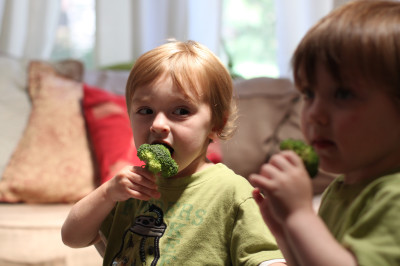 Next was the broccoli. When I began this segment, Noah had already moved close to the TV with a handful of carrots and when he realized he didn't have the same vegetables as the kids on television, panic ensued. Never did I think that giving my crying child raw broccoli would actually be the solution.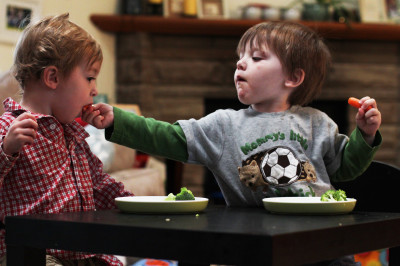 The effectiveness of the DVD definitely amazed me, but I wondered if the effect was limited to the time when they were watching the DVD. The next day for snack I offered them the same thing- carrots and broccoli but without the TV on, and to my surprise, they ate it. For our family, this DVD has proved to be a great tool for overcoming my boys' vegetable phobia long enough for them to realize vegetables are kind of good. It seems really professional and interactive- not the kind of tv that your kids become zombies while watching.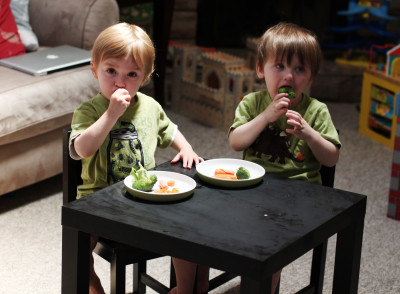 I really love the idea of harnessing peer pressure for good. It is such a powerful force and I think it was truly brilliant of the makers of CopyKids to harness it in a way that is helpful to children. I wonder what the future has in store for this company- maybe a manners dvd? The idea really has a ton of room for expansion. So what kind of tricks do you use to get your kids to eat vegetables?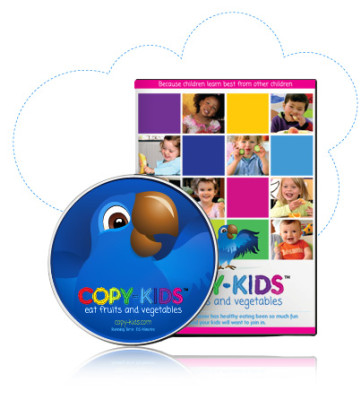 Buy it:
You can find Copy Kids: Eat Fruits and Vegetables online for $19.95