The Hot Wheels® Wall Tracks™ Mid-Air Madness™ Set was one of the hottest toys of 2011 and it's no wonder why. This unique track set is designed to mount safely to the wall for horizontal racing. It uses wall-friendly Command™ strips and a special wall-mounting template to make setup easier. Once it's mounted, the fun can begin. The car booster sends Hot Wheels cars flying through the air, through steep turns, and then to attempt a near vertical jump for gravity defying action. There may even be a mid-air crash!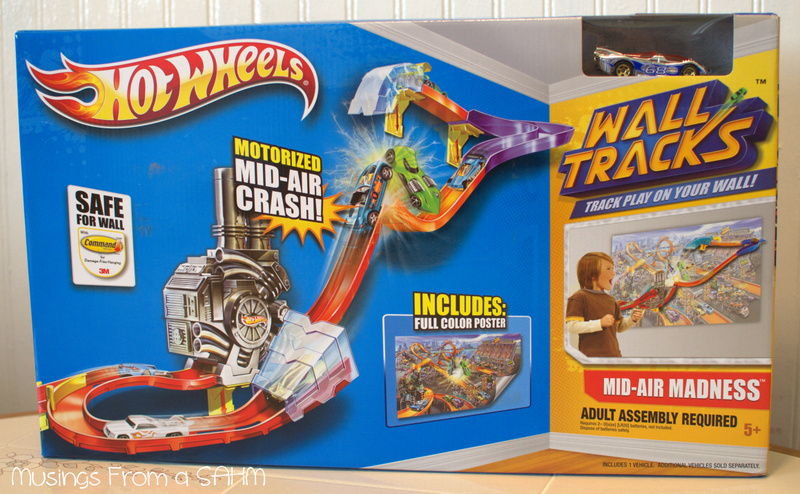 This set provides non-stop race action and excitement for kids of all ages! My boys were thrilled when we received our set to review. Nate set it up it up in the boys' room for them. The directions were pretty simple to follow, although he misread them and didn't quite allow enough room on all sides. However he was able to adjust for the mistake and everything works just fine. The colorful poster that goes behind the set itself lends to the excitement.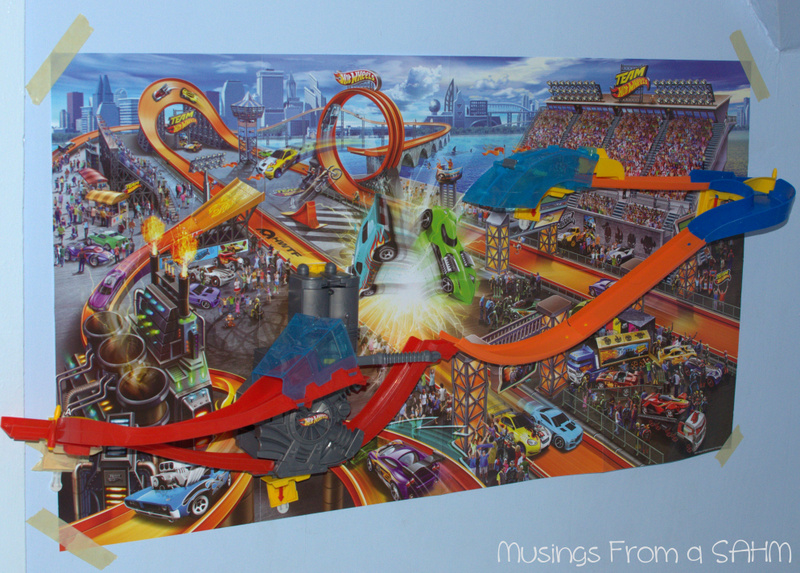 Once it was put together, my boys each grabbed a Hot Wheels car to try it out. The set comes with one car itself, but if you're anything like us, you have dozens more cars around the house to use too. Obviously the race car type ones work the best. Joshua tried out his Blue's Clues van and that one didn't quite make the jump.
I should add that we've had a couple previous Hot Wheels sets that didn't work all that great and frustrated my kids. I had wondered if this would be another, but it's not! My kids have played with this set daily for over a week now and it's still going strong. There was only one time when the cars weren't lining up with the tracks, but I discovered one of the sections had come off slightly and once I fixed that, it was fine.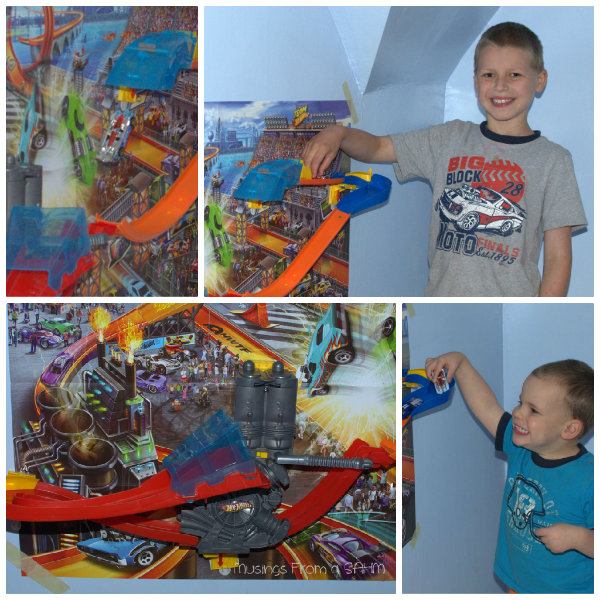 I will warn you that it's a little noisy, with the booster shooting cars. Plus kids get so excited, they end up shouting anyways.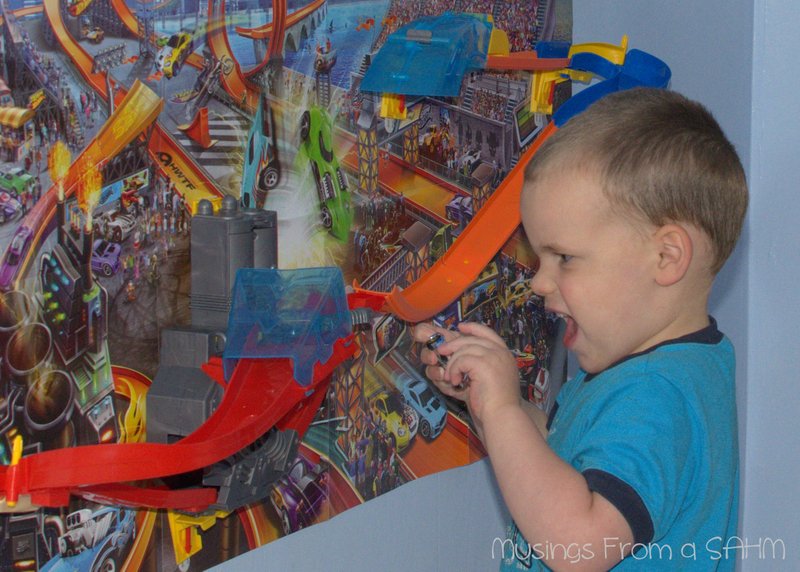 If you get this set, I would make two recommendations. 1) Make sure you follow the directions exactly. It's not that complicated, but due to the nature of this setup, if you don't, it simply won't work right. No one wants that to happen! 2) Be careful that little ones don't try to hang on it. My 18 month old has pulled on the track a couple of times and it's been ok, but I don't think it would hold up to constant yanking as it's not made for that.
Check out our Hot Wheels Wall Tracks Mid-Air Madness in action!
Oh and the mid-air collision? It's hard to make it happen, but when it does, it's very exciting for the kids! I would
definitely
recommend this set.
Buy It:
You can find Hot Wheels® Wall Tracks™ Mid-Air Madness™ at stores nationwide and online
.
ARP: $24.99