K'NEX is a favorite name in our household. I've already reviewed K'NEX products before and was thrilled to share some of their latest and greatest toys. I was recently sent another fun box from K'NEX and to say my kids were excited is an understatement!
We received the K'NEX Cosmic Twist Coaster, the Monster Building Buddies, and four of the Wii Mario Kart character figurines.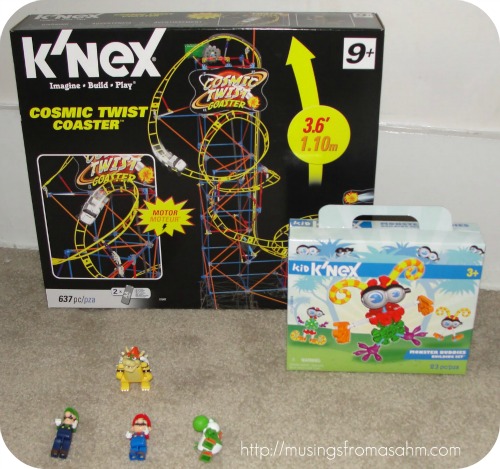 The K'NEX Wii Mario Kart character figurines are a fun addition to the collection of K'NEX Nintendo toys. Each came wrapped individually and they can be taken apart into several pieces each and then put back together. For this reason, they should be kept out of reach of little ones as they can be a choking hazard. I did let my almost 3 year old, Joshua, play with them since he wanted to be included and I knew he wouldn't put them in his mouth. Joshua loved putting them together and taking them apart and he likes to take them for rides in his little car.
The characters really look just like the real Nintendo guys. My only complaint is that they come apart a little too easily sometimes and we've already lost one or two of the pieces, like Bowser's tail, as a result. As fun as they are to put together and take apart, I think it would have been better to make them in fewer pieces. Overall they're still pretty neat.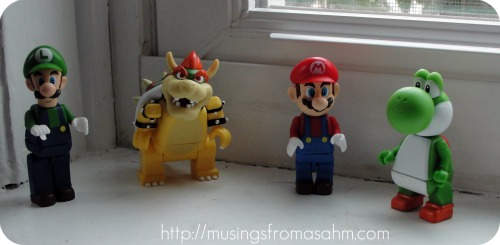 The K'NEX Kid K'nex Monster Building Buddies
has 23 pieces including rods, connectors, and personality parts like eyes, feet, and horns. It's recommended for ages 3 and up and I think it's pretty accurate. Joshua (age 2.5) wasn't quite able to work the pieces yet, but my 5 year old daughter, Emily, enjoyed it.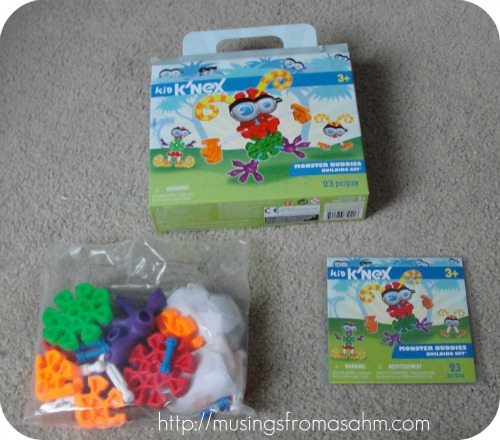 The pieces are simple and there are 5 "monster" varieties you can make. Emily loved building her monster and she thought he was really cute. She named him "Cutie." I don't think she's built all 5 varieties yet, but she has Cutie sitting on her dresser and loves him. At an ARP of $10.99, this is a perfect gift for boys or girls at a great price.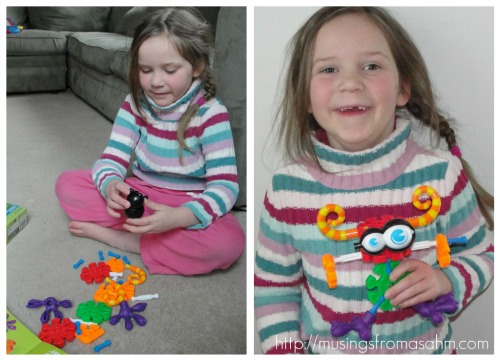 Then there's the K'NEX Cosmic Twist Coaster
. This was for Nathan, who will be turning 9 on Sunday. Nathan already has another K'NEX roller coaster set which he loves so he was extremely excited to get this kit.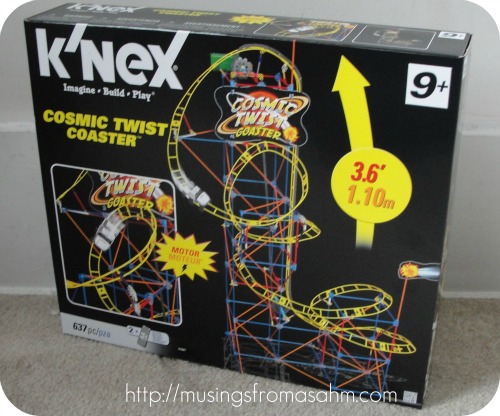 Nathan & his dad put it together on a Sunday afternoon. The kit contains over 600 pieces, including over 19 feet of track. It took them about 3 hours to fully assemble it. Nate (Dad) said it would have taken them longer but he was already familiar with how K'NEX toys went together. Their verdict? A lot of cool fun. Nate thinks that the age 9 recommendation is pushing it a little; Nathan would not have been able to figure this out without the help of an adult. However this is a great toy for some father/son fun (or Mom too, if you're so inclined.) It's also super cool with it's height of over 3.5 feet tall.
We've learned from previous experience that toddlers and K'NEX coasters do not mix. It ends up looking like Godzilla destroying the amusement park. So the guys put the set together in Nathan's basement room where it would be safe. I'll hear Nathan down there running his coaster and having a blast with it.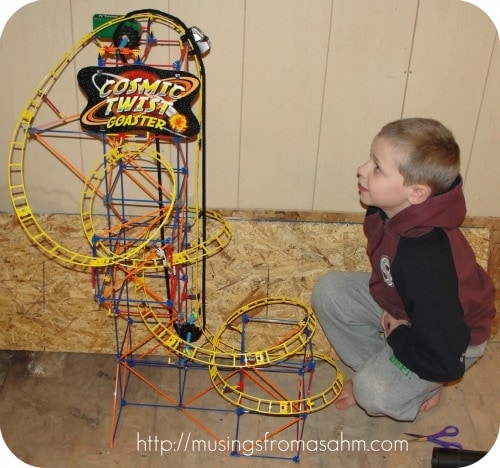 This coaster does require that you start it up again after the small coaster car runs the loops. The other K'NEX coaster Nathan had would continually run. Nathan said he wishes this one would keep going too but overall he really likes it. It also sometimes "catches" at the top of the chain that pulls the car up (you can see that in the second part of the video.) For the most part, this is brief and hasn't been a big issue.
Check out the Cosmic Coaster in action!
My recommendation: The K'NEX Cosmic Coaster set is pretty great but keep in mind that kids under age 10 will need some help. That being said, I definitely recommend it for the builders/engineers – small or big – in your life. Even your hubby might like it. (I'm not sure who had more fun putting this together – my husband or my son!)
Buy It:
You can find the K'NEX Cosmic Coaster at Amazon
Win It!
1 lucky winner will receive the K'nex Cosmic Coaster!
CLOSED
Disclaimer: This was a paid post, although my opinions are my own and were not influenced by the sponsor. Regardless I only share and recommend products I use personally or believe will be good for my readers. The giveaway products are provided by the company mentioned.