As part of the "Win Your Gifts" Holiday Hop, I am pleased to announce Lovable Labels as our sponsor! Remember this event is quick: it's ends Monday, November 7th!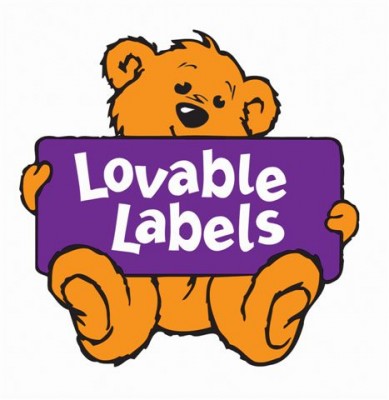 Lovable Labels is best known for their quality personalized labels and wide selection of colors, designs, shapes, and styles. From clothing to shoe to lunchbox labels, they have something for all your kids' things to prevent them ending up in lost and found!
The company started with a mom needing to find a solution for labeling her son's things at daycare. Everything needed to be labeled, including shoes, cups, and backpacks and the mom realized there was a need for quality labels of this sort. She knew they had to be exceptionally durable with the wear kids put them through. Thus Lovable Labels was started in 2003.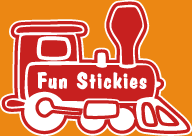 Lovable Labels are waterproof, dishwasher and microwave safe, washer and dryer safe, sun safe, bleach safe, sunscreen safe, and temperature safe. Their extensive line of options includes everything from iron on labels, shoe labels, allergy labels, mini-metal tags, even Vital ID Wristbands to name a few. The company works hard to maintain their level of quality for customers along with adding new products all the time.
This year, Lovable Labels is pleased to offer some some fabulous Christmas options this year, including Gift Seals & Address Labels. There are 6 fun designs to choose from; from "Starry Night" to "Jingle all the Red" to "Glow" shown below: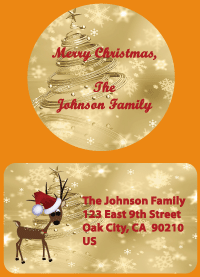 I was offered a set to review and I chose "Sno Berries." I liked that there was a nice selection but it wasn't overwhelming with a thousand choices either. Each set comes with 60 gift seals and 90 address and are personalized with your choice of message and address.
Look at how cute our set turned out! I blurred over our address to protect our privacy but you can still see how nice these are.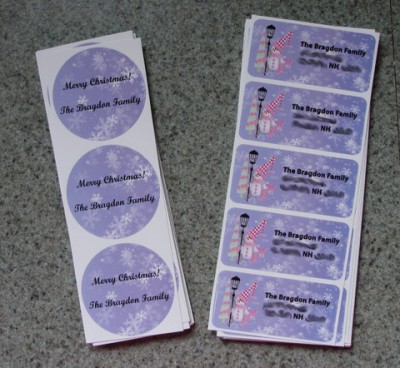 The labels are sturdy yet not too thick. I can tell these will hold up well and are made with good quality. I will be ordering our Christmas cards in the next couple of weeks and I can't wait to send them out complete with our Lovable Labels seals and address labels; I know it will add the perfect touch this year!
Disclaimer: Thank you to Lovable Labels for the free product I was sent to review. I received no monetary compensation and my opinions are my own and were not influenced by the sponsor.