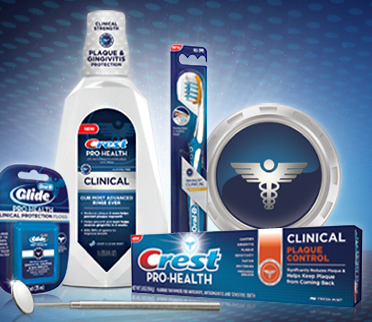 You may not love seeing the dentist, but that fresh "dentist-clean" feeling after a visit is another story. You know your teeth are sparkling clean and plague is scraped away and that's a good feeling. Unfortunately that doesn't often last as we get back into our daily routines. The good news is that choosing a good toothbrush, toothpaste, floss, and mouth rinse can make a big difference.
Oral-B and Crest Pro-Health Clinical Plaque Control is a new product line that can help keep our mouths dentist-clean for much longer. In fact, when used together, these products can help significantly reduce plaque, keep it from coming back, and work to prevent cavities, gingivitis, sensitivity, tartar, staining, and bad breath, for up to two months after seeing the dentist.
Sound good? I thought so. I know how important it is to remember to take care of myself despite my hectic schedule. I'm very good about brushing my teeth twice a day, but flossing and using mouth rinse hasn't been as big of a daily priority as it should be. I knew joining the Crest and Oral-B Pro-Health Clinical Plaque Control Test Drive Program was the perfect chance to not only review a new product line, but to get more serious about my own oral health.
The Crest and Oral-B Pro_Health Clinical Plaque Control family includes Crest® Pro-Health® Clinical Plaque Control Toothpaste, Crest® Pro-Health® Clinical Rinse, Oral-B® Pro-Health ® Clinical Pro-Flex Toothbrush, and Oral-B® Glide ™ Pro-Health ® Clinical Protection Floss. I was sent all four products and I will be using each of these daily for the next few weeks. Then I'll posting again to let you know what I think!
Crest and Oral-B are going to give one lucky winner the chance to win a trip for two to the London 2012 Olympic Games this summer. Entry is free (no purchase necessary) and you can enter from now until May 31st! What an amazing experience that would be! Enter online at Pro-Health Clinical Olympic Games Sweepstakes.
What's your favorite tip for keeping that "dentist-clean" feeling around for longer?
I wrote this review while participating in a test drive campaign by Mom Central Consulting on behalf of Crest and Oral-B and received product samples to facilitate my candid review. Mom Central Consulting sent me a promotional gift to thank me for taking the time to participate.