Have you ever wondered what it would be like to talk with Grandma when she was your age and ask her what she thought about life then? Or how special would it be to sit down with your daughter when she has her own children and speak to her from this time of your life? While we can't do that exactly face to face, there is a way to preserve special memories from now and share them later.
LiveOn: What is it?
LiveOn is a new website that allows you to create and save memories. It's not just another online photo album; LiveOn is an online time capsule where you can compile digital photos, videos, and scanned photos and artwork. These memories will be preserved for you to look at any time and can be saved and sent to someone special in a memorable time of their life in the future.
Maybe its a future grandchild. Want to show them what their mom or dad looked like and how they acted when they were 5? Create a memory by compiling a collection of photos and add your notes and even a video of you speaking. I would love to see my grandmothers talking about their life when they were my age! Things are changing rapidly these days, but some things stay the same. I think we all deal with feeling inadequate and struggle through the day in and day out at times. What a gift to share some advice we've learned with future generations!
Within the site, you can build your "tribe" of family members. Once someone is in your "tribe" you can include them in albums and memories that might relate to them and you can even create a special memory just for them from you. I wasn't able to use this feature as LiveOn is just beginning and no one in my family is a member yet, but I will be inviting them and looking forward to sharing "memories" with them.
Video Recording
LiveOn learns about you by asking Life Questions with its adaptive technology and helps you add special thoughts to your memories. You can answer questions by typing in your answer or by video recording. The video recording option is my favorite feature of LiveOn. I have a digital camera that allows me to record High-Def video, but I never think about recording a message for the future. How special would it be for my daughter to see a video of me sharing some in-the-moment advice or thoughts!?! And how fun for me to look back and see how I've changed too.
Memories Saved Forever
Life happens and sometimes things get ruined – whether it's a computer hard drive crashing or a flood ruining years of precious family photo albums. LiveOn wants to change this; once you upload something, they promise to preserve it on their servers forever.
The idea is that your family will all be members of LiveOn and then on the day you specify, your "time capsule" will be sent to the tribe member – ex: your son on his highschool graduation – when you specify. While I think this is a great idea in theory, I wonder how well it will actually play out 20 years down the line. However if you are able to get your family members on board, the possibilities are nearly endless.
My Opinion:
The LiveOn site was a little confusing for me to navigate at times. Little things like finding the "save" button at the bottom in a separate toolbar seemed unnecessary; why not just keep it at the top? And there were some things like an option to save a video, but not delete it. I assume it deletes automatically at some point, but it wasn't clear to me. I think the LiveOn creators need to polish the site better, but it's on the right track.
I had some issues with getting the video recording to work properly: I couldn't get the sound to connect, but my husband figured it out for me. Once we had that working and I sat down to create some memories, I found myself immersed in creating memories. I spent a lot more time on the site than I planned to as I explored the features, from adding music to answering "Life Questions."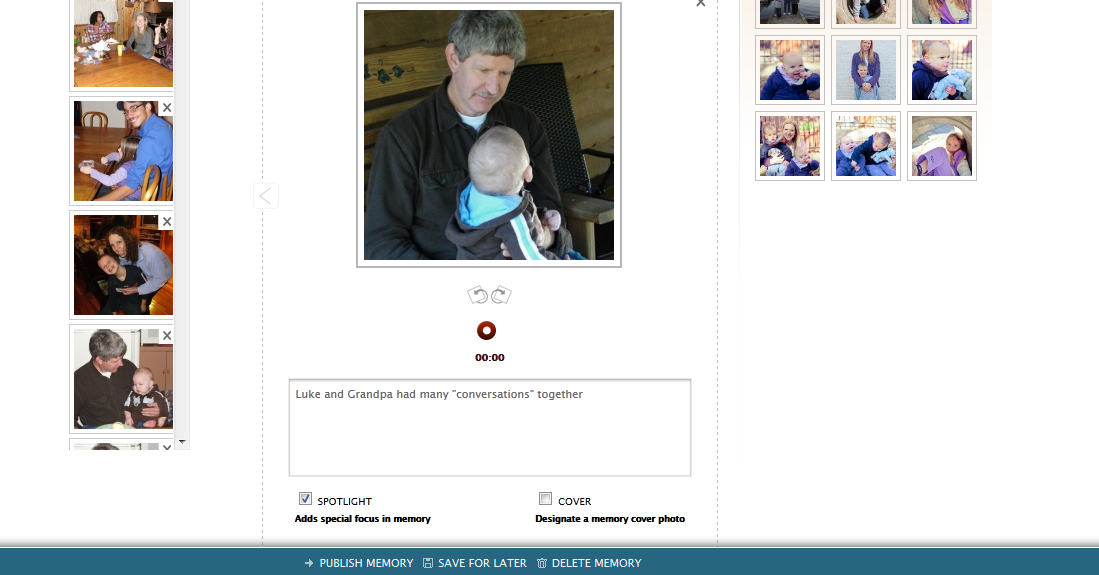 LiveOn is free to use but there are charges for features like premium video templates or more than 5 Time Capsules. For monthly premium memories, it's $12.99 or you can opt for the one year plan at $99 or forever plan at $1500. I don't know that I'd pay for the premium features at this point, but as I use and explore LiveOn more, I may change my mind.
My daughter Emily's 5th birthday is tomorrow and I am putting together a LiveOn time capsule for her. I plan to add to this each year with a few special photos from her birthdays and a few words spoken by me via by video and then when she is 18, I will have it sent to her so she can look back over her childhood.
The gifts of family and time are priceless and LiveOn has done a brilliant job of bringing those two together.
Use coupon code: cgc39 to get 20% off at LiveOn Rewind, a special service that converts memories into digital form.
Thank you again to LiveOn for sponsoring this blog post. Please click here to learn more about storing and sharing your most special memories. I was selected for this sponsorship by Clever Girls Collective. All opinions expressed here are my own.