Mighty Leaf Tea is an all natural, high-end tea company located in San Francisco. Served at fine dining restaurants and resorts, they have many loyal customers. They recently launched a new line with their Mighty Leaf Iced Teas. With hand-blended, whole-leaf teas, luscious fruits, and aromatic herbs, these tea pouches are a quick, easy-to-make, thirst-quenching beverage.
I am an avid tea drinker; it is soothing, yummy, and healthy. So I was pretty happy when I was contacted by Mighty Leaf Tea about reviewing some of their products, including their new Iced Tea. To be honest, I've never been much of an iced tea drinker. It's not that I dislike it, it just has never been something I regularly drink. Of course the New England area where I live isn't exactly known for its iced tea either, but anyways… I hesitated but then I said yes. Mighty Leaf tea looked like top quality stuff to me and I'm always game for trying new things.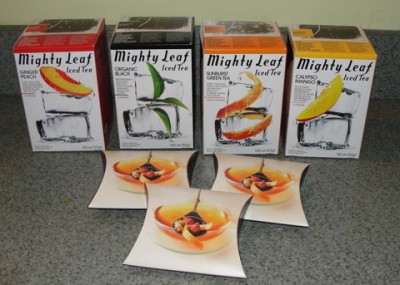 I was sent 4 boxes of Mighty Leaf Iced Tea and a couple of their signature regular tea samples. There are many flavor varieties and I received:
Ginger Peach Iced Tea: A blissful and lightly sweet black iced tea infused with sun-swelled peaches and delicate ginger.
Calypso Mango Iced Tea: A sweet and cooling black iced tea with an indulging blend of South Indian black tea leaves, luscious mango, and tropical fruit.
Organic Black Iced Tea: A flavorful black iced tea made of refreshingly rich and smooth South Indian organic black tea leaves hand-picked on the dewy slopes of the Nilgiri Mountains.
Sunburst Green Iced Tea: A cool and vibrant iced green tea that delivers mountain-grown Chinese green tea leaves brightened with the crisp taste of ripe oranges and sweet citrus. The lowest in caffeine among all four flavors.
I love green tea, so the first tea I tried out (and my favorite) is the Sunburst Green Iced Tea. When I first pulled the large tea bag out of the box, I knew this was no ordinary iced tea. The bag is rich in flavor and scent and you can tell it's made out of natural, good stuff; there's nothing "imitation" about this tea. Each box of Mighty Leaf Iced Tea contains 4 biodegradable whole leaf pouches that will make 1/2 gallon each.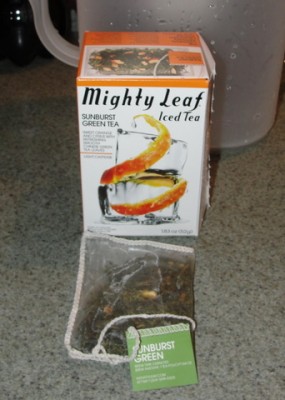 It was simple to follow the easy directions. Add a tea pouch to a pitcher. Pour 32 ounces of hot to boiling water over the pouch and let it steep for 4-5 minutes. Then take out the tea pouch and add ice. That's it!
The flavor in Mighty Leaf is unlike any iced tea I've ever experienced before. It is flavorful, fresh, and yummy. I actually am an iced tea fan now thanks to Mighty Leaf Tea! I think I just hadn't experienced really good iced tea before. Perhaps I have a more refined palate than I thought! Regardless, I am now a fan of Mighty Leaf Tea and if you love tea, I urge you to check out their site!
Buy It:
You can buy Mighty Leaf Tea online. It is $6.25 for a box of 4.
Get 15% off sitewide using discount code: summertea15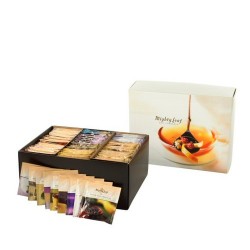 Disclaimer: Thank you to the sponsor for the free product I was sent to review. I received no monetary compensation and my opinions are my own and were not influenced by the sponsor.