As an adult, I've learned how important it is to take care of myself and how tools, like yoga, relaxation, and progressive breathing, can reduce my stress level and improve my overall take on life. If it helps me, why not my kids too? That's why I was so pleased to be introduced to the Move with Me Action Adventures DVD series for children.
I was sent their Scooter & Me: Lost and Found in Africa DVD to review with my children. The Scooter & Me DVD series combines exercise with simple yoga moves that are geared towards children ages 3 to 7. The dvd is led by teacher Wendy and a handful of children.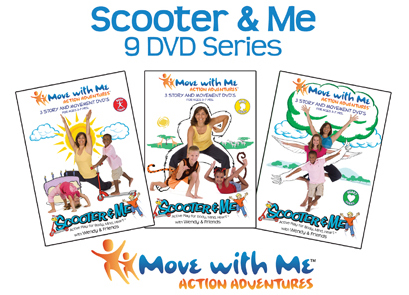 "Scooter" is a boy who travels the world on adventures, learning about life and developing tools for healthy minds. The story is "acted" out by the teacher and children and kids watching are encouraged to join in. Along Scooter's "adventures," he encounters some issues that many children face. Something didn't happen quite the way he wanted, for example. But Scooter and the children learn "adventure skills," helping them to relax and connect with inner strength when they're frustrated, confused, angry, sad, or scared.
I can see why this is an award-winning series. Life can be overwhelming and stressful, but the Move with Me Action Adventure series helps empower kids with skills to care for themselves. In the process, they can learn increased self-control, focus, and more.
Emily is five and Joshua is three and they've watched our DVD many times. After the first time, Emily jumped right in and began participating. I thought some of the moves were a little too complicated, but Emily surprised me by picking up many of them, and for the ones she didn't, she just moved on and didn't care. That's a great lesson, right there alone. Joshua is on the young side for the Move with Me Action Adventure DVDs, but I'm sure he'll enjoy it more as he gets a little older and more coordinated.
I asked Emily what she thought and she told me the "movie" was a lot of fun!
I'm really happy we found the Move with Me Action Adventure DVDs and I highly recommend them.

Buy It:
You can find Move with Me Action Adventure DVDs online.