We make it a priority to have dinner together every night of the week. Of course, now it's very easy since the girls are little and thankfully Ken is able to be home from work by 5pm on the weekdays. Both Ken and I grew up with families who made sure that our families ate together and shared life daily around the dinner table, and we have continued that with our own family.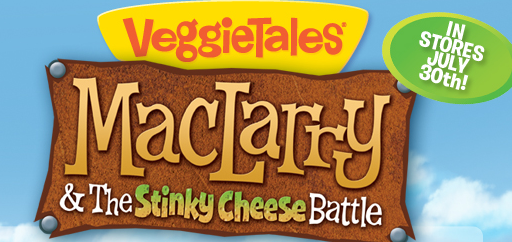 Every now and then we like to have a movie night with the girls for fun. We'll have an indoor picnic and watch a fun movie that we can all enjoy together as a family. We were very excited to get to preview the newest VeggieTales movie release: MacLarry and the Stinky Cheese Battle! So last week on a hot summer evening we put on the air conditioning and had an indoor picnic with Bob, Larry and the rest of the gang.
VeggieTales MacLarry and the Stinky Cheese Battle stars Larry the Cucumber as MacLarry, an inventor who feels out of place among his family and friends. His father has been engaged in a prank war with his enemy for many years – and instead of learning how to play pranks and make trouble, MacLarry is much happier inventing gadgets and gizmos. When the biggest prank ever goes seriously wrong, can MacLarry realize that his talent will help him save the day?
We enjoy VeggieTales movies and MacLarry and the Stinky Cheese Battle did not disappoint. The premise behind the silly antics is that it's okay to be different, as MacLarry finally learned. The Silly Songs with Larry Boy was one of the best that I've seen – it's hysterical! We laughed all the way through it, and then before we watched more of the movie we had to watch the Silly Songs once again. The girls almost have it memorized!
If you want to have your own Family Movie Night, it's really easy! For an indoor picnic, all you need are some favorite finger foods! We typically will use 2-3 kinds of cheese cubed, crackers, rolled lunch meat, cut up fruit, yogurt and pretzels. For a table we use the chest that doubles has our coffee table, covered with a sheet, fabric remnant or table cloth. Clean up is quick and easy – gather everything in the middle of the sheet/tablecloth and pick it up! We've found that after the movie is over the girls like to sit and ask questions about something that happened in the video which can lead to wonderful discussions!
We give MacLarry and the Stinky Cheese Battle two thumbs up and hope that YOU like it as much as we did!
VeggieTales MacLarry and the Stinky Cheese Battle is available in stores, beginning today, July 30th!
1 lucky winner will win a copy of VeggieTales MacLarry and the Stinky Cheese Battle on DVD!
Rules:
This giveaway ends on August 8, 2013 at 11:59 pm EST.
Open to the US only, ages 18+.
Click here for complete rules and disclosure.
Closed – the winner is Heather P