If you don't use Google Chrome as a browser, maybe this post will have you considering it. It's a pretty cool browser that lets you do everything Mozilla Firefox does, plus some more pretty cool things. (I haven't used Internet Explorer for years, so I won't reference it.) Here's my favorite Google Chrome apps and here's why:
Google Chrome is awesome because, almost like a smart phone, you can add on apps or "extensions," to make your internet browsing easier and more fun. These apps are free and can be found in the Chrome Web Store. They're easy to install – just click the "Add It" button and you're in.
These are my top 3 favorite Chrome apps:
"Send images from any website to your pinboards."
Why I love it:
Have you ever been on a blog that had a great recipe or idea you wanted to pin, but there was no "Pin It" button? Of course you could log into Pinterest and manually add the pin that way, but who wants to do all that? Fancy buttons are much more fun! The Pinterest Pin It Button app makes it easy to pin anything from any site (unless the site doesn't want you to, in which case, you don't want to anyways.)
You can also see a "pin count" of how many others have pinned from any page.
It's quick and easy to use. Once installed, the Pin It button sits in the upper right hand corner of your browser under the X button. When you see something you want to pin, just click on the Pin It button and and you can pin any photo from that webpage you want. Check it out here – I went to my own page New Fish for Our Aquarium. All I have to do is click the photo I want and the "Pin it" window opens. So easy!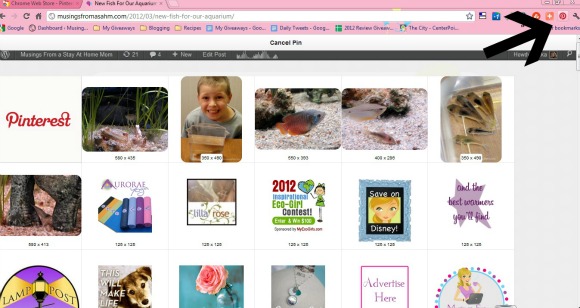 "Lets you open, copy, or bookmark multiple links at the same time."
Why I love it:
I sometimes come across a group of links I'd like to be able to open all at once, without manually clicking through to each one. This app allows me to do exactly that.
There's no "app" icon that appears in the top right Chrome corner, it's just always there. To use, you press and hold the right mouse button while dragging a selection box around the links you want opened. And the links open as new tabs.
Here's an example of how I use it – each morning I add my giveaways to blogs hosting a linky list that day. Now I just select the blogs for that day and open them all at once.

3.) StumbleUpon
Why I love it:
StumbleUpon – what's not to like? It's an awesome way to discover new websites and blogs. You never know what will pop up! Don't like the stumble tool bar always on your browser? You can easily remove it and then add it with the click of a button thanks to this extension.
There you have it – my 3 favorite apps from Google Chrome. They're easy to install and make life way easier, especially when you're a busy blogger!